Alchemy Film & Moving Image Festival: 2023 Report
We look back at the highlights from the thirteenth edition of Alchemy Film & Moving Image Festival, where community filmmaking shone brightly. Other highlights include a celebration of the UK's most prolific actor and a haunting portrait of teens run amok
Artistry and community go hand in hand at the thirteenth edition of Alchemy Film and Moving Image Festival. This annual showcase of experimental film and artists' moving image in Hawick would be worth celebrating in its own right, given the creativity of work on show and the warmth of the welcome afforded to anyone who makes it to this Borders town for the May Day bank holiday weekend. But what makes Alchemy a truly special film festival is the way it incorporates the wealth of filmmaking being done in the community around Hawick throughout the year. 
Alchemy's lively four-day programme includes cinema screenings, moving-image installations and additional special events, and brings world-renowned international artists to Hawick. But threaded through the programme you'll find plenty of work comingling in a meaningful way with communities in the Borders and across Scotland. Much of it is specially commissioned by Alchemy themselves as part of The Teviot, The Flag and the Rich, Rich Soil, a project incorporating artists' residencies and year-round community engagement projects. 
Take Julia Parks. She took part in Alchemy's six-month filmmaking residency last year, and the results were among the highlights of this year's event. The gala Saturday night screening was the world premiere of a quartet of films Parks made around the Borders, exploring themes of nature, industry, folk traditions and community. All four are wonderfully evocative and gorgeous thanks to Parks' tactile 16mm photography. The best was also the longest: the poetic documentary The Wool Aliens, which explores the way that the once booming textile industry of the Borders has significantly changed its natural habitat. (Read more about Parks' residency here.)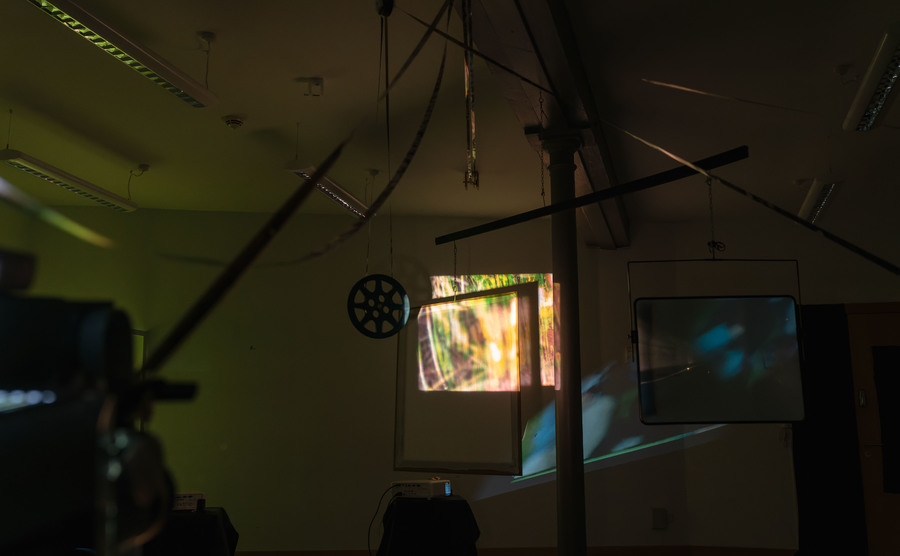 Cultivate!| Image: Sanne Gault / Alchemy Film & Arts
Julia Parks was also behind Cultivate!, a joyous installation built around work created during analogue workshops Parks ran in Hawick with a group of 16-to-30-year-olds. The films themselves consist of playful experiments. Some were shot on Bolex cameras and feature the workshop participants larking around, but the most prominent footage seems to be a curious archive documentary about a hamster, the 16mm footage of which has been scratched, destressed and animated-upon during the workshops. As fun as these films are, it's the presentation that's the kicker. The room was a riot of flickering images and twirling film reels, with film from the three 16mm projectors spooled in haphazard diagonals across the ceiling. Two digital projectors were thrown in for good measure, and additional rotating screens were suspended from the ceiling on chains, creating an overwhelming, heady celebration of celluloid.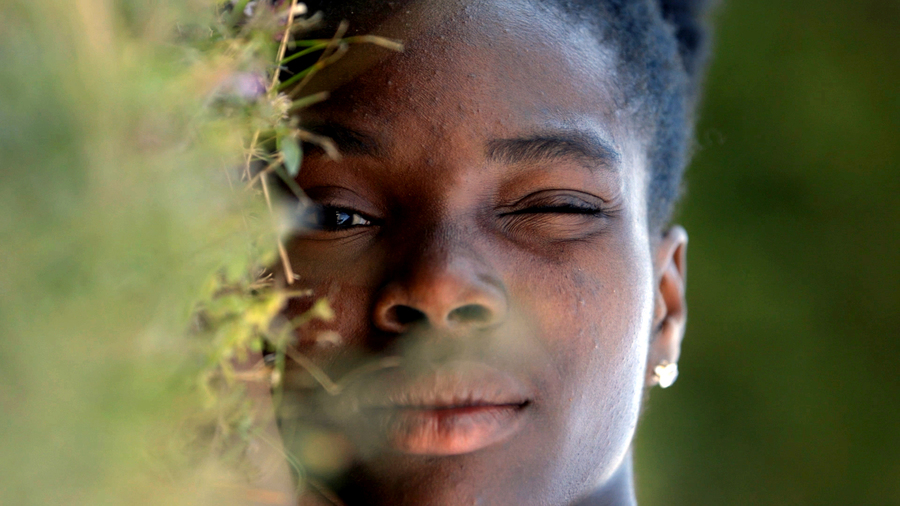 Webb-Ellis's This Place is a Message
Another collaborative piece that knocked my socks off was Webb-Ellis's beguiling This Place is a Message. Made with a group of teenagers from Kent, it's a haunting, dreamlike portrait of adolescence run amok. We follow a group of teens leaving their school prom in a stretch limo which takes them to an abandoned chalk quarry where they appear to begin their own society in the face of an uncertain future. They muse about life, create banners, they dance, their satin dresses and garish tuxedos become increasingly torn and dishevelled and they abandon language for animalistic grunts and guttural noises. These scenes are interspersed with precocious younger children as talking heads, philosophising about the future of our planet and how we can pass messages across decades and centuries to future generations. This might sound dystopian but there's also hope in the film, the suggestion that the younger generation are ready to build their own new world out of the ashes we've created. 
Youngsters musing on the destruction of the planet also featured in Basharat Khan's lovely short By Leaves We Live. Another community project, the film features children from primary schools in Glasgow's Gorbals imagining what trees would tell us if they could speak. Khan filmed the kids speaking their tree thoughts – "don't chop me, I'm here to help you survive", "I like it when the birds visit", and "please protect us" are some of their moving suggestions – and then projected these onto trees in the Gorbals Rose Garden at night, giving these beautiful plants ghostly personification. The result is an environmental film brimming with empathy.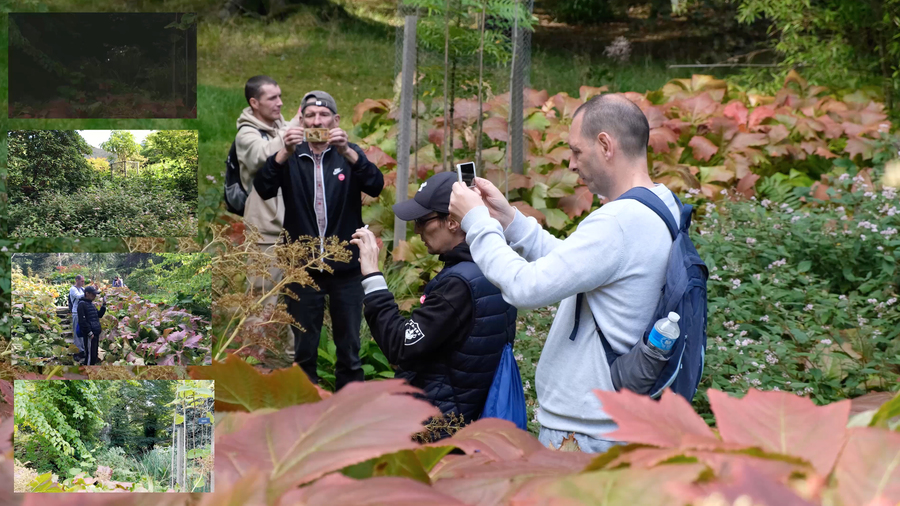 Elina Bry's Walking to Connect
Elina Bry's Walking to Connect also merged community and nature. Made as part of Inverclyde Culture Collective, the film came out of a three-month residency that involved Bry working with Your Voice Recovery, a network for people recovering from substance abuse dependency. The concept is simple: Bry encouraged the guys she was working with to walk, not as a means of making it from A to B but to connect with the nature around their hometown of Greenock, and each taking an iPhone with them to record.
But the phone isn't just in their hand. It's taped to their palms, or their ankles, or to the five iron one of them is carrying around, letting their bodies become tripods that see the world from new angles. Bry has cut their raw footage and sound recordings together in pleasingly playful ways, creating a kaleidoscope of split screens and screens within screens. Bry's film is quietly moving; it's heart-warming to see people who often don't get the chance to express themselves doing so in inventive and endlessly surprising ways.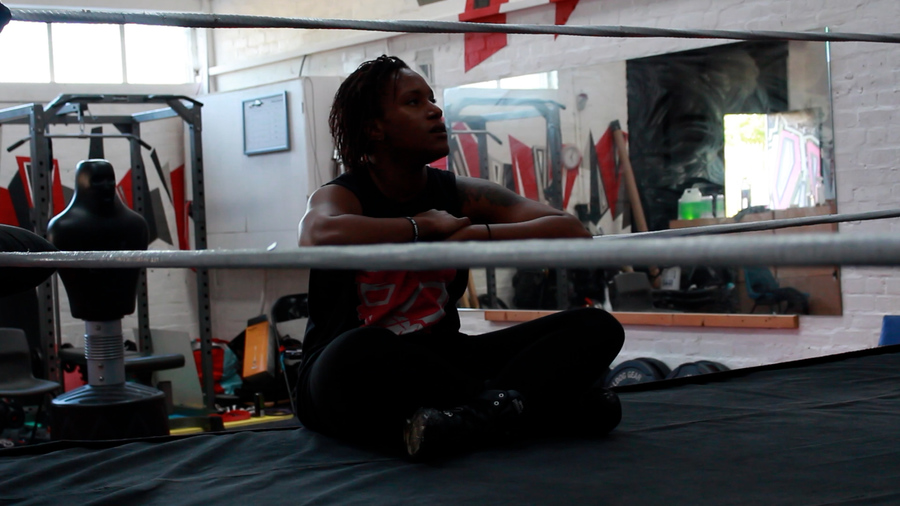 I'm finally using my body for what I feel like it is made to do
Owain Train McGilvary's I'm finally using my body for what I feel like it's made to do was another gem concerned with community and the importance of self-expression in our lives. It's a vivid documentary that takes us inside the codes and mores of a group of women and non-binary wrestlers in the southside of Glasgow. The title takes its name from a line in the Netflix show Glow, but there's something decidedly less glossy about this gym and these down-to-earth women who are clearly revelling in the transformative potential of the wrestling ring. We hear several of them explain the pleasure they get from playing 'the heel' – the villainous antagonist who gleefully winds up the crowd who support the good guy 'faces' – and another discusses the joy of having something of her own outside of her family; class, gender and friendship are also explored. Between these interviews are more expressionistic moments, including the initially disorientating ref-eye views of wrestling bouts, which play out to the film's fantastic synth score by Comfort. Handwritten intertitles and cutout animation add to this heady collage celebrating queer community and working-class spaces. 
The collaborative nature of filmmaking was celebrated, too, in the wonderful Jill, Uncredited. Director and editor Anthony Ing slices together dozens of scenes from the many hundreds of movies and TV shows featuring Jill Goldston, the UK's single most prolific actor. Despite this ubiquity, the name – and the face – isn't likely to be familiar to you. Goldston made her 50-year career by blending into the background as an extra. Initially, Ing's film is a bit like playing a tricky game of Where's Wally? Is that fussy blob over the shoulder of Tim Curry her? Or what about that brunette lying in bed at the back of a hospital ward? But as soon as you become familiar with Goldston's distinct profile and petite frame, she becomes impossible to miss. Soon it's A-listers like Anthony Hopkins and Meryl Streep who become background players to Goldston, who convinces in every one of her roles, from jury member to suffragette to guest at a Dionysian banquet. The cumulative effect of seeing this clearly talented bit-part player recast as the star is surprisingly touching, and combined with Ing's hypnotic editing and his plaintive piano score, deeply moving.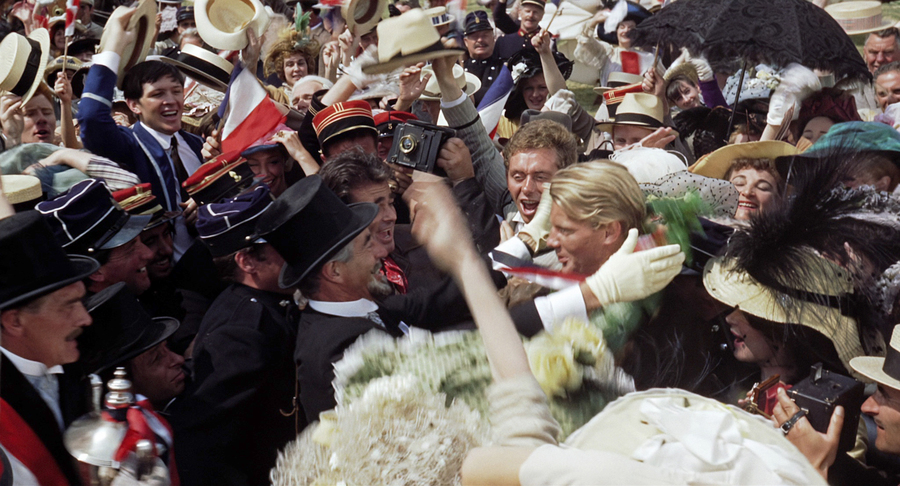 Anthony Ing's  Jill, Uncredited
Archive footage was also expertly manipulated in Eilan Mikkola's Man Made. Taking a handful of scenes from a found 16mm reel that appears to be a prosaic black and white American film from the 1950s, Mikkola has crafted a wry and seductive exploration of masculinity and burgeoning queer desire. A four-by-four grid introduces us to a classic masculine image of American cinema: a man driving with the top down on an open road. Mikkola then plays with this image and the assumingly macho narrative that was due to unfold in the original film. By freezing and repeating frames, Mikkola creates something more thorny, as a young boy appears to become infatuated with a handsome young trumpet player ("he looks like a youth pastor, except he smokes!") who's rolled into town. Throwaway glances become intense stares and rewound faces become loaded with meaning. As for the trumpet... well, you don't need to be Freud to guess what that symbolises.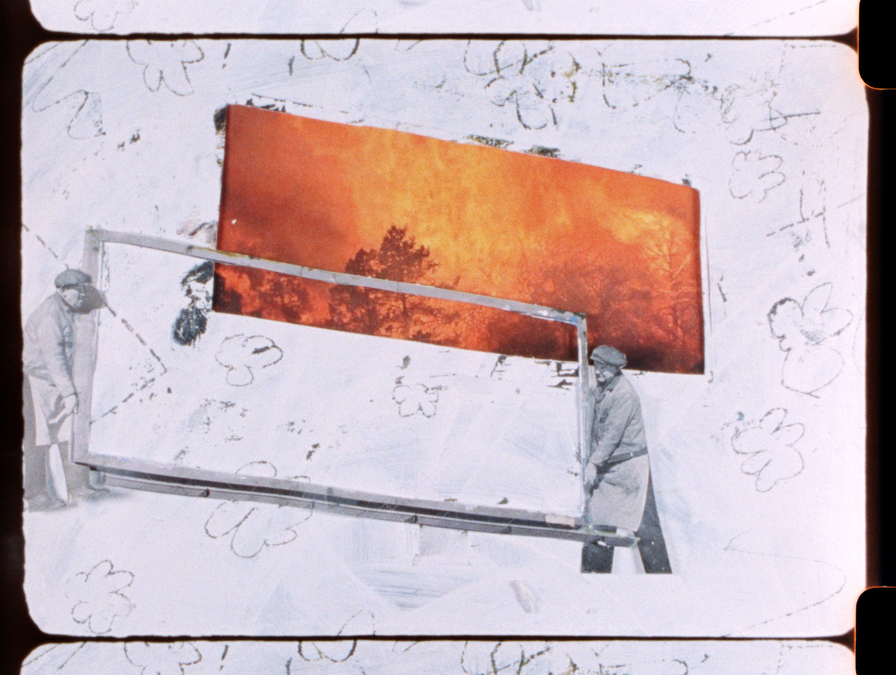 Saul Pankhurst's To Do
Shout out, too, to my favourite film of the weekend: Saul Pankhurst's To Do. It's a wonderful skewering of our hectic modern life and the pervasive self-improvement industry. The film follows the morning routine of a guy trying to begin his day on the right foot. After firing up his worryingly cluttered (but familiar-looking) desktop our protagonist logs into his morning meditation app, although it isn't long before a whir of anxieties start flooding his noggin – "Should I do a wild swim", "remember to cancel Amazon", "how do I reach 1000 followers?"... This overactive mind is brought to life onscreen with a chaotic animated collage of images that's part Pop Art, part Dalí, part Monty Python. Anyone who can't escape swirling thoughts just before bed or during a post-yoga shavasana will surely identify. 
There were myriad other highlights, from Maxime Jean-Baptiste's haunting performance piece To Yield to a series of free installations around Hawick and probably the coolest ceilidh I've ever attended. Something special is happening in this sleepy little town in the Borders, and this joyous four-day event is only the tip of the iceberg of creativity, humanity and serious hard work being done by Alchemy's small but industrious and endlessly enthusiastic team. With their focus on community, education and inclusivity and their year-round events and programmes, Alchemy are showing how film festivals can be more than transitory parties for cinephiles and industry types. They're building a lasting legacy for their community.
---
Alchemy Film & Moving Image Festival took place 27-30 Apr in Hawick. For more on Alchemy, head to alchemyfilmandarts.org.uk