Joaquin Phoenix turns vigilante in Lynne Ramsay's brutal thriller
The trailer for You Were Never Really Here, one of our most anticipated films of the year, shows Joaquin Phoenix's character ready to hand out some violent retribution
Lynne Ramsay is a master filmmaker, but she's hardly prolific. With her first three features – Ratcatcher, Morven Callar and We Need to Talk About Kevin – the Scottish director gave us a trio of modern masterpieces, but spread them across two decades. Because of this infrequency of production, a new Ramsay joint is always eagerly anticipated by film fans, and we at The Skinny have been clambering to see her new work You Were Never Really Here since its rave reviews at Cannes last year, with our critic calling it "raw, heart-pounding and reminiscent of Scorsese's Taxi Driver." Our eagerness to see the film has been strengthened by the film's ferocious UK trailer (see above or watch on YouTube).
The film stars Joaquin Phoenix as Joe, a traumatised veteran who's no stranger to violence. Since leaving the service he makes a living tracking down missing girls and making their abductors pay dearly. "They said you were brutal," a father says to Joe – who's been hired to track down his missing teen – in the trailer. "I can be," says the vigilante ominously.
As we've come to expect from Ramsay, the film looks visually and stylistically striking, and she's also working again with Radiohead's Jonny Greenwood, who scored Ramsay's previous film We Need to Talk About Kevin, and whose propulsive music we can hear in the trailer. Take a look at the trailer in the player above (or watch on YouTube) and take a look at the UK poster below.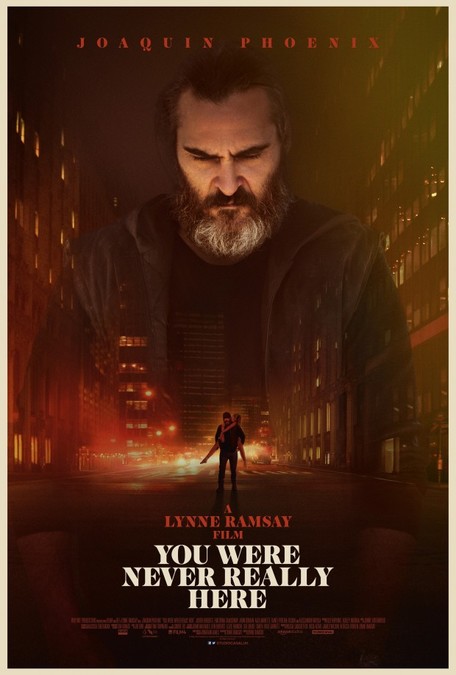 You Were Never Really Here is released in the UK by StudioCanal 9 Mar