Edinburgh's Filmhouse planning ambitious new six-screen cinema
New Filmhouse you say? Ambitious plans to replace the much-loved arthouse theatre with a multi-story, state-of-the-art cinema on neighbouring Festival Square have been announced today, with a consultation process taking place over the coming 12 weeks
Today, Edinburgh's Filmhouse has unveiled ambitious plans to build a new "home for film and screen culture in Edinburgh". Located just a few doors down from the Filmhouse's current Lothian Road location, this new building is proposed to sit within Festival Square, directly across from the Usher Hall and in front of the Sheraton Hotel. Designed by award-winning Edinburgh-based company Richard Murphy Architects, this Filmhouse 2.0 will, according to today's press release, "significantly improve and increase the quality and quantity of spaces available to and needed by Filmhouse and EIFF for their audiences, customers, participants and industry partners."
The multi-story structure will provide six new state-of-the-art screens (double Filmhouse's current number) capable of 4K digital exhibition as well as 16mm, 35mm and 70mm film projection, we're told. Other benefits of this new Filmhouse are that it'll be a fully accessible, carbon-neutral building, providing the capacity for Filmhouse to do more education and outreach activities.
The horizontal cross-section of the structure looks like an eye; as well as being a striking architectural choice, we're told "the oculus design reflects the eye on the world that Filmhouse, EIFF and the myriad of festivals, events and learning opportunities in the building will provide." 
Some sketches and artists renderings of the new building can be found in the carousel above, although the design is still a work in progress. Full costing of the ambitious project is still to be done, although its current budget is estimated to be in the region of £50m
From today until 3 June, Filmhouse will be undergoing a consultation process to gauge the general support for the proposal. "Filmhouse is looking to engage with customers, partners, stakeholders including programming partners, creative learning partners and the Scottish film sector, community councils and councillors, and residents of Edinburgh to gauge support for the plans and further develop the designs before submitting a formal Planning Application to the City of Edinburgh Council during the summer," says the press release.
Feedback can be given at three all-day public consultation events, which will take place in Filmhouse on Sunday 29 March, Wednesday 1 April and Tuesday 28 April. Members of Filmhouse's team and Richard Murphy Architects (as well as property consultancy Montagu Evans) will be present to answer questions and collect feedback. There will also be two Filmhouse Members' Events for its more than 5,500 members on Sunday 29 March and Monday 6 April.
In addition, you can also give your thoughts on the project through an online survey on Filmhouse and EIFF websites, through comment cards in the Filmhouse. If successful, it's proposed that work would start in 2023 with the new Filmhouse due to open in 2025.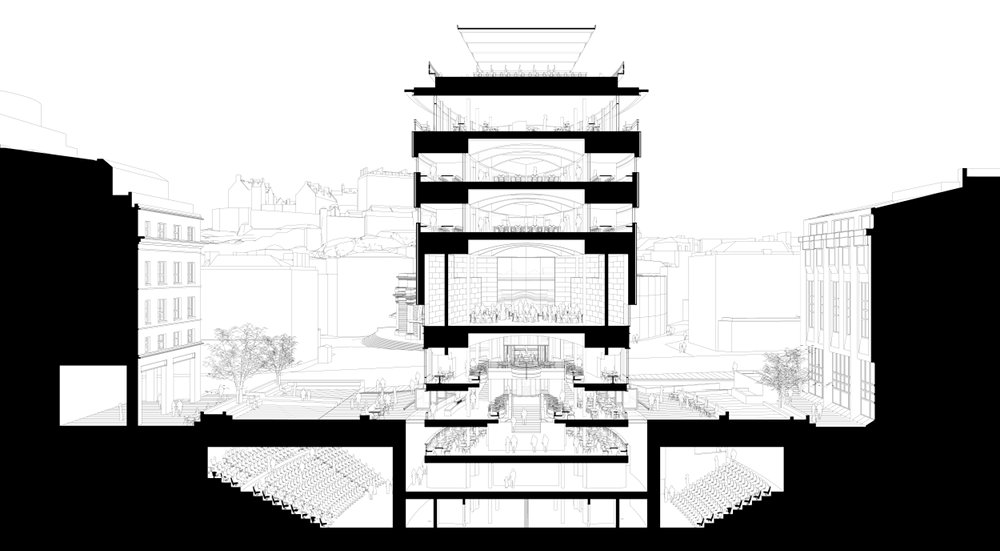 Cross Section (credit: Richard Murphy)
There is a lot of love for the original Filmhouse building, which has operated out of its Lothian Road base for 40 years, but there's no denying its cinemas and cafes are beginning to look a little tired and threadbare. This new building would mean Edinburgh would have an arthouse cinema with facilities to match, and possibly exceed, other cinema/arts spaces around the UK like The BFI Southbank in London or HOME in Manchester.
"This proposed new building will transform what we're able to do for Edinburgh's residents and Scotland's film community, as well as providing Scotland with a physical celebration of the most popular artform," said Ken Hay, CEO of Centre for the Moving Image. "Through doubling the number of screens and seats for regular cinema-goers, creating dedicated education and learning spaces, and developing an iconic festival centre, all within a fully accessible and carbon neutral building, this really is a 21st century temple for film."
Information on the proposed development, including architect drawings and visualisations, the background to the development and FAQs, will be available on the Filmhouse's website.