Doc'n Roll music film festival coming to Scotland
The annual music documentary festival, Doc'n Roll has screenings in Scotland for the first time ever, with six films coming to the Cameo in Edinburgh in April
Good news, Scottish music and film fans. Doc'n Roll, the annual music documentary film festival, is coming north of the border for the first time. Six films are heading to the Cameo in Edinburgh as part of the festivities, and it's a pleasingly eclectic line-up. "The beauty of what Doc'n Roll does is that it celebrates music of all genres," said Morven Masterton, Doc'n Roll Fife-born director, "and we give a lot of love to the unusual and unexpected along with outstanding portraits of the icons of popular music."
The festival, which runs at Cameo from 25 to 28 April, takes in films about jazz giants and punk heroines, rock'n'roll's gospel roots and a pianist-provocateur. As well as the films, the music doc weekender will include Q&As with directors, artists and music experts.
Among the line-up is Stories from the She Punks, which serves up new interviews with various female punk musicians, and it's directed by two musicians turned filmmakers who know plenty about the subject: Gina Birch of The Raincoats and Helen Reddington of The Chefs. Among those featured in She Punks are Adverts' Gaye Black, Palmolive from The Slits, Shanne Bradley from The Nips, Jane Munro from The Au Pairs, and Hester Smith and Rachel Bor from Dolly Mixture, as well as many others. Birch and Reddington will be in Edinburgh for the screening and a post-film Q&A.
The festival also features Pure Love: The Voice of Ella Fitzgerald, which pays tribute to the Queen of Jazz; It Must Schwing: The Blue Note Story, which explains how the legendary jazz label went on to discover and produce work for the likes of Miles Davis, Herbie Hancock, John Coltrane, Sonny Rollins, Wayne Shorter, Thelonious Monk and Quincy Jones; and Robert Clem's How They Got Over: Gospel Quartets and The Road to Rock'n'Roll, which argues that the hard and smooth of gospel laid down the foundations for other genres like the blues, doo wop and rock'n'roll.
Hands down the best title of the films programmed for Edinburgh is Shut Up and Play The Piano. It's Masterton's favourite of the line-up. "[It's] about the outrageous genius that is Chilly Gonzales," she says. "He's performed in Edinburgh a few times, and if you've seen him live, you'll love this look at the man and his alter ego; it captures his eccentricity, energy and talent in such a playful and entertaining way."
As well as screenings at the Cameo, Doc'n Roll should be heading to other venues across Scotland. "After the Edinburgh weekender in April, we're finalising plans for Glasgow in late June," says Masterton. "I have high hopes to tour Doc'n Roll across Scotland, and who knows – I may even set something up in my beloved Fife in the near future!"
For more details and the full line-up, head to https://www.docnrollfestival.com
---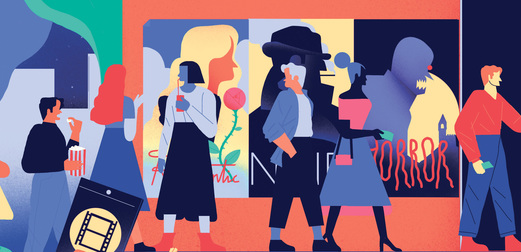 We're showcasing some of Scotland's best new short filmmakers in The CineSkinny on Tour this May – click here for more details, and to find out how you can get your short film on the big screen.