The Irishman
Martin Scorsese reunites with Robert De Niro and Joe Pesci for this enthralling mob epic that's full of echoes of Scorsese's earlier films
Director:
Martin Scorsese
Starring:
Robert De Niro, Al Pacino, Joe Pesci, Anna Paquin, Harvey Keitel, Stephen Graham, Bobby Cannavale, Aleksa Palladino, Domenick Lombardozzi, Kathrine Narducci, Ray Romano
For decades, Martin Scorsese has been misconstrued as a director who seeks to glamorise gangsterism and masculine violence. The Irishman is one more underscore for the people in the back, and perhaps for the last time, what the great director really thinks of these men: that their lives end in ruin and death; that there is no honour among thieves.
At three hours and 29 minutes, The Irishman is a long film – and yet it is one about how fleeting the spoils of war ultimately are. The movie is violent, funny, revealing and packed with characters and incident. But by the end, as hitman Frank Sheeran moves into old age and is shrouded in the aloneness of his choices, there are some of the most desolate scenes Scorsese has filmed. The indifferent chill of mortality shivers across this story, and one can imagine Scorsese thinking of James Joyce: "His soul swooned slowly as he heard the snow falling faintly through the universe and faintly falling, like the descent of their last end, upon all the living and the dead."
Robert De Niro plays Sheeran, and is reunited with his Goodfellas co-star Joe Pesci, coming out of retirement to play crime boss Russell Bufalino. Al Pacino, working with Scorsese for the first time, plays legendary Teamsters union boss Jimmy Hoffa in a roaring, egotistical performance. De Niro's "working stiff", in contrast to Hoffa's largesse, gains these men's trust by doing what he's told. There's none of the assurance of Jimmy the Gent here; this man is a quiet, blank little boy, who "paints houses" – a slang term for carrying out executions – with the workmanlike plainness of an actual house painter.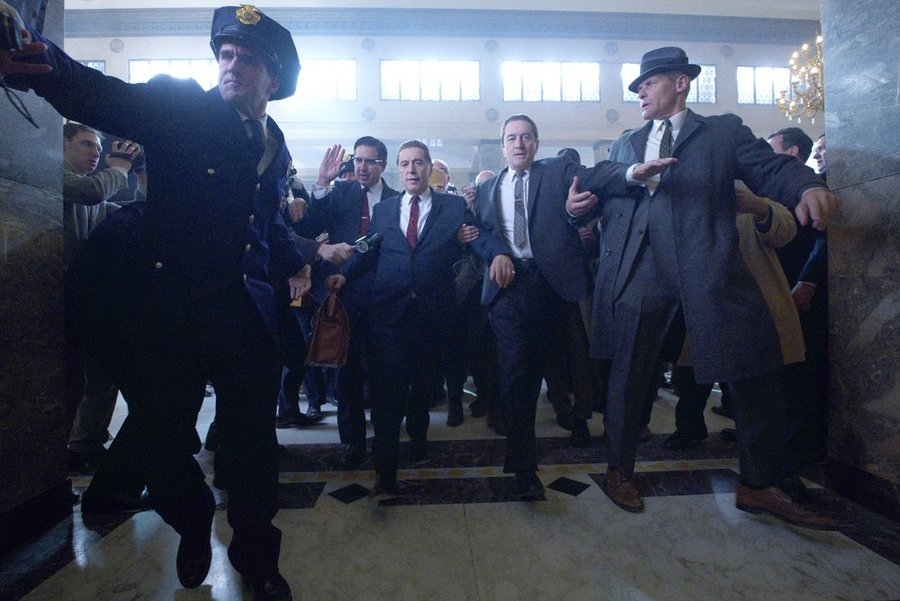 Sheeran gets into the life, these men forge their relationship and pull off their crimes, and we're introduced to a carousel of supporting mobsters in glancing moments, as we were in Goodfellas and Casino. This time, however, Scorsese freeze-frames on these men while they're lording over their cocktail booth fiefdoms and gives us title cards telling us how they'll die – usually grimly, messily, at the hands of former associates. The Irishman has a lot of moments that feel like the off-beats to the overarching rhythm of Goodfellas – take for example a scene where Sheeran blows up a taxi rank. In Goodfellas that was one palpitation in a restless rise-and-fall story; here, it's a more laborious scene of just more grunt work, which is what Sheeran's life was all about.
The Irishman is not only a long film but a detailed one – in dealing with the mythos of Jimmy Hoffa, and seeking to answer his mysterious disappearance in 1975, there's a labyrinth of union politics and goombah relationships, not to mention national history, including the Kennedy brothers and the Bay of Pigs. Yet the film is ultimately about what an indistinct and distant mulch life can be – how little you can ultimately believe in or remember as important if those closest to you, from your colleagues to your family, are ultimately the ones you betrayed. What is the exact moment Hoffa goes too far and runs afoul of the mob, and loses sight of what he's doing? What does Frank Sheeran ultimately feel? Who can say?
This is modern American film territory that dialogues with the mournful late directorial career of Clint Eastwood, but it also echoes with Scorsese's other work beyond Goodfellas. With Raging Bull, in that it's about the consequences of violence and solitude. With The Departed, in that it's about a milieu of people inevitably, almost cursedly, marked for death. With the hard stare into the spiritual life that marked works like Silence and The Last Temptation of Christ. With the idea of the moral and mental break of a war veteran, as in Shutter Island. By making a film involving Hoffa, Scorsese revisits some of the same territory as he did in portraying Howard Hughes in The Aviator, considering a man who was once one of the most famous figures in the world but who is obscure just a few generations later.
The Irishman has already garnered much press for the digital 'de-ageing' technology involved in taking De Niro, Pesci and company to earlier decades. It's an odd effect, otherworldly, with De Niro, in particular, carrying uncanny, augmented colour in his eyes. You may feel, watching this, that this filmmaking team is a group of old-world men swimming in virtual aspic on the verge of a post-human world. And you may wonder how you feel about that, and how you feel about this film oddly and differently covering some of the same ground as their earlier work. And by the end, the vision coheres into one final nub that's profoundly unnerving.
Scorsese suffered through decades of struggle, self-defeat and bad reputation to emerge as a well-loved figure and happy man. The hustlers who looked so cool on his block when he was a kid in Little Italy, on the other hand, did not achieve glory for long. And however one approaches one's moral life, one way or another the hand of fate comes to us all.
---
The Irishman had its UK premiere as the closing film of the London Film Festival and is released in the UK on 8 Nov before streaming on Netflix from 27 Nov