Sweet Virginia
A dangerous stranger comes to a small Alaskan town in this atmospheric thriller centred on a chilling performance by Christopher Abbott
Film title:
Sweet Virginia
Starring:
Jon Bernthal, Imogen Poots, Christopher Abbott, Rosemarie DeWitt, Odessa Young
Sweet Virginia opens with three men playing poker in a bar so poorly lit that they're practically silhouettes. One mentions a forest fire that's raging a way off, but there is something even more devastating coming to town, and specifically this bar: Elwood, a young hitman with anger issues. The three card players are dead before the title credits.
After this gut punch opener, things don't get any less tense in Jamie M Dagg's slow burning noir. Elwood holds up at a local motel in the small Alaskan town where the job went down, waiting impatiently to get paid and becoming more apoplectic by the minute. He passes the time by staring blankly at his TV, driving around town muttering expletives to himself, having mechanical sex with prostitutes and picking fights with whomever is fool enough to lock eyes with him.
Elwood is played by Christopher Abbott, the angel-faced young actor best known as the sweet, downtrodden boyfriend of Marnie (Allison Williams) in the early seasons of Girls. Here, he's like a matinee-idol Travis Bickle, but with fewer social skills and an unusually strong dislike for Rock Hudson. The comparison is supported by a painful, Taxi Driver-style phone call Elwood makes to his mother, who seems to barely remember he's her son. It calls to mind Bickle's toe-curling call to Betsy, only Dagg doesn't give us a breather by shamefully turning the camera away from the awkward conversation, as Scorsese did in that earlier film.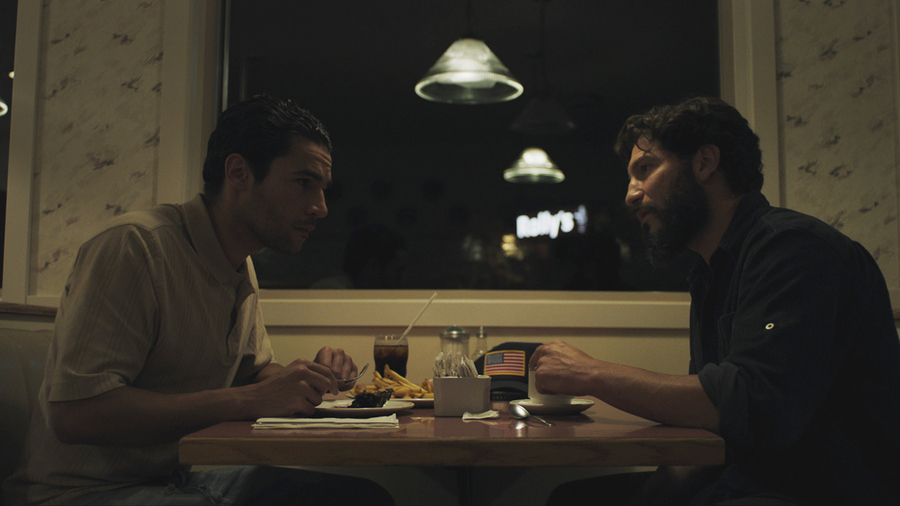 Christopher Abbott and Jon Bernthal in Sweet Virginia
The sociopath finds a friend of sorts in Sam, the timid guy who owns the motel, whom Elwood recognises as a former rodeo star from his home state of Virginia. Too many falls from the saddle have left Sam with a limp and the shakes, and in no shape to go toe-to-toe with a bull. But we suspect he might be forced to take one by the horns once again before the picture is out.
The casting is wonderfully skew-whiff. The killer is essayed by the pretty boy, while the sad-eyed motelier who can't keep his noisy guests under control is played by the hulking, bearded, flat-nosed Jon Bernthal, who made a mean psychopath himself as The Punisher in Netflix's Daredevil. A less sophisticated film would have reversed the roles, but Dagg and the screenwriters (Australian brothers Ben and Paul China) clearly like to undercut expectations, which they slyly do throughout Sweet Virginia's potboiler machinations.
We quickly learn who hired Elwood and how Sam is connected, and, pleasingly, the tangle of pulp is lucidly laid out through casual conversations that recall the flinty dialogue of great 70s crime dramas like Night Moves and Electra Glide in Blue. If there's a complaint with Sweet Virginia, it's that the wounded masculinity double-header leaves little room for the women tied up with these men – Imogen Poots and Rosemarie DeWitt's characters are integral to the plot, but the actors are given little to do beyond looking pensive or terrified.
The politics of the film seems confused too. We hear right-wing commentators on the radio froth at the mouth at the decline in the nation's morals and one sleazy character welcome the new Republican government in the White House, all of which seemed framed in the pejorative. The Old Testament fury of the brutal finale, however, doesn't sit well with the subtext.
Moral ambiguity was always a key ingredient in the stew of pulp fictions past, however, so it's easily overlooked here. And anyway, Sweet Virginia's chief assets are its chalk and cheese leads and the malevolent atmosphere. Cinematographer Jessica Lee Gagné's fuzzy lighting suggests a purgatory in permanent twilight and Sam's visions of his halcyon days at the rodeo, shown as slowmotion vignettes of bull horns and baying crowds, add to the unease. Smalltown America has rarely looked more desolate and chilling.