Justice League
Gal Godot's Wonder Woman can't save this comicbook movie disaster, which tries to please everyone but will satisfy very few
Film title:
Justice League
Starring:
Gal Gadot, Ben Affleck, Ezra Miller, Jason Momoa, Ray Fisher, Henry Cavill, Amy Adams, Jeremy Irons, Diane Lane, Connie Nielsen, J. K. Simmons, Ciarán Hinds
Justice League never really had a chance. A digitally removed moustache (poorly done); last-minute reshoots; dramatic on-set rewrites; three composers; and a staggering $300 million budget – DC's answer to Avengers Assemble was up against it before anyone had shouted 'action!'.
Then there was the news that the director, Zack Snyder, understandably had to step down following the tragic death of his daughter. Avengers Assemble helmer Joss Whedon replaced Snyder in the final hurdle of production, taking a writing, but not directing, credit. Whedon's signature humour can be glimpsed, but clashes against Snyder's tone. If either had any sense they should have let Alan Smithee direct.
Following the lacklustre critical reception of Batman vs Superman: Dawn of Justice and the abysmal Suicide Squad, you can see that Warner Bros have realised the error of their ways. The only ray of hope was the competency of this year's Wonder Woman, from Patty Jenkins, which hinted things might be on track. They aren't.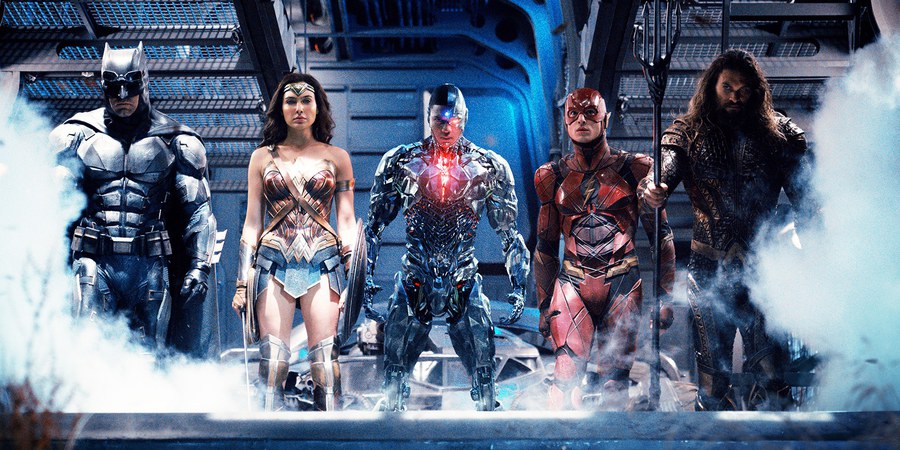 Picking up in the aftermath of Superman's death at the end of Batman vs Superman: Dawn of Justice, the world has fallen into chaos leaving it open to an alien invasion. With mosquito-like baddies swarming on the planet, Wonder Woman (Gal Gadot) and Batman (Ben Affleck) band together and recruit fellow superheroes to save the day.
Cue montage.
Enter the pitchfork-wielding Aquaman (Jason Momoa). Poseidon by another name, he looks like he fell off the back of a Harley and into a Faroe Islands jumper, which at the drop of a hat he removes to flash his abs. Next up, Cyborg (Ray Fisher), a machine man with daddy issues, who turns out to be the most compelling of the bunch. Lastly, there is The Flash, played with sufficient wit by Ezra Miller, who does manage to inject some humour into the tiresome proceedings.
Miller and Fisher give it their best, and Gadot steals the show, but Affleck's performance is problematic. He's still very much 'Sad Affleck', and the reaction to his debut as the Caped Crusader appears to have knocked his confidence. Here he has dialled it back, less Bale more Kilmer (mercifully minus the bat-nipples); it's still doesn't feel like he's owning his own take on Gotham's greatest hero.
Then there's the villain, Steppenwolf, who we're told is searching for Mother (McGuffin) Boxes in order to take over Earth. Played by Ciarán Hinds, he's a CGI horned knight who looks like he's been pulled straight from a well-thumbed D&D guide. Much worse than his look, however, is his laughably bad dialogue, with blatherings to 'Mother' that end up sounding like a cross between Norman Bates and Tim Curry's Darkness from 80s fantasy flick Legend.
Many sins can be forgiven in films of this ilk, but incoherent direction and incompetent editing cannot. Eleventh-hour changes don't necessarily result in poor films, but with Justice League that isn't the case. It's an empty mess, trying to please everyone; we suspect it will satisfy very few.
---
Released by Warner Bros