Guardians of the Galaxy Vol. 2
Gorgeous but sentimental sequel to the wacky Guardians of the Galaxy
Film title:
Guardians of the Galaxy Vol. 2
Starring:
Chris Pratt, Zoe Saldana, Dave Bautista, Kurt Russell, Vin Diesel, Bradley Cooper, Michael Rooker, Karen Gillan, Pom Klementieff
Guardians of the Galaxy, released in 2014, was Marvel's secret weapon – a wacky, left-of-field romp from an indie director and a bizarre cast of characters that pushed mainstream audiences' tolerance of weird premises. Existing in its own corner of the Marvel universe, James Gunn's film was free to chart its own path without the burden of expanded-universe crossovers.
In his sequel, the director's sense of irreverent fun is very much present and correct, and the new additions to the ensemble cast slot effortlessly into the core lineup. The awkward friendship between the musclebound, literal-minded Drax (Dave Bautista) and new character Mantis (Pom Klementieff) in particular conjures some surprisingly tender chemistry, even if that comes at the expense of the former's menace.
The film is easily the studio's most gorgeous: Guardians' vibrant palette suggests a Jack Kirby splash panel brought to life, with strange worlds, beings and crafts vividly rendered as psychedelic confectionery for the eyes. The action sequences, too, are endlessly inventive – if a little busy – with a mid-film jail break proving a highlight for fans of Yondu's whistle-arrow.
It's a shame, then, that the imagination and craft poured into the production design so rarely translates into on-screen drama. Weighed down by endlessly declarative dialogue and a laboured expansion on Volume 1's familial themes, the light souffle of the original doesn't quite rise this time. Even the personalities of the idiosyncratic cast seem shorn of their edge: Chris Pratt's quippy man-child Quill is reduced to an action hero with daddy issues and Zoe Saldana's Gamora finds herself a two-dimensional love interest, while the potty-mouthed Rocket (Bradley Cooper) sulks in the background for most of the second act.
The supporting characters fare better: Baby Groot (a squeaky Vin Diesel) is as adorable as the film's marketing promises, and his introduction – a smart subversion of generic action-film opening sequences – is a musical delight. Reprising his role as Yondu, Michael Rooker retains his gruff charm in a beefed-up part that brings welcome depth in a redemptive arc that strikes the clearest chord among a chorus of grumbling, angsty leads.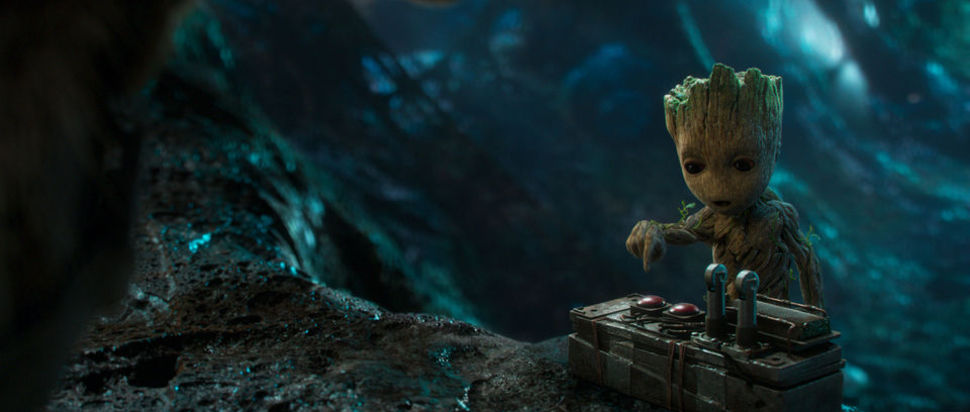 Kurt Russell is very well cast as Quill's father, Ego, and becomes the latest actor to receive Marvel's impressive digital de-aging treatment (following Michael Douglas in Ant-Man and Robert Downey Jr in Captain America: Civil War). His early sequences, framed by the aforementioned psychedelia, are an intriguing mix of trippy visuals and legitimately out-there, pulpy science fiction.
All this promise is squandered, however, by a creeping sentimentality, culminating in a game of celestial catch that will have all but the most credulous rolling their eyes with embarrassment. Quill's family-versus-friends dilemma aspires to The Empire Strikes Back, but though the tin ear dialogue is certainly Lucas-esque, Vol. 2's thematic reach far extends its grasp. The final action sequence returns the film to its earlier sense of fun, but a layer of cloying saccharine remains.
Released by Disney