Monos
A squad of teen soldiers on a mysterious mission turn on each other in knockout survivalist movie Monos, from Colombian-Ecuadorian filmmaker Alejandro Landes
Director:
Alejandro Landes
Starring:
Sofia Buenaventura, Julián Giraldo, Julianne Nicholson, Karen Quintero, Moises Arias, Deiby Rueda, Laura Castrillon, Paul Cubides, Sneider Castro, Wilson Salazar, Jorge Roman
On a misty mountain ridge, a group of teens play war – or at least we think they're playing. Alejandro Landes' thrilling, dreamy Monos is like the Duke of Edinburgh Awards gone feral; or maybe think a mini-Beau Travail. We're introduced to our fresh-faced grunts during a friendly game of blindfolded football, but their military training gets more demanding and brutal as alliances shift and madness seeps in. Their de facto leader is an adult called the Messenger, but he's towered over by all the kids, even the one dubbed Smurf – to get a picture of the Messenger in your head, imagine a stacked Danny Devito. As well as doing calisthenics and army drills, the Messenger has his team (who all speak Spanish) guarding an American prisoner-of-war they call Doctora.
That team also includes characters like Wolf (the squad leader), Lady (Wolf's partner), Rambo (the sensitive one, who'd like to be Wolf's partner) and Bigfoot (the crazy one, who'd like Wolf's job). There's also Shakira, the squad's cow, who the Messenger calls a precious source of protein and a special gift from The Organisation, the rebel force in charge of this clandestine mission. Despite their rigorous training, discipline doesn't come naturally to this juvenile platoon. Partying, violent horseplay, irresponsible use of semi-automatic weapons and sexual dalliances are more their speed, and as you'd expect, that all lands them in a whole heap of trouble.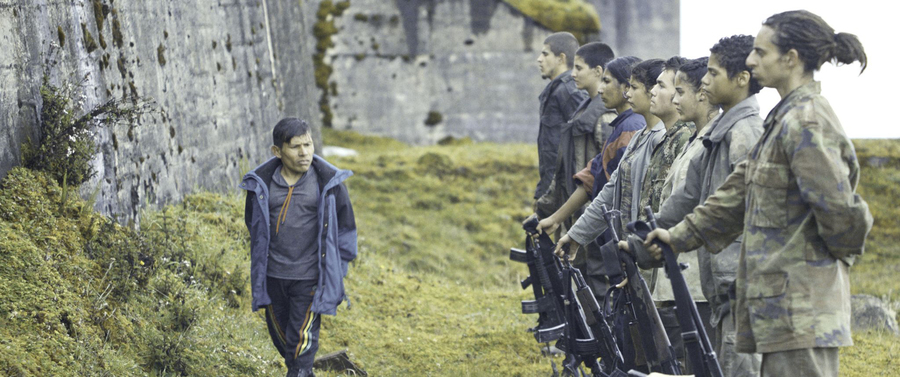 Landes doesn't give us a clue as to when or where the events of Monos are taking place, although the fog-covered hilltop location peppered with dank concrete bunkers suggests the more scenic parts of the mysterious Zone from Tarkovsky's Stalker. The New York-based director was born in Brazil to Colombian-Ecuadorian parents, so it's safe to assume he had plenty of inspiration for Monos' allegorical war story in the turbulent recent history of South America; according to the press notes, Monos was shot in Colombia.
Jasper Wolf's widescreen photography revels in the sweeping images of this desolate place, but he also likes to get in close for extreme close-ups of the dewy grass, moss, and mud that covers the rocky outcrops, as well as the wild-eyed faces of the young cast, who're often captured looking directly down the barrel of the lens. After an enemy attack on the squad's stronghold, the action moves to verdant rainforest, which is captured with a similar nightmarish beauty.
This thrilling, impressionistic work suggests war is a surreal game with no purpose other than to survive. Heart of Darkness, Lord of the Flies (don't tell David Cameron, but a severed pig's head makes a cameo) and the going-crazy-in-the-jungle adventures of Werner Herzog all feel like key texts for Landes, but this talented young filmmaker has a distinct and thrillingly cinematic style all his own, creating a film that's constantly alive with surprising images and tense setpieces. Adding to the film's fairytale qualities is a typically bewitching score from Mica Livi, which modulates from twinkly, Benjamin Britten-style wind arrangements and sci-fi bleeps to thunderous, bone-rattling drones.
If this all makes Monos sound like an intense experience, that's because it is, but even at its most brutal the film's humanity and surreal beauty shine through. Plenty of black humour is thrown in there too; their cow is named Shakira, after all.
---
Monos had its European premiere at the 69th Berlinale, and is released in the UK by Picturehouse