Woody Harrelson: "It's easy to laugh at myself"
In 2002, Woody Harrelson spent a wild night in London that ended with him in police custody. He tells us why he wanted to turn this dark night of the soul into Lost in London, a single-take movie that was broadcast live to cinemas
When an actor turns director, their choice of first film can be telling. More often than not, if the actor chooses to also act in the film, the debut can become a narcissistic showcase for their brilliance, with them cast as the shining hero. With Woody Harrelson's first stab at directing, Lost in London, the actor certainly takes centre stage, but you'd be hard pressed to call this a favourable portrait.
The film's genesis was a dark night of the soul that the Natural Born Killers star spent in the British capital in 2002. "It was a night where a lot of things came together," a bright, breezy, fresh-from-yoga-class Woody Harrelson tells us by phone. "I had a lot of trouble with my wife over this tabloid thing that came out – it was not the most flattering, best representation of me."
The rambunctious night began civilly enough in a West End restaurant with his wife and children, and ended with Harrelson in a jail cell. In between there was a barney with the missus, some clubbing at Chinawhite with a Middle Eastern prince, a taxi ride home that resulted in £300 of damages and a chase through London streets by police.
These true-life events form the backbone of Lost in London, and you've got to hand it to Harrelson for being able to make a comedy about one of the worst nights of his life. "I find it's pretty easy to laugh at myself," he says. "When you do the stupid things as I do on a regular basis you've just got to chuckle."
We ask why it was this particular "stupid thing" that he was compelled to make his first feature about? "Something about that night stayed with me, I guess," he says. "It's that thing of some guy who's got everything but he doesn't realise it, and then he's threatened with losing it all, and then gets a shot at redemption. I don't know, there's something about that kind of story that means a lot to me. To have your appreciation for your life solidified over the course of a night is a remarkable thing."
What's most remarkable about Harrelson's film, however, is not the ripped-from-the-tabloids tale of a celebrity who's out of control, but the decision to shoot the film in one uninterrupted 100-minute shot taking in various locations across London. "I always knew I wanted to do it in real time, but I didn't expect I'd do it in single camera," he explains. "I kept finding reasons why we couldn't shoot it in a single take, which were abundant."
Director of photography Nigel Willoughby (The Magdalene Sisters), however, was like a mischievous devil on Harrelson's shoulder, convincing him that a single camera-single take approach was the way to go. "[Nigel] had to convince me three times, and by the third time I really thought about it, went through the script and thought of everything that was blocking the ability to do single camera and just figured out ways around it."
If that doesn't impress you – after all, Sebastian Schipper pulled off the same trick two years ago with his Berlin-set, single-shot wild-night-out-film Victoria – Harrelson increased the degree of difficulty by quite some margin: the film would be streamed live to cinemas (500 of them) as it was being shot. No second takes, no do-overs.
Single camera is tricky enough, but to do it live borders on insanity. "Yeah, I think insane might be the right word there," Harrelson chuckles. "I always wanted to merge theatre and film, and I thought shooting it in real time would be the same as that, but then I realised you need an audience to really merge the two mediums."
Streaming content live to cinemas isn't particularly new, with companies like the National Theatre and the Royal Shakespeare Company regularly broadcasting their marquee shows live across the country, but those are of course stagebound plays. Lost in London was a whole different prospect.
"The NT Live stuff is pretty cool, but this of course has 14 locations, and 35 actors, and 50 antennas that were placed on top of buildings all around two square miles of London," explains Harrelson. "It was a wild undertaking. It was crazy. I really felt at one point it was going to kill me: it was too much to think about it and get everything working, but it somehow came together on the night."
Harrelson, of course, couldn't attend the premiere because he was in the midst of the film's action, but what did he think looking back? "I was happy overall, but there were a couple of mistakes. It's strange, several times people told me, 'You've got to plant a mistake in it.' I'm not sure why, but they would say that you need to have it. And I would say, 'Don't worry, I'm sure there'll be mistakes in it, and I was right about that.'"
We confess we didn't spot any obvious blunders. "Oh there's a doozy in there," he laughs, "but I'm not telling. It really made me nervous, we were doing some wild improvising while that was going on."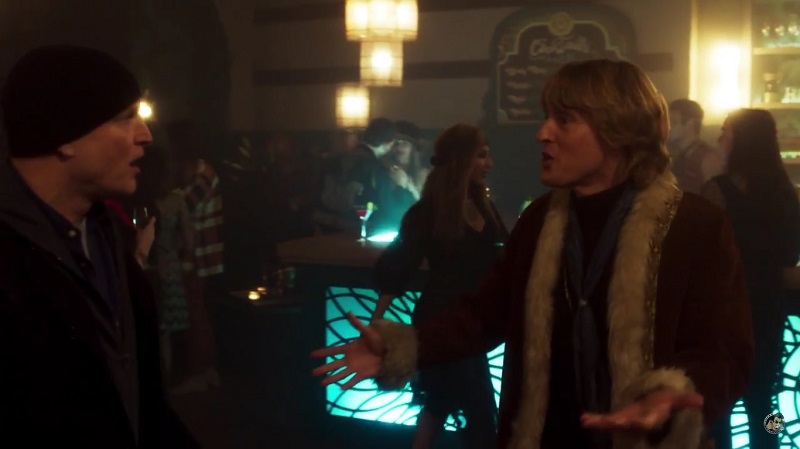 One of the film's highlights is a sly cameo from Owen Wilson, who also plays himself. The Wedding Crashers star bumps into Harrelson at the decadent nightclub where the middle section of the film takes place. "We've been the best of friends for a long time," says Harrelson. The crux of his scene with Wilson actually hinges on the level of that friendship. Harrelson sees Wilson as his best friend, but Wilson considers his best friend to be Wes Anderson, a childhood pal and the director with whom Wilson began his career.
The revelation in this scene results in Harrelson going off on a hilarious rant against the Bottle Rocket and Rushmore director and his particular brand of overly precious filmmaking, of which Harrelson's seat-of-your-pants approach with Lost in London is the antithesis. "I did get a chance to warn Wes about that in advance," he recalls. "When I was rehearsing for Lost in London I went out with Emma Stone one night. She'd just come from showing La La Land and she was with her director and some other people, so we were all hanging out and talking, and who comes into the place? Wes Anderson. So I hot-footed it over to him and pulled him aside and told him, 'I'm going to be saying some pretty harsh things about you in this movie,' but he was pretty cool about it."
Another delightful running joke in the film is that no-one knows who Harrelson is, much to the actor's chagrin. At one point he stoops so low as to sing the theme from Cheers – the legendary sitcom that gave him his big break – to a bouncer in a pathetic attempt to use his celebrity to skip the club queue. And when he's not being recognised he's being mistaken for his nebbish namesake Woody Allen. "That does actually happen to me all the time," confesses Harrelson. "All. The. Time. And I think to myself, Well, it would be fine except that I know Woody Allen never gets, 'Hey, Woody Harrelson.'"
This tickles us, as it suggests the veracity to a delicious meme going around Twitter showing a copy of Allen's Without Feathers that's been signed by Woody Harrelson with the message "To Josh, I think you've mistaken me for someone else." Please tell us that's real? "I have seen that," Harrelson says chuckling. "You know, I don't want the truth to interfere with a good story."
#awkward #WoodyAllen #WoodyHarrelson pic.twitter.com/UKe5xSvLop

— Brenda Rogerson (@b_dizzy) May 19, 2017
While it's hard to imagine Harrelson being mistaken for the Annie Hall director, it's also hard to believe him being mistaken for anyone right now, such is his ubiquity on our screens. In the second half of 2017 alone he has five films due to hit cinemas, ranging from massive blockbusters (War for the Planet of the Apes) to edgy comedies (Wilson; Three Billboards Outside Ebbing, Missouri) to indie dramas (Shock and Awe, The Glass Castle). And this isn't to mention the film Harrelson is currently filming: the as yet untitled Han Solo film, in which Harrelson plays the mentor to the young smuggler (played by Alden Ehrenreich). If his True Detective co-star Matthew McConaughey had his 'McConaissance' three years ago, it seems like Harrelson is currently going through a similar spell of good roles.
"Well I don't know," says Harrelson when we mention his current purple patch. "I never can tell if I'm up or down or sideways, I just keep plugging away. In my mind it's always my renaissance." Don't get used to seeing him too often on screen, however. After the Star Wars spinoff he plans to take a hiatus. "At the risk of starting to bore people with my presence, I think I'm going to take off for a while after this one.
What will he do? "I'll do what I do best: slacking, vacationing."
After the mammoth undertaking of Lost in London, he certainly deserves to put his feet up.
---
Lost in London was released by Picturehouse
Wilson is released 9 Jun by 20th Century Fox
War for the Planet of the Apes is released 12 Jul by 20th Century Fox
The Glass Castle is released 6 Oct by Lionsgate
Three Billboards Outside Ebbing, Missouri is released 26 Jan 2018 by 20th Century Fox