Scotland on Screen: Will Hewitt and Austen McCowan
We sit down with Will Hewitt and Austen McCowan, the duo behind production company Melt the Fly, at their studio in Leith to discuss the formation of their partnership, their recent Scottish BAFTA success and what we can look forward to next
Wiltshire-born Will Hewitt and Edinburgh native Austen McCowan are the creative minds behind the Leith-based production company Melt the Fly. We're speaking to them at their studio on Pitt Street in Leith a few weeks after they won a Scottish BAFTA for Harmonic Spectrum, their splendid short documentary following a musician navigating life on the autistic spectrum through his piano work. The pair first began working together as teens while finishing their A-levels in Doha, Qatar around 2010. This change of environment exposed them both to an inspirational arts teacher, and for McCowan, it was his first real access to the potentials of photography. It also gave them plenty of time to ruminate. As Hewitt puts it, "Doha made it much easier to focus on creative work, as there wasn't a lot else to do." On completing their schooling, Hewitt returned to England to study at Falmouth University, while McCowan went first to Stevenson College in Edinburgh, before studying at Duncan of Jordanstone in Dundee.
It was during McCowan's period of study on Tayside that he and Hewitt began filming a local bluegrass band called Wire & Wool. Hewitt was still working in England at this point, but was travelling up to visit his good friend and pursue their mutual love of documentary. "These were pretty chaotic shoots and we managed to make our mistakes there, even if we didn't have a film to show for it in the end," says Hewitt.
By the mid-2010s, McCowan had begun establishing himself as a freelance cameraperson and drone operator. He was working out of Paul Bock's Studio 128, where the Melt the Fly offices are now housed. Hewitt joined him in Edinburgh in March 2018, after which point the pair have never really looked back.
The early support and continued mentoring from documentarian Amy Hardie (The Edge of Dreaming, Seven Songs for a Long Life) was crucial in helping Hewitt and McCowan realise the true ambition and scope of their early short film project Sink or Skim. This delightful half-hour documentary about the World Stone Skimming Championship in Easdale was commissioned by Louise Thornton at BBC Scotland, alongside works by Hannah Currie (Lumo: Too Young to Die) and Léa Luiz de Oliveira (Spit it Out).
Both filmmakers are also keen to acknowledge the opportunities and support given by Noé Mendelle at the Scottish Documentary Institute (SDI). Not only did Harmonic Spectrum emerge out of the SDI's flagship short doc scheme Bridging the Gap, but their forthcoming feature debut, Long Live My Happy Head (2022), was offered invaluable support and networking opportunities through SDI's pitching forum The Edinburgh Pitch. "It was really through conversations at the Edinburgh Pitch that we were able to get commissioned by Tony Nellany at BBC Scotland," says McCowan.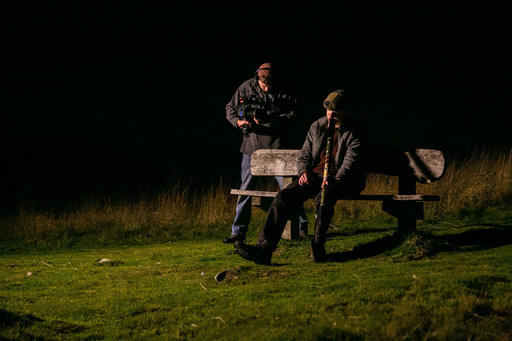 When asked about their recent Scottish BAFTA success with Harmonic Spectrum, both filmmakers say they "never expected it to happen." For Hewitt, it was just "really pleasing to hear that people outside of our little corner of the industry liked our film," while for McCowan, "the audience that will now be brought to the film will be that much bigger." The film is both a portrait piece, in keeping with the bulk of their documentary work thus far, and an exploration of the misunderstandings surrounding autism spectrum disorder (ASD). McCowan sincerely hopes that the film will "change people's attitudes and ideas about neurodivergence" and continues by saying that a cornerstone of his work with Hewitt is that they look to "use film in a way that is also beneficial to society."
Among the many influences they have had on their rapidly developing filmmaking careers, Hewitt wanted to give particular attention to Jerry Rothwell and his film The Reason I Jump and the work of Charlie Russell, especially Chris Packham: Asperger's and Me and Terry Pratchett: Choosing to Die. On Russell's filmmaking, McCowan mentioned his "very personable and poignant style and his knack for teasing out information in interviews" as being particularly influential.
So what's next for Melt the Fly? Long Live My Happy Head is set to air on BBC Scotland in the new year and is being represented for international sales by Berlin-based agency Rise and Shine, headed up by Stefan Kloos (Last Men in Aleppo). The duo are also in the early stages of development on a new mid-length documentary about "Scotland's very own home-movie action hero." We look forward to hearing more beyond that mysterious logline, but Hewitt and McCowan tell us the project will explore the potential of a returnable format and will draw heavily upon some of those mistakes made in their early days, and some of the friends they met along the way. They are also looking to build a production slate at Melt the Fly and as a result, are keen to hear from new directors who have great access to interesting characters and stories.
---
Filmography:
Long Live My Happy Head (2022)
Harmonic Spectrum (2021)
Sink or Skim (2019)
Instruments in the Architecture: Building the Pianodrome (2019)