Thelma Schoonmaker on the artistry of Michael Powell
We speak to legendary film editor Thelma Schoonmaker about her efforts to bring the films of Michael Powell and Emeric Pressburger back to the big screen, her marriage to Powell and his influence on the films of Martin Scorsese
When the Edinburgh Film Festival asked Martin Scorsese who he would like to present him with an award in 1975, he had no hesitation in naming Michael Powell. The English director's extraordinary collaborations with Emeric Pressburger had captured Scorsese's imagination as a young man with films like The Red Shoes and The Life and Death of Colonel Blimp, and he seized this opportunity to meet his hero. There was just one problem: few people knew who Powell was, nobody knew where he was, and some even suggested that he had already died. In fact, Powell was living anonymously and near poverty in a small cottage in Gloucestershire, his achievements long forgotten.
Thankfully, Michael Powell's story had a happy ending. Invited to America by Scorsese, Powell saw his work be rediscovered and he met Scorsese's editor Thelma Schoonmaker, with whom he fell in love. They were married from 1984 until his death in 1990, and since his passing, Schoonmaker and Scorsese have made it their mission to restore and celebrate the work of Powell and Pressburger, to ensure that it will never again be allowed to slip out of our collective cultural memory. "Marty and I share Michael and his movies," Schoonmaker told me. "We share that legacy, and both of us want to do everything we can to sustain it."
We are meeting at BFI Southbank, where the fruits of her three-decade restoration effort with Scorsese can be seen in a huge nationwide retrospective. She has spent the afternoon in back-to-back interviews to talk about her late husband's work, but there's no hint of fatigue; in fact, she lights up whenever she is asked about her time with Powell, marvelling at the fortitude he showed in the dark period before Scorsese sought him out. "Michael never became bitter and he kept on dreaming," she says. "He dreamed and wrote scripts for a hundred different ideas in the last 30 years of his life, which is astounding. He never gave up, but it was a terrible blow and he was so financially strapped towards the end, when Marty came and found him. He was an optimist and he had me put 'Michael Powell: Film Director and Optimist' on his grave, and that's how he managed to survive these terrible years."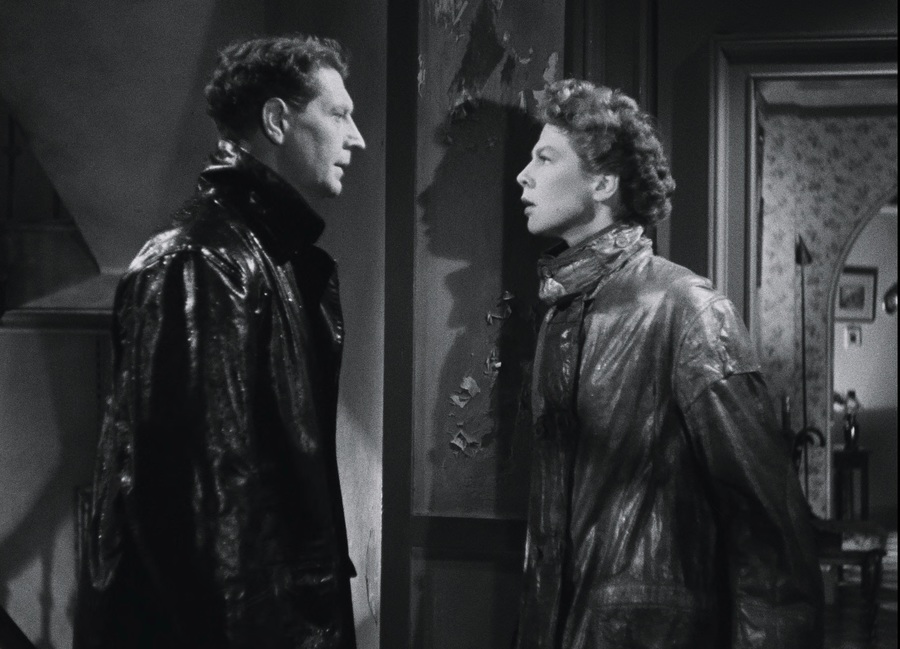 Roger Livesey and Wendy Hiller in I KNOW WHERE I'M GOING (1945) | Image: BFI National Archive and The Film Foundation in association with ITV_Park Circus
Meeting Scorsese gave Powell a new lease of life. In Powell's autobiography, he recalled his first encounter with the fast-talking American as "like meeting a twister in Kansas" and wrote: "I felt life returning to me. I felt the blood coursing through my veins." Schoonmaker fondly remembers the mutual admiration Scorsese and Powell had for each other's work. "You know, Michael thought Mean Streets was a masterpiece and he would say to me as we were walking down the streets of New York, 'Why isn't Mean Streets playing somewhere every day of the year here? This is an outrage!'" she recalls with a laugh.
Powell also proved to be a valuable resource for Scorsese, offering his notes on scripts and rough cuts and making vital interventions. "He gave us the ending for After Hours," Schoonmaker says, "and I'm sure you've read that he said to Marty that there was something wrong with the red gloves when he was watching the video of Raging Bull, and Marty said it had to be black-and-white." She also credits Powell with giving Scorsese the push he needed to finally get Goodfellas into production shortly before his death. "One Sunday, when we had been working on the book, I had been telling Michael how Marty couldn't sell Goodfellas because the studio said you have to take the drugs out," Schoomaker recalls. "Marty said, 'That's the whole story. I can't take the drugs out!' and he was very depressed because he had tried over and over again. Michael asked me to read him the script, and then he said, 'Get Marty on the phone.' I did and he said, 'Marty, you have to make this movie. It's the best script I have read in 20 years. You have to do it.' Marty went in one more time and sold it, and then Michael didn't live to see it, which was very sad."

Moira Shearer in THE RED SHOES (1948) | image: ITV Studios Ltd
Throughout the 1980s, Powell was writing his two-volume autobiography A Life in Movies and Million Dollar Movie, the second of which was edited and published by Schoonmaker after his death. These books are among the greatest filmmaking memoirs you will ever read. They are packed with fascinating insights and memorable anecdotes, and the director's infectious, forceful personality leaps off the page. Powell's sight was failing during this period due to macular degeneration, and Schoonmaker played a key role in helping him get his thoughts down on the page, with this collaboration being one of her most treasured memories of their time together.
"Oh, it was so rich," she sighs. "I gave him a little recorder, and while I was editing, he would spend all day recording. No notes, he had to keep this all in his brain. I don't know how he did the structure of the book that way. I would transcribe what he dictated, and then on Sundays – our favourite day – we would never get out of our bathrobes and I would read back what he had written that week. We would construct it, edit it a bit, and it was such a thrill to be sharing that with him. There were times when both of us would break down.
"His mother was a great influence on him," Schoonmaker continues. "She loved art of any form, and she made an artist out of Michael. She had never been to Stonehenge and she was on a bike with Michael behind her, I think he was around ten. They were pedalling towards Stonehenge and there was a terrible storm, and she looked back at her son and she decided that she would never get to Stonehenge and she turned around. Michael and I would just burst into tears! He's such a good writer. He could have been a writer instead of a film director except his mother took him to a silent film, and that was it!"
Schoonmaker is hopeful that this retrospective will introduce Powell and Pressburger's work to a whole new audience, who will in turn be inspired as she and Scorsese have been. Even now, the spirit of Powell and Pressburger infuses the editing room, firing their imaginations and influencing their choices. "We often think about them just for the influence of mood when making our films," she says. "The one important thing that Michael Powell said to us was, 'Never explain,' and that's what has happened in Killers of the Flower Moon. Marty said, 'I am not making a documentary about the Osage nation, it's got to be something different with them completely involved.' Michael also said that you must try and stay ahead of your audience because they are ahead of you, so what we love is that there is no explanation, there are surprises all the time. Marty is pulling you ahead as an audience. He respects you and therefore he is willing to give you challenges that might make a studio say, 'Oh no, that's too much.' I mean, we fight that battle on every movie! But I'll never forget that from Michael... never explain. To be working as an editor on Killers of the Flower Moon and often talking about Michael Powell, to see if we can do this or get that done, it's pretty wonderful."
---
The retrospective Cinema Unbound: The Creative Worlds of Powell and Pressburger continues to run throughout Scotland, with screenings and events at Glasgow Film Theatre, Dundee Contemporary Arts, The Hippodrome in Bo'Ness and Eden Court in Inverness. Full listings at powellandpressburger.co.uk/tickets