Film, art and visual programming at Storyhouse
In Storyhouse, you can watch cinema in a hanging box structure, and time-based art runs through the building's corridors and foyers. We speak to the visual programmers of Chester's exciting new arts centre
Is there a more romantic metaphor for watching a movie than the idea of "stepping through the silver screen"? When film – or art, or theatre, or literature – is at its best, it feels like we've entered its world, like The Purple Rose of Cairo in reverse. 
All arts venues hope to create this stepping-through-the-screen feeling. At Storyhouse, Chester's soon to be opened multi-arts centre, you'll be able to make this journey literally as well as figuratively. Partly housed within the city's old Odeon theatre, built in 1936, an inspired architectural decision to preserve the original cinema's proscenium arch and make it a centrepiece has created a delightful gateway at the heart of the building. "The old screen is actually going to be the connection between the old building and the new one," reveals David Cotterrell, Storyhouse's visual art director, who speaks to us down the line from Brussels. "So you'll actually be walking through where the screen would have been to move from one part of the building to the other."
This is just one of the features that will make Storyhouse such an inspirational space, explains Cotterrell. As part of their planning applications, new public buildings typically set aside money for a sculpture to place at the front, or maybe a decorative facade. Storyhouse's approach is much more innovative: funds have been put aside for a five-year commissioning programme aiming to bring world-class artists to Chester, and to offer opportunities for emerging artists to experimentally use Storyhouse as a space to develop new time-based artworks.
"The idea is to bring artists to Chester, to challenge them" 
It's a brave approach. "We're looking to commission a series of people over the next five years and that process is just beginning at present," explains Cotterrell. (Welsh contemporary artist Bedwyr Williams has been announced as the first commissioned.) "The idea is to bring artists to Chester, but also to challenge them, to make things that would maybe be impossible anywhere else. But also to encourage audiences, locally and from the wider regions, to think of Chester as a place to encounter new artwork."
Storyhouse won't have a specially designed gallery space, however. Instead, the circulation spaces within the building will become the gallery. Many of these new artworks are likely to be on display at the transitional space through the old cinema screen, where a large digital screen will be suspended. "This will lend itself to moving-image projects, but also it is an attempt to reconsider the way the public will engage with multiple activities in a shared space," says Cotterrell. "There's a flexible approach to using distributed audios, screen objects and the way in which some of the built-in theatre systems can be used creatively to make intervention in that public environment. For artists it's an unusual challenge, but it's a good opportunity as well."
How does Cotterrell picture people using this space? "The central space is a natural place to engage a lot of people," he suggests. "Once it's open I think this will become a meeting point, but also a route between people from different areas within the city. It should have an awful lot of people coming through for a range of activities."
This is a key point as far as Cotterrell is concerned: audiences who experience Storyhouse's various art installations won't necessarily have come to the building for that purpose. "Maybe they're visiting the library, the cafe, or maybe waiting to take their seats in the theatre. What's so exciting is that we will have in [the space] an audience that is partly your standard gallery audience, but it'll involve a much wider group of people who might not define themselves that way."
Another reason people might be visiting Storyhouse is to see the best of contemporary film in its 100-seater cinema, which will be housed in a light-box structure suspended above the Odeon's old foyer area. In fact, expect a lot of people to be at Storyhouse for this reason, as the people of Chester have been without a city centre cinema since the Odeon closed a decade ago.
The ethos behind the cinema will be different from the typical commercial model, says Nicky Beaumont, Storyhouse's film programmer. "It's going to be all about community engagement," she says, "getting people involved with the building, trying to build up the idea that the building belongs to the people of Chester; they're going to have a say about how it's programmed."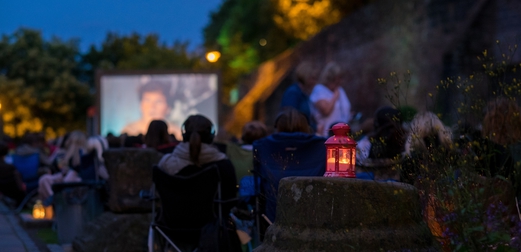 [Moonlight Flicks at Grosvenor Park Open Air Theatre. Photo: Mark McNulty]
As Storyhouse's opening is still a way off, Beaumont can't go into specifics on film titles or seasons, but she does point to the art centre's current pop-up outdoor cinema, Moonlight Flicks, as an example of the kind of approach she'll take to Storyhouse's programme. "It'll offer a real mixture of new-release films as well as retro classics and some family orientated stuff," she says, "so it'll be quite an eclectic mix with a real indie spirit. It is a single screen, so we can't do what a multiplex does. But we'll be choosing the best stories to reflect that kind of Storyhouse ethos that will be going through the building."
This, it seems, is what's going to make Storyhouse such a special place. Theatre, cinema, visual arts, literature and community will commingle and be in constant dialogue, says Cotterrell: "The idea is that the various artforms end up in a genuine collaboration with the building to realise something that encourages curiosity and questioning about the role of culture in the city, and the role of art within that."
---
Storyhouse – Chester's brand new £37m theatre, cinema and library – opens in May 2017