Soda_Jerk on TERROR NULLIUS
Australian renegade archivists Soda_Jerk bring TERROR NULLIUS, their coruscating critique of the Australian myth, to Glasgow Short Film Festival this month. Ahead of the screening, we ask the duo about sample culture and the controversy their film caused
Australian raised, New York-based siblings Dan and Dominique Angeloro are Soda_Jerk. With activism in their veins, propelled by outrage, the self-named 'renegade archivists' have adopted sample culture to disrupt and distort the visual.
Soda_Jerk were first switched onto sampling through the experimental hip-hop and queer performance scenes of Sydney in the late 90s. "It wasn't just that audio sampling was a big part of the way that people were working," they tell us, "but also that these scenes were intertwined with this resilient and pervasive DIY, punk and squat culture." The bloom of resistance was thriving. Add a fascination with cinema, and Soda_Jerk became interested in what could happen if they applied the tactics of sampling to film.
The artists sit within a heritage of experimental and found footage filmmakers, such as Ellen Cantor who re-edited footage to challenge images of fantasy from a feminist perspective, and Craig Baldwin, who tackled historical discourse in Tribulation '99. "We are drawn to artists and thinkers concerned with image politics," they say, "and the possibilities of radical documentary practice."
Baldwin offered his 'Other Cinema' archives, which provided a source of film samples, while his basement floor provided a place to crash. "He taught us that even in apocalyptic neoliberalism it's still possible to live the art and keep the fight." It's a fight they're fully immersed in. Walking into their studio you'll find they have, "archives within archives within archives of films we've watched, and samples we've logged. They're across towers of hard drives and scrapbooks and every inch of our studio walls."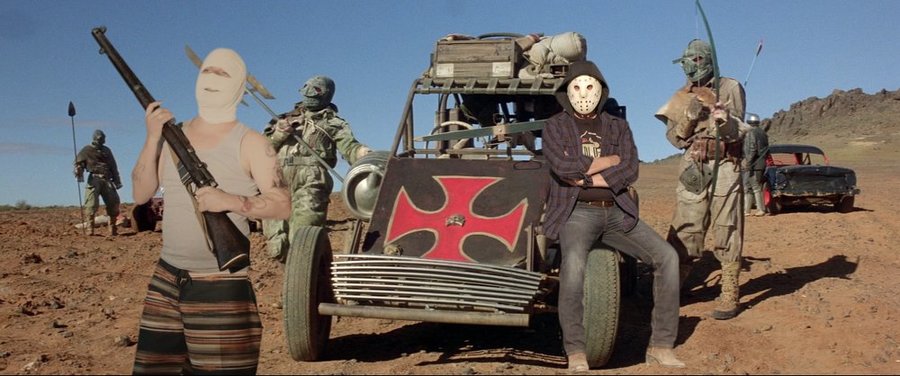 Cinema reflects and reveals where and how our gaze is falling. These biases, conscious or otherwise, can be deconstructed with a critical eye. Soda_Jerk 'hack' this historical record, "strategically reorganising and archiving existing culture in new ways."
In TERROR NULLIUS, icons of Australian national cinema cross paths; Priscilla Queen of the Desert, Crocodile Dundee and Nic Roeg's Walkabout all meet in the Outback, but not as you know them. Their narratives are questioned, challenged and re-written. Racism, homophobia and toxic masculinity are brought into the frame before being swiftly rebuffed. It's an interplay between structure and sampled material that Soda_Jerk describe as "a kind of improvisational feedback loop."
"We'd been thinking and scheming an Australian political revenge fable since 2006 but it was really a decade later that we began to feel the impossible weight of the apocalyptic conservatism that has taken hold in Australia and abroad." Soda_Jerk watched as the refugee horror unfolded on Manus Island, as the Australian Government polled their queer community's right to love one another, and as large portions of the federal budget continued to be sunk into expensive monuments to Captain Cook. "Although we wanted to deal deeply and specifically with the Australian contours of this political landscape, these issues are also grossly shared by an international context."
'TERROR NULLIUS was our way of upending our feelings of despair and channelling them into a form of unapologetic rage and radical solidarity'
At a time when many are wringing their hands and asking, "What can we do?!", for Soda_Jerk art was their answer. "We tried law degrees, psychology degrees, art theory, journalism, living in squat spaces and on uranium mining blockades. We've made zines and cassette tapes, sought official channels and underground resistance movements," they explain. "TERROR NULLIUS was really our way of upending our feelings of despair and channelling them into a form of unapologetic rage and radical solidarity."
That radical rage saw the project's co-commissioners and funders, The Ian Potter Foundation, disassociate themselves from the final work. The artists had to re-export the entire project prior to a screening, just to remove the Foundation's logo. "Turns out that some of the conservative members of their board of trustees were deeply affronted by the left-leaning politics of the film," Soda_Jerk tell us. The foundation made a public statement describing TERROR NULLIUS as a "very controversial piece of art" and instructed that there would be no further association between their organisation and the film, despite being aware of its content. What these actions achieved of course, was to draw the press to the film and elevate it even further into the consciousness.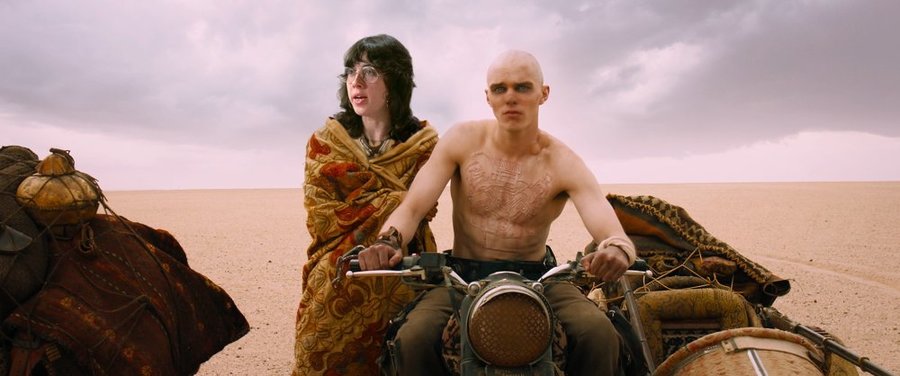 In response to these events, Soda_Jerk felt that it only reinforced for them an integral part of what they do. "As an artist you've not only got to make the work you want to make but you also have to be willing to push back and stay with the trouble."
When your bread and butter is re-appropriating a nation's catalogue of beloved film history, the backlash might not stop with funders' cold feet. In the event, any ire came only from those who missed out on the party. "So far the only people who've expressed frustration about the sampling in our film have been those whose work was not sampled. We get emails where Australian directors or actors ask us, like, 'what am I, chopped liver?'"
Positive reactions came from New Zealand film director Jonathan King, whose killer sheep are sampled in TERROR NULLIUS' bloody finale, and from Heath Ledger's dad, Kim Ledger. "[He] approached us after a recent screening to tell us how much he felt Heath would have loved the film and our sampling of him within it," they share. "We've always thought of the makers that we sample as our wider sphere of collaborators, so being able to have these conversations now feels like such an insane privilege."
As the next trending topic hovers at the edge of your Twitter feed, one reshare away from being the day's top post, visual culture is only gaining more traction and influence on ever bigger platforms. Which is why working to challenge the messages inherent in one of our most popular cultural forms – film – couldn't be more relevant at this time. Soda_Jerk wonder if people, "perceive a disjunction between political art and recycled cinema work that is inherently engaged with so-called popular culture." They conclude, "as the current US presidential situation has made crushingly obvious, mainstream image culture is a principal substrate of contemporary politics. Being able to translate, transform and circulate images has never been more politically important than it is at this moment."
---
Soda_Jerk head to Glasgow Short Film Festival, opening the festival with TERROR NULLIUS on 13 Mar and also presenting installation Astro Black (CCA Intermedia Gallery, 14-17 Mar)