Sebastian Schipper on single-shot crime flick Victoria
Sebastian Schipper has made a thrilling single-shot crime odyssey set in Berlin. Unfortunately, few believed he pulled it off without hidden edits. It's time to set the record straight
Sitting down with German actor-turned-director Sebastian Schipper to discuss his latest film, Victoria, is like reminiscing with an old friend about a wild night you both shared. An evening of danger and exhilaration, of nightclub euphoria and rooftop musings about life, death and everything in between, Victoria is cinema in the present tense; life presented as a series of memories woven together by experiences. For Schipper, drawing in the audience is paramount: "I like entertaining. I don't think that word is stupid; I trust that word. I wanted to tell a story that gives energy to people. At the same time some of these films that call themselves entertaining aren't, because after five minutes you know how the film's going to end."
That's certainly not a criticism you can level at Victoria. Running 134 minutes, it's shot in a single take without any digital trickery or subterfuge – it's one of the year's most impressive technical achievements. The film opens with strobe lights and the relentless thump of techno music as the title character (Laia Costa), a young Spanish woman working in Berlin, dances by herself at an underground club. At around 4am, she decides to leave, but falls in with Sonne (Frederick Lau) and his friends. Instead of heading home, she finds herself on an unexpected journey across the city.
At one point, one of Sonne's friends tells Victoria they're going to show her the "real Berlin." "Ha, what a fake statement," says Schipper when faced with this quote. "I'm not sure it was ever in the top of my mind to make a Berlin film." It may not have been Schipper's intention to tap into the city's psychogeography, but there's an undeniable sense of place with Victoria. The film takes the audience on a journey through the city, jumping from location to location (22 locations in total) and it's fitting that the film's end credits lead with cinematographer Sturla Brandth Grøvlen, whose restless digital camera accompanies the characters throughout.
"The film talks about money and privilege," Schipper says while explaining why he decided to avoid some of Berlin's more recognisable landmarks. "We shot around Friedrichstraße, a huge shopping mile that's divided by the notorious Checkpoint Charlie, where the Berlin Wall used to be. There's the former eastern part of Friedrichstraße, and crazily that part is now the main shopping centre of Berlin, while the former western part is the overlooked end of the street. We chose it because it doesn't look like a spectacular part of town – there are no sights at all. I think it comes with us not wanting to tap into that fake, manufactured style too much. I wanted to take some of these words like 'radical' and 'authentic' and 'real' – words which have been kidnapped and forced to sell products – and I wanted to see what would happen if we decided to take these words seriously. What if we really do something with a punk rock attitude."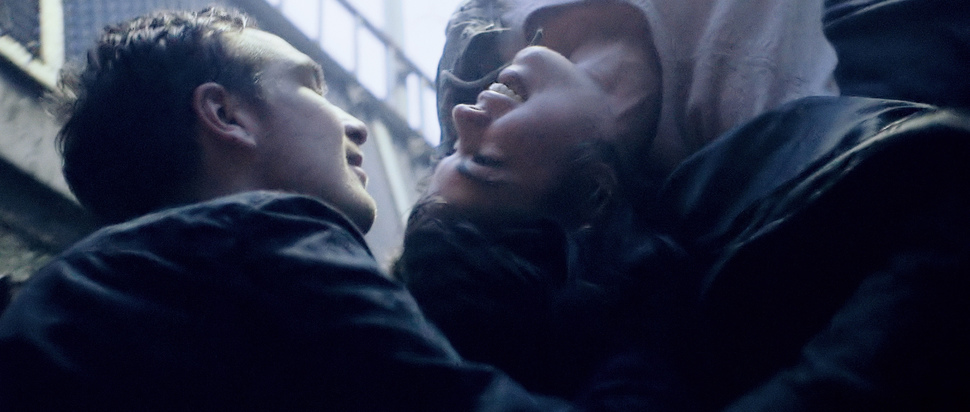 There's no denying that the film adheres to a punk rock aesthetic, and these anti-establishment sentiments are shared by the film's characters. A burgeoning romance between Victoria and Sonne is put on hold when Sonne's friends are ordered to meet with a professional gangster to whom they owe a debt. Victoria unwisely accompanies them to an underground parking lot, where they're tasked with robbing a bank. It's here, just past the hour mark, that Victoria goes full-throttle – and what began as a rambling Berlin-set homage to Richard Linklater's Before Midnight evolves into a high-octane retelling of Bonnie and Clyde. "I knew that at a certain point you've got to put all your money on the table; raise the bar," says Schipper of the film's tonal shift. "I try to pull the best of two worlds. I like indie films; I like how the characters are real people. But I also like genre films; I like seeing people robbing banks. I think I tried to force the best of these two worlds into Victoria."
Schipper's film's premise asks a lot of its cast, who worked from a basic script and impromptu direction while filming nonstop from 4am to 7am. "All the dialogue was improvised but we rehearsed a lot too," says the director. "I made sure everyone was in the moment and everybody knew exactly what their character was about – whether they were running for their lives or having the best party of their lives."
While watching Victoria, there's a sense of an actual performance unfurling in front of your eyes, but Schipper is quick to distance his film from theatre. "Theatre is all about gestures and voice, it's about presenting something, and Victoria is the complete opposite. It's about going all-in and being totally submerged into this night. The camera is right next to them throughout. The camera smells if you're lying but the stage doesn't mind."
The film's poster is adorned with the tagline "One City. One Night. One Take," and critics have been quick to compare Schipper's film to everything from Alexander Sokurov's Russian Ark to Alejandro González Iñárritu's Birdman. Schipper's film sits somewhere between the two. Just like Sokurov's carefully orchestrated journey through Saint Petersburg's Hermitage, there's no state-of-the-art trickery: its single take is real and uninterrupted. And like Iñárritu's film, Victoria uses the single shot to sweep its audience up in its overwhelming sense of immediacy.
"I wanted to tell a story that gives energy to people"
How does Schipper feel about these comparisons? "It's flattering because those are amazing films, but I think it's only because people need a box to put stuff in to make sense of it, which is cool. The only thing I don't like about people positioning us against Birdman is that we did it for real. Birdman is a great film, and I would love more films to come from such a leftfield position, but it openly cheats."
Before Victoria's Berlinale premiere in 2015, both the Toronto Film Festival and Sundance rejected the film because they didn't believe it could possibly have been shot in one take. And according to Schipper, even the Berlinale organisers had their suspicions. "Dieter Kosslick, the Berlinale director, came to me during the closing ceremony and he said 'Sebastian, tell me… did you cut?' I said, 'No we didn't', and he said, 'See, I knew it! But I had somebody come up to me and he said: I have information: there are three cuts in the film.'"
Schipper can't help laughing at this recollection, but how does he feel about his film coming under such constant scrutiny? "I think we as a species are so precise in decoding situations – that's what made us survive. I think if you've been in this kind of rhythm for one and a half hours you'd notice a cut. I'm sure you would notice the change in temperature, even if it's only a little. Before we screened the film we said we had to be ready for this type of questioning because some idiot on the internet will try and prove we didn't do it."
It's a sad indictment of our times that no one seems to believe Schipper, but he doesn't seem to mind. "It's funny because, of all the conspiracy theories in the world, this is the one time in my life where I know the truth."
---
Victoria is released 1 Apr by Curzon/Artificial Eye