Richard Linklater on buddy movie Last Flag Flying
Richard Linklater is back with another left-turn: a low-key road movie starring Bryan Cranston, Steve Carell and Laurence Fishburne that's a kind-of sequel to Hal Ashbey's Last Detail. We speak to this most mercurial of filmmakers
Richard Linklater's last film, Everybody Wants Some!!, earned its double exclamation marks as a joyful sojourn back to 1980, where the director drew on his own college years for a tale about the optimism of youth. He prodded, poked and made fun of male hubris, and as a result the all-American jock had never been more endearing.
His latest film, Last Flag Flying, couldn't be more starkly different. It's about being middle-aged, it's more sober, although it's still full of the trademark comic motifs that we have come to expect from the director who shot to fame with Dazed and Confused back in the early 90s.
Last Flag Flying is based on the novel by Darryl Ponicsan, who also wrote The Last Detail. When news of this project initially broke, some thought perhaps that Linklater's film was a direct sequel to Hal Ashby's much-loved 1973 adaptation of Ponicsan's book. They were wrong. "When we did a test screening and asked how many people had seen The Last Detail it was like 6%; it is surprising how few people have seen that movie," explains Linklater, who wishes the press hadn't made the comparison.
Linklater's film takes place in 2003 during the Iraq War, in an America still smarting from 9/11, with anxiety high. At the centre of the film is Doc (Steve Carell), a Vietnam veteran who was dishonourably discharged and now lives alone in New Hampshire. Alone, because not only has his wife passed away, he's now also lost his only son who was killed in action during an ambush in Baghdad while serving in the Marine corps.
This death prompts Doc to go in search of his old war buddies to help him transport his son's body home where he can be finally laid to rest. The first is Sal (Bryan Cranston), a surly barkeep who exists on cold pizza and beer. He's happy to see his ol' pal and do whatever is asked of him. Then there is Mueller (Laurence Fishburne), now the Reverend Richard Mueller, who's less happy to see his one-time war buds.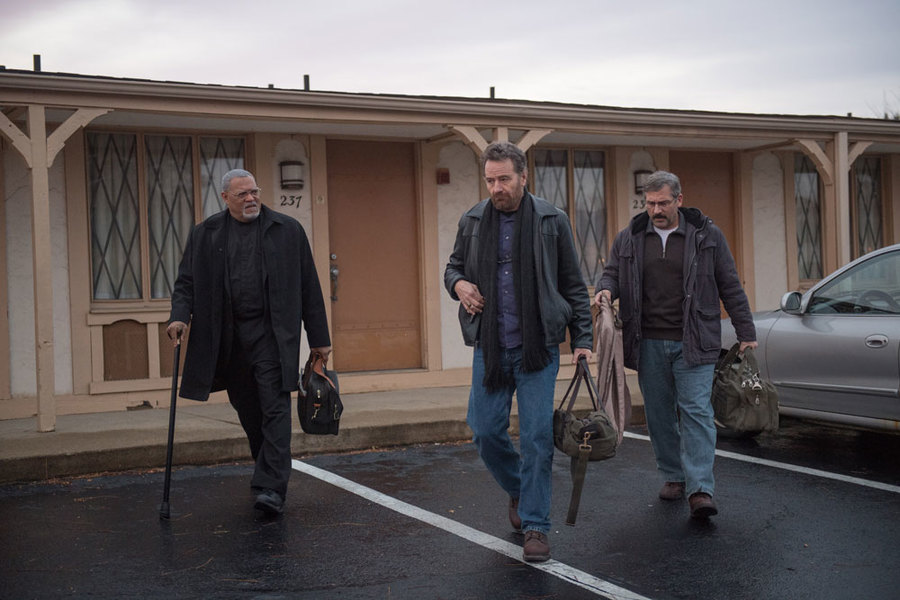 Laurence Fishburne, Bryan Cranston and Steve Carell in Last Flag Flying
While Everybody Wants Some!! and Last Flag Flying are different tonally, it's easy to find the thematic strands that link them. "They're the same," begins Linklater, who still at the age of 57 looks as young as ever, although jet-lag, he explains, hits him harder these days. "Guys find groups and missions to go on; I think we are tribal, pack animals. Men look for those things that bond them together."
Linklater is in London discussing his new movie ahead of its UK premiere at London Film Festival, and any signs of wear from his transatlantic flight aren't showing. He describes Last Flag Flying as his take on the war film, or as he puts it, "It's kind of a PTSD movie." There are no big action sequences, guns are only viewed fleetingly. His interest isn't in the violence and action of war, it's in the aftermath, the cost, and how people learn to cope after the guns have been laid down and they have to fly home.
"For me it was about capturing that post 9/11 atmosphere in the US," says Linklater. He is keenly aware of the lies that were sold to the people of the US and UK to justify the war, and with Last Flag Flying he creates an atmosphere of reflection, where the pain and confusion is raw. This is balanced with the comedy and warmth of watching three old friends reunited, even if it is for a tragic reason.
Linklater wrote the first draft of the script back in the mid 2000s, but he couldn't get it made. "The war was still something of an open wound, it was too painful back then," he explains. "I think there is a delay mechanism about wars, some cultures are able to look at it earlier than others. I think there has been a good reassessment of the second Iraq War. Even the Republicans had a debate where they asked all the candidates whether or not the Iraq War was a mistake."
Not unlike the lackadaisical philosophical muses that pepper his beloved Before Trilogy, Linklater gives his characters in Last Flag Flying meandering speeches where they reflect on life past and present. Often, Doc, Sal and Mueller tell war stories, or discuss where they have been all these years, but above all talk how they learned to cope.
Linklater lands on the word medication. Each of his characters medicates in different ways: Mueller with religion, Sal with booze, and Doc with a family life – until it is cruelly robbed from him. "Mueller's belief system is his medication and it worked for him, but is it any more truthful than Sal's? Everyone has got their own way of dealing with life," explains Linklater. He adds, with a wry smile, "Life tends to just kick the shit out of you, and it is how you respond that defines you."
Linklater explains that he wanted to make sure Last Flag Flying honoured the military, not because he's pro-war – far from it – but to honour those who served. "I really don't know the fruit salad insignia on the jackets, or anchors up, anchors down. I had to ask what it all meant," he jokes, becoming more serious when he adds, "and I want veterans to know that I did everything I could to get it right. I wanted it to be authentic."
We come back to the subject of war, and whether he feels America is in a better situation now. While he accepts that generally people are able to separate the troops from the mission, he seems resigned to the fact that war is an inevitable part of society, however anti-war he may be. "Early on, I was playing around with movie titles," he explains. "One was The Lies that Bind – it was never, ever going to be called that, but those words crossed my mind."
It would have been an apt, if somewhat clunky title. Before we get a chance to ask another question, he says, "groups, countries, tribes, the world – we have to have these fictions, myths and lies that we live by, or bind us. It's hard to keep millions of people on the same page. Countries don't want to deal with their past; individuals don't want to deal with their past. Wars and histories are rewritten instantly and constantly, among society and individuals."
We ask how the movie has been received in the US. He laughs and recalls that one right wing periodical praised him for "getting the military stuff right," despite the fact he is a "red state liberal.'" He jokes they are probably softer on him for being a Texan. "I think the film is more uniting than dividing," he adds. "The support from the military and the veterans has been really positive. I think it is because it focuses on people. Most war movies have other things going on – the battle, the strategies. This is just hanging out with the guys."
---
Released 26 Jan by Curzon Artificial Eye