Realist Fairytale: Clio Barnard on The Selfish Giant
The Arbor director Clio Barnard discussed her second feature film The Selfish Giant, an adaptation of the Oscar Wilde fairytale of the same name, which sees her back on the Arbor estate in Bradford
As Clio Barnard talks about her second feature, The Selfish Giant, her infant son can be heard playing in the background. He comes to the phone once or twice, trying to get her attention, and she carefully mothers him without breaking stride in the interview. It's apt that Barnard's son should try and get in on our conversation. After all, he's key to the creation of The Selfish Giant: it's his favourite bedtime story.
"My son requested it again and again," Barnard says. "It's a Victorian fairy story about the wounds of love. It's beautifully written and it's very sad; a fable about excluded children that contains something eerily truthful in it."
In Oscar Wilde's children's story, the giant of the title builds a wall to stop children from playing in his garden, letting it fall into a perpetual winter seared by the north wind.
But a gap is found in the wall, and as the children return, so does spring, returns in full blossom. Seeing this, the Giant emerges from his castle, and the scared children flee. But a single boy remains, trying to climb a tree. The Giant takes him in his hand and helps him, before tearing the wall to pieces: 'And the tree broke at once into blossom, and the birds came and sang on it, and the little boy stretched out his two arms and flung them round the Giant's neck, and kissed him.'
Barnard says that her version of The Selfish Giant "is in the tradition of realist films like Vittorio De Sica's Bicycle Thieves, Ken Loach's Kes, and The Apple, the Iranian film by Samira Makhmalbaf. But I referenced Oscar Wilde's fable because telling a fairytale based on real lives creates a paradox."
In Wilde's story, the child, who dies at the end  with stigmata on his hands, welcoming his friend to heaven, is an allusion to Christ. But Barnard's film has no sacred ending.
"Sometimes I think we can idealise children and childhood," she tells me. "But when I made my first film The Arbor, I saw loads of children that are excluded, not just from school, but from society. And then they're demonised."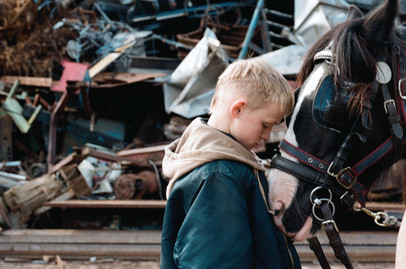 Set in the Brafferton Arbor estate on the south-western edge of Bradford, The Selfish Giant is about young boys who don't get much attention. It makes you think back to the kids in your class who rarely turned up to school, and of whom no one asked many questions. It shows, with a burning anger and a tender eye, the fate of those pushed to the very edges of British society.
"The film is born out of my anger about young people, who have become very important to me, and what's not being done for them," says Barnard.
The Arbor was a formally audacious documentary about the tragic life of playwright Andrea Dunbar, who grew up on these same streets. Although The Selfish Giant is straighter-played and more elemental in its formal technique, both films throb with the anger of an ignored people. A major inspiration for the new film was Matty, a local Bradford boy whom Barnard met while filming The Arbor. Excluded from school, Matty turned to scrapping (scavenging on the streets for discarded metal before selling it to a scrapyard) to give himself a sense of a living. "Matty has been very angry and frustrated and misunderstood in his life, and that made him volatile. But he also rejected youth culture; he wasn't interested in consumerism, and he was labelled a pikey for it, but he went scrapping and wore the dirt of it with pride."
She met The Selfish Giant's two stars – Conner Chapman and Shaun Thomas – doing outreach work in Brafferton Arbor's local school. Chapman plays Arbor, a whirlwind of a kid, powered by energy drinks and prone to lashing, violent mood swings. His best friend is Swifty (Thomas), a shy boy with a natural connection to horses, who carries the term 'pikey' like a noose around his neck. School does nothing for them, before getting rid of them with the excuse 'it's not right for them'. Arbor's father is missing; his mother is trying vainly to discipline and care for him. Swifty's case is even worse: the first time we meet his father (Steve Evets), he's selling the family's sofa and shouting at Swifty's mother (played with gut-wrenching depth by Siobhan Finneran) as she serves countless children tiny portions of cold baked beans.
The struggle of maternity in the face of overwhelming odds is a key theme in The Selfish Giant, but this is not a feminist take Barnard consciously wrote in, more simply a reflection of the reality she sees on the streets of Bradford.
---
"Sometimes I think we can idealise children and childhood. But when I made my first film The Arbor, I saw loads of children that are excluded, not just from school, but from society" – Clio Barnard
---
I knew I wanted to make a film about men and boys, and the surprise for me was that Swifty and Arbor's mothers became so important to the final film. These are women who fight tooth and nail, but what they're up against is a total lack of opportunity for their children, both in and out of school. I talked to a woman whose boy had been excluded; she told him to go back to school, every day, regardless. But school is a very difficult environment for boys who don't feel they belong."
The film builds to a beautiful crescendo: a wordless scene between Siobhan Finneran as Swifty's mum and Chapman's Arbor that's freighted with meaning. "We did several different takes of the scene, and I was experimenting with different lines of dialogue, and then at the end of the day I suggested Siobhan try the scene without saying anything, and she just worked this magic. She starred in the film of Andrea Dunbar's Rita, Sue and Bob Too, so I was actually quite nervous about meeting her. She's a phenomenal actress."
Chapman, though, is just as good. It's almost unbelievable that both he and Shaun Thomas had never performed in front of a camera before, such is their ease and energy on screen. Both stars accompanied Barnard to the Cannes Film Festival this year, and stood on the stage at the end of the film's world premiere as it received a sustained standing ovation.
"They put the spotlight on them, and I just stood there and looked at their faces," Barnard says. "It was just a wonderful moment. I told them during the film shoot how well they'd done, but until then I don't think they'd ever realised the extent of their achievement. They were totally amazed by it all."
The Selfish Giant lays itself open to the 'grim up north' and 'poverty tourism' fallacies that attach themselves so readily to the social realist canon. Yet it's not didactic; neither is it worthy. It's an honest and heartfelt attempt to communicate something that transcends the streets of the Arbor and the poverty of its children. As it builds towards a tragedy, both small, slight and all the more painful for it, it asks us who the selfish giant is. Is it Swifty or Arbor? Is it the scrapmonger who exploits them, or the school that rejects them? Is it the remote policies sent forth from Whitehall? Is it God himself? Or is it we the audience, who will see this film and maybe tear up, and then walk out of the cinema into the veined streets of a divided Britain?