McGregor, Bremner, Carlyle & Miller on Trainspotting 2
The long-awaited sequel to Trainspotting is here. The film's four stars – Ewan McGregor, Jonny Lee Miller, Ewen Bremner and Robert Carlyle – reflect on returning to their iconic characters after two decades
The year that saw Take That split up, Fergie divorce Prince Andrew, and a genetically engineered sheep called Dolly enter the world, we were also introduced to four lads from Leith in Danny Boyle's Trainspotting.
It was a frenzied, drug-addled trip into the working-class Edinburgh borough (although most of the film was shot in Glasgow) that brazenly screamed "choose life". Grit and fantasy collided. Iconic images emerged, including our hero crawling into 'the worst toilet in Scotland', while Underworld's Born Slippy and Iggy Pop's Lust for Life blared on the soundtrack. It was a different side to the Edinburgh of tartan and Greyfriars Bobby peddled by the tourist board; a place where heroin addiction was rampant, and the spirit of punk was refusing to die.
Twenty years on, Ewan McGregor's Renton is back alongside Sick Boy (Jonny Lee Miller), Spud (Ewen Bremner) and Begbie (Robert Carlyle). The actor is also reuniting with director Danny Boyle after a prolonged separation following Boyle's choice to cast Leonardo DiCaprio over McGregor in backpacker thriller The Beach back in 2000.
It's been a long gestation period for the sequel, matching the two-decade gap of Independence Day, but with significantly better results. Irvine Welsh produced his own sequel to his seminal novel in 2002, called Porno, and T2: Trainspotting is loosely based upon it, with some significant changes.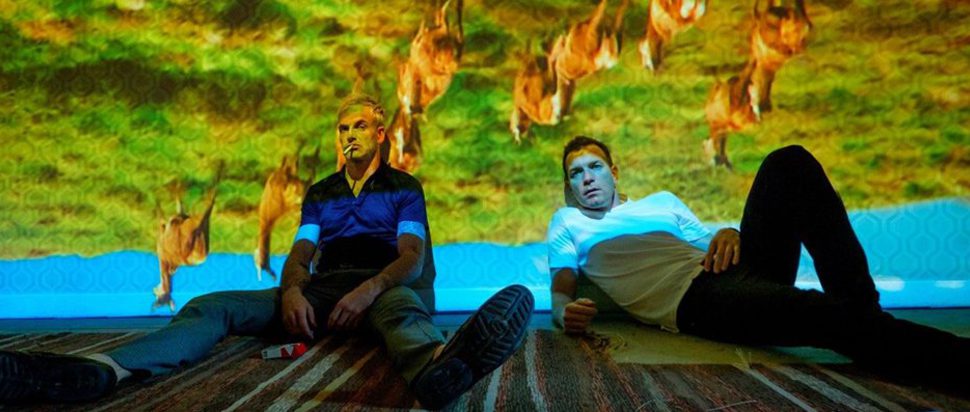 Jonny Lee Miller and Ewan McGregor in T2 Trainspotting
There had been many reasons for the delay, notably the aforementioned rift between Boyle and McGregor, which, while never openly hostile, was enough to keep the pair from talking to each other for a decade and a half. Now it's full-steam ahead. The boys are back, but they are changed. Middle-aged, sporting slight paunches and with a lot of regrets.
Ewan McGregor and Jonny Lee Miller on T2
"I felt like I was meeting old friends again," explains McGregor. When we last saw Renton, he had robbed his friends and fled to the continent. In the new film we discover he replaced smack for the treadmill and is back in Edinburgh to atone for the sins of the past. On his return, he finds a very different hometown. "When Renton comes back he sees this new modern city, with a tram that wasn't there before and wine bars," explains McGregor, "and sees that the city has moved on in a way that the characters haven't." According to McGregor, Boyle was very taken by this concept – that for these four the city might have grown and changed, but the characters haven't ever truly grown up, have always been questioning what might have been.
While their characters' development has been arrested, the actors have seen there own lives transformed by Trainspotting success, propelling them from talented newcomers to international film stars. Was the homecoming a chance to re-explore material that catapulted the four to fame? For McGregor, it took a little time. He says at first it felt like "Ewan trying to play Renton again."
Miller felt differently: "You try not to think about it because you are working. I never thought, 'Oh here I am, I am back.' Sorry, that's a crap answer".
It isn't a crap answer. While fans have yearned for a sequel since the original's release, the actors haven't looked back. Miller has found renewed fame as Sherlock Holmes in the US hit show Elementary. Carlyle found similar success with ABC's Once Upon A Time. Bremner, meanwhile, has had a slew of Hollywood roles, including the upcoming DC comic book movie Wonder Woman. McGregor, whose star has shone the brightest of the four, has now worked with everyone from Tim Burton to Polanski, released his directorial debut American Pastoral last year, and is due to appear as Lumière in Disney's live-action Beauty and the Beast. And let's not forget joining the Star Wars universe as a young Obi-Wan Kenobi.
Trainspotting, Cool Britannia, and the UK in 2017
Part of the success of the original Trainspotting, aside from its compelling cast and legendary soundtrack, was the way in which it captured the spirit of the UK in the mid-90s. The world was in a very different state, on the cusp of Cool Britannia and Britpop. T2 is also arriving as the UK is on the brink of a huge cultural shift. "When the first one came out in 1996, our part of the world was going through a big change from 18 years of Conservative rule," explains Bremner, "and now we are quite literally plunging into another change in another direction."
The contrast couldn't be starker between now and then. "We are at a time in our culture where people are fearful and want to protect themselves and this little island," Bremner continues. "Whereas back then we were celebrating what it is to be together and be part of a communal existence. Now it is much more closed off, with people focusing on their Facebook profiles, designing the lives we want to put across to the likes of OK Magazine." Carlyle feels similar, noting that back then there "was this sense of hope for the future." He knows that Trainspotting didn't ignite the change, but was proud to be part of it.
In a twist of fate, the film includes a scene where Sick Boy and Renton head to the European Commission to apply for funding of a brothel, though the nature of the establishment is delicately left out of their application, instead stressing the cultural importance of a bar in the centre of Leith. Carlyle found this scene even more amusing given the circumstances in which it was filmed. "We shot that scene the day after the Brexit result," he reveals, "and Danny wondered what we should do, and he decided that he would just shoot it anyway."
Will this date the film, or can T2 do what the original film did – provide a snapshot of a time and place, capturing the spirit of the nation? "The first film wasn't made with that in mind," says Carlyle, "it came around at an extraordinary moment of creative culture. Whether T2 will do the same, only time will tell."
---
T2 Trainspotting is released 27 Feb by Sony
Follow Joseph Walsh on Twitter at @JosephDAWalsh