Jessie Buckley on Glasgow music drama Wild Rose
Wild Rose stars Jessie Buckley as a country singer with dreams of making it big in Nashville; we talk to Buckley, and the film's writer Nicole Taylor
In the corner of the cosy lounge of a hip Glasgow hotel, Jessie Buckley is sitting crossed-legged in a fetching denim jumpsuit. The Killarney-born actor and singer looks pretty contented, but inside she's bricking it. Tonight she'll present new comedy-drama Wild Rose to the people of the city in which it is set. "It's like giving birth to a ginger baby and hoping everybody likes it," she laughs, with her larking around quickly turning to sincerity. "I just hope I've done the city proud, you know? Because Glasgow, I fell in love with it, and there's just such a heart of Glasgow in this film, which I hope I've captured. Anyway, as you can see, I'm very nervous."
She shouldn't have been, as later that night at its Glasgow Film Festival screening, Wild Rose goes down a storm, and it's easy to see why. Buckley stars as Rose-Lynn, a rambunctious ex-con with dreams of being a country singer in Nashville, but there are plenty of obstacles in her way. She lives in Priesthill for one. For another, she has two young kids, whom her mother has been looking after while she was in prison. And there's the small matter that the conditions of her release are that she wears an ankle monitor and is under curfew, so she can't go back to work as the house singer at the Grand Ole Opry, Glasgow's heart of country music. She's abrasive and can act selfishly, especially where her kids are concerned, but she's also funny and gallus and genuinely talented. It's hard not to root for her.
Buckley quickly fell for the character. "I loved her naughtiness," she tells us. "Her humanity. She's just real and raw and tenacious, and one of the most courageous characters. I found her courage incredible, you know? I loved her irreverence and her heart; in spite of the massive tornado that she is, she's emotional, she's sensitive. Even at the times when you think she's feckless and not caring about other people, it costs her; none of those choices are done without costing her."
It would be tempting to assume Buckley some herself in Rose-Lynn. After all, she first came to public attention trying to break into the singing racket too, taking part in BBC talent show I'd Do Anything, Andrew Lloyd Webber's search for a greenhorn singer to play Nancy in West End musical Oliver; Buckley, who was aged just 17, finished as runner-up. "I never really read a script and go, 'Oh yeah, that's me,' because I guess that's the point, I'm trying to be someone else. So when I read a script, I'm usually looking for things that aren't me."
One of the key differences between the two women is that Buckley didn't have the same barriers in the way of her ambitions as Rose-Lynn has. "You know, I don't have two kids. And I've been lucky in ways that I've been in a family that's encouraged and supported my dreams." In saying that, Buckley did relate to the struggles all creative people have to go through when they try to make their art. "I can definitely recognise the fear of wanting something for yourself. And I think lots of people can recognise that, whether you're a man or a woman or eight or 80 or whatever social corner you're from."
The character of Rose-Lynn has been swirling around Glaswegian writer Nicole Taylor's head for a decade. "About ten years ago she just started chatting to me," Taylor tells us. "I just heard her voice in my head, and it was honestly like I was transcribing. She was so herself. And although I've written a zillion drafts of the screenplay over the years, her lines have barely changed. So she kind of came to me fully-formed."
'I just hope I've done the city proud, you know? Because Glasgow, I fell in love with it' – Jessie Buckley
While the character came easily to Taylor, her story was less forthcoming. Surprisingly, divine intervention came from a place that tends to be a vacuum of creativity: The X-Factor. "I was writing the story and was so many drafts along and then I saw an episode of The X-Factor and there was a girl who sang, she was amazing and I was cheering her from my couch. And then the next minute they play that cynical wee VT where there's the big reveal where they totally undermine her." The episode's twist was this talented singer also had a history of addiction and kids who had been placed in care. "From having been totally rooting for her, I suddenly found myself not knowing what to want for her, and that made me feel like, yeah, keep writing the screenplay even though everyone thinks you're mad. I didn't have an answer, it was a question, and I love starting drama where there's a question I don't know the answer to."
The film hinges on these two opposing emotions: should Rose-Lynn chase her dream in Nashville? Or should she shape up and take responsibility for the two children who need her love? Taylor's script sharply gives us two characters who embody these conflicting points-of-view. Rose-Lynn's mother Marion (played by Julie Walters in her best role in years) thinks it's time for her daughter to grow up, and gets her a job as the housekeeper for Susannah (Sophie Okonedo), a bohemian Englishwoman with a grand house in a more affluent part of town. But in Susannah Rose-Lynn finds a champion, who encourages her to chase her dream after hearing her sing around the house. "That triangle of women was really important," says Taylor. "It's about this girl needing to be seen and you know, her mum can't see her but this other woman can't really see her either."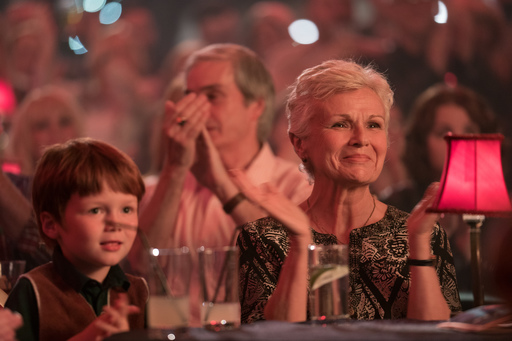 As well as Buckley's heartfelt performance and this compelling, Bechdel test-passing pair of female relationships, the other thing Wild Rose has going for it is Glasgow itself. Directed by Tom Harper, much of the film takes place in and around Tradeston, Paisley Road West and Priesthill. As well as the Grand Ole Opry, The Laurieston pub and Silverburn Shopping Centre make cameos; these are corners of the city that rarely get a look in most Glasgow productions. "Nobody wants that bland nowhere that sometimes happens when films are made here," says Taylor when we compliment the film's vivid sense of place. "The generic, Merchant City version of Glasgow, where it could be any modern city – that's my worst."
Adding to this authenticity is Buckley's convincing accent. Her own Irish brogue is as thick as a bowl of colcannon, but the 29-year-old has managed to hide it well in films like Beast and TV shows like Taboo and War & Peace. Even though she clearly has an ear for accents, she tells us "I worked my arse off" to get this one right. "I love doing accents. I always look at them like they're a piece of music in lots of ways. But with this one, I'm not going to lie, I was shitting myself." Her trepidation comes from the fact Taylor's film is such a love-letter to the city, and Glasgow feels such a part of the character as well. "It was like this crazy rhythm Rose-Lynn was working off all came from the energy of the city, and if I didn't get the accent right, then there's no point."
She tells us that she studied with a dialect coach for four months before shooting. "We went around Maryhill meeting and recording young women who were around Rose-Lynn's age and worked from those to get it right." Then, a month before the shooting started, she threw herself in at the deep end. "I just kind of base myself here and would, like, go around different newsagents and pubs asking for cigarettes in a Glasgow accent and hoping I got away with it."
Did you, we ask. "You tell me?" We reckon no one would have batted an eyelid.
When we ask Buckley if there was a favourite local phrase she picked up, she doesn't hesitate for a second: "Bawbag," she says before doubling over.
That answer might just make her an honorary Glaswegian.
---
Wild Rose is released 12 Apr by Entertainment One
---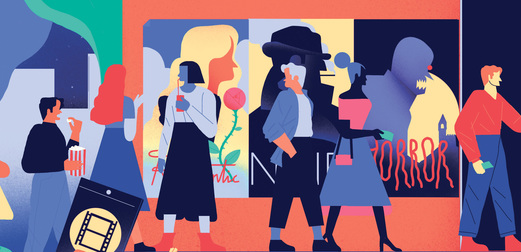 We're showcasing some of Scotland's best new short filmmakers in The CineSkinny on Tour this May – click here for more details, and to find out how you can get your short film on the big screen.