The Springburn Scorsese: James Price interview
Improbably, Glasgow writer-director James Price has directed a wild music video for Michael Imperioli's band, Zopa. Price tells us how he convinced The Sopranos and Goodfellas star to let him loose on the promo
There aren't too many Scottish filmmakers who could pull off playing a coked-up hardman who's stripped to the waist, save for an undone coat, and wielding a 5-iron. James Price is one of the few. "I think I was aiming for Alfred Molina in Boogie Nights when I went with the open jacket," he says.
The scene we're discussing is the cold opening to Price's knockout music video for Diamonds into Dust, a track by Zopa, the New York indie-rock band fronted by actor Michael Imperioli, who's best known for playing Christopher Moltisanti, Tony's cocky protégé in The Sopranos. How does a young Glasgow filmmaker with a handful of low- to zero-budget shorts under his belt end up shooting the promo for a well-known actor's side-hustle?
"I'm apprehensive to say this," Price tells me over Zoom, "because I don't want him inundated with messages, but I just slid into his DMs." Price first discovered Zopa while listening to the Talking Sopranos podcast. "[Imperioli] would often mention the band, so I just gave them a try and got really into their album. So I sent Michael this really candid message just saying, 'I'm a massive fan, and really love the music you're doing.'"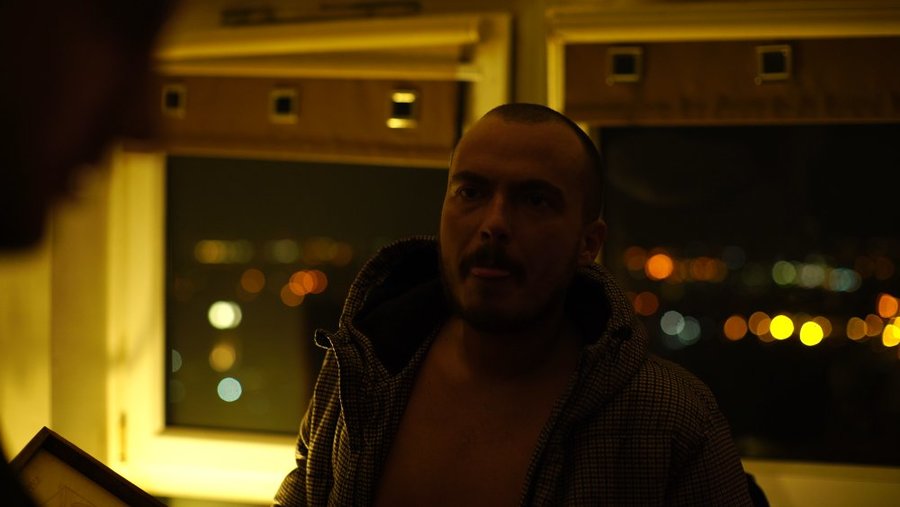 Price channelling Alfred Molina in Boogie Nights
Imperioli was uneasy about it at first – as you would be too if a complete stranger hit you up on Instagram asking to direct you a music video. Two things convinced Imperioli that Price wasn't a crank. The first was the quality of Price's previous short film Boys Night, a hilarious and heartbreaking two-hander following a stoic young lad as he walks his incorrigible old man back home after he's had one too many pints. 
The second was the special place that Spike Lee's 1999 film Summer of Sam – which Imperioli co-wrote – has in Price's life. "He was really empathetic about the fact that I had just lost my dad. Summer of Sam was a big film for me and da, so it all felt trippy, like there was a cool synchronicity." Imperioli was still concerned about raising a budget, but Price eventually sweet-talked him: "I just said to him, 'Fuck a budget, man! Just let me do it.' And he was really nice and said yes."
The results are as gallus as the pitch. After the nervy drug deal opening that could come from any self-consciously gritty social-realist film, the video takes a more poetic turn as it follows two young lovers (played by Amy Manson and Rian Gordon), hopped up on adrenaline and their white-powder purchase, on a wild night through Glasgow. The filmmaking is as uninhibited and sensual as the Bonny and Clyde-esque couple.
"The whole goal was to inject Glasgow with a real sense of Americana," Price says of the promo. "There are a bunch of references to other films, like Thelma & Louise and Spring Breakers. I just kind of made a big collage of things I liked and put it in a Springburn setting."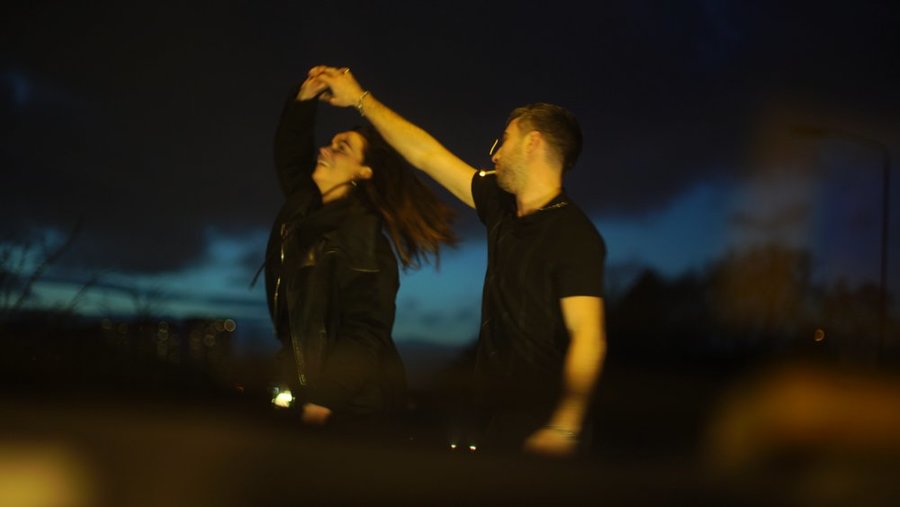 Amy Manson and Rian Gordon
During their hedonistic night, the couple gets in hot water after robbing a city centre barber's owned by a Glasgow crime lord. The name of the barber's, incidentally, is Goodfellas. Unbelievably, this was a happy coincidence. "One of the producers found that barbershop for us. And he didn't even realise that Michael was in Goodfellas! I was like, 'Are you kidding? That's genius!'"
It's not just Imperioli's role as the put-upon Spider in that Martin Scorsese masterpiece that makes the reference apt. In general, Price's swaggering direction and Tim Currie's expressive editing richly evokes Scorsese at his most freewheeling. "Oh, 100% we were channelling Scorsese," admits Price. "Even at the end where Rian's running away from the fireworks; I was thinking of a young Henry Hill running away from the blown-up cars." Is this too much pressure to put on a young filmmaker, I wonder? Should I be comparing him to one of the living greats? "Nah, man, make that the headline! 'The Springburn Scorsese.'" (Look up to see if the subeditor goes along with that suggestion.)
Price's belief in his abilities has been hard-earned and wasn't formed in the nurturing atmosphere of film school. "I did terrible in high school," he tells us. "I left in third year due to ill health. So I kind of taught myself." His starting point was studying scripts he'd get off the internet. The first one he turned to is hardly a masterwork ("I remember downloading the Freddy vs. Jason script before the film was even made!") although they soon improved. "I started to find scripts for films I really liked," he says, "and from rewatching the films and reading their scripts, I pretty quickly picked up how to format a script. I still think it's the best way to learn: I still pick up most of my wee writing tricks from reading other people's stuff."
His first attempt at filmmaking was around 11 or 12. "My ma and da got me a wee camera and I remember trying to make a film with my pals. We gave up after the opening credits because it was too hard, but that was my first go." The first film proper was Concrete & Flowers, which he made in 2014 with the help of Screen Education Edinburgh. "I sent them a five-page script and Concrete & Flowers was one of the three they picked. They just gave you a bunch of equipment to go make the film basically."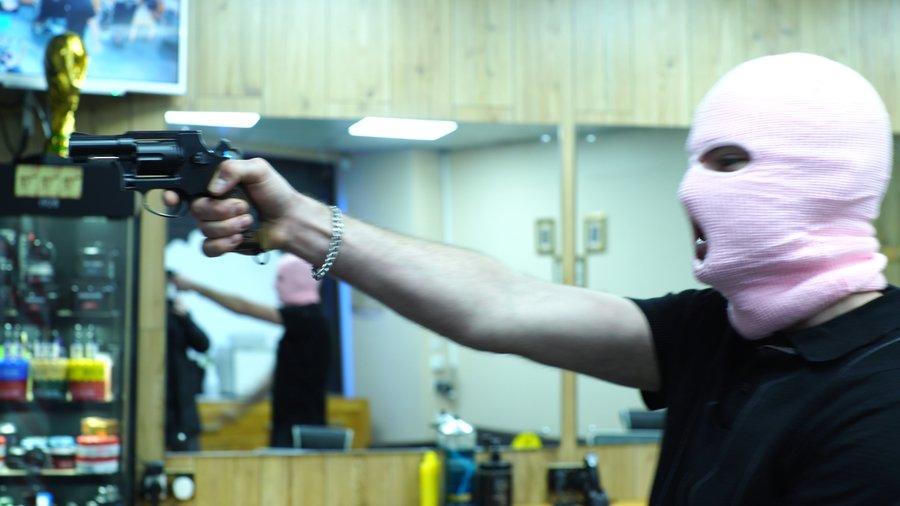 Gimme the Loot
As its title suggests, Concrete & Flowers was both rough and delicate, and quite extraordinary for a debut. Price wasn't impressed, though. "It's weird, nobody ever tells you that when you see an assembly edit or rough cut, it's never good. So I buried that film for years. Everybody fell out with me, all the actors who worked on it hated me. I was convinced it was shit."
Price found a champion in Caralyn Sinclair Kidd from Hopscotch Film, who got hold of Concrete & Flowers and encouraged him to unearth it, which he eventually did in 2019. In between that time he'd penned the harrowing Dropping Off Michael; written and directed CHIBBED, a slick slice of Glasgow street violence; and then in 2019 came the autobiographical Boys Night.
With each passing film, Price seems to be thinking bigger and growing in confidence. "I guess I'm just trying to inject a wee bit of style into my films and make Glasgow cool," he says. "I definitely think there's a place for the social realist drama thing, but I love the idea of clashing that with the feeling of the big, stylish American crime films."
Right now he's juggling the development of several projects, including a feature-length version of Dropping Off Michael, which he's co-writing with director Zam Salim; a feature film called Street Hustle, which at one time had Peter Mullan attached; and a series with BBC Scotland called Dog Days. But it's all moving a tad slowly for Price.
"I'm addicted to making stuff – just getting out there and doing it," he says. "That's what was great about the music video. But as soon as you're in the legit world, trying to get funding and a commission, everything just moves really slowly.
"I still think I'll probably go out a make a zero-budget feature one day; the way we've done the shorts."
We wouldn't put it past him.
---
Zopa – Diamonds into Dust streams live at Glasgow Short Film Festival as part of the Bangers & Mosh programme with an intro by The Skinny's Anahit Behrooz, 26 Mar, 10.15pm, and then available to view on demand for 48 hours
Watch the video for Zopa's Diamonds into Dust in the player above or on YouTube