Joe Russo on Infinity War, the MCU and 'spooky' Edinburgh
Avengers: Infinity War co-director Joe Russo gives us the lowdown on Edinburgh's role in this superhero epic
It's a crime that Edinburgh hasn't featured in more movies. The Scottish capital's improbable architecture of dizzying staircases, medieval alleyways and Escher-esque town planning make it endlessly cinematic. This paucity of big screen appearances should be made up for next week, however, as millions of cinemagoers will get a glimpse of Edinburgh's charismatic Old Town when Avengers: Infinity War – the biggest film of the year, maybe the biggest film of any year – is released worldwide.
Partly responsible for giving Edinburgh a significant role in this third Avengers movie is the film's co-director Joe Russo, who got to know the city from trips here to visit his daughter, who studied in Scotland. The 46-year-old American filmmaker is clearly head over heels for the place. "It's one of my favourite cities in the world," he says while in town last week to present a sneak peek of Infinity War to Edinburgh film fans, his enthusiasm not dampened by the miserable weather. "It's beautiful, the architecture is incredible, and strangely it just hasn't been on camera that much, which is pretty crazy to me."
We're speaking to Russo in the Balmoral Hotel on Princes Street, a stone's throw from Infinity War's Edinburgh locations. Just over a year ago, his crew spent five weeks shooting in the city, with scenes taking place on The Royal Mile, on Cockburn Street and inside Waverley Station. Auld Reekie's role in the film, it seems, will be to add a bit of edge and menace to the primary-coloured extravaganza that is the Marvel Cinematic Universe.
"We had a sequence in mind that we wanted to shoot at night and play up the gothic elements of the city," explains Russo. "We wanted the sequence to have a bit of tension in it. When you walk around [Edinburgh] late at night, with the cobblestones and the way the light hits the buildings, it can feel a little spooky. So it was really about the tone that we could engender pretty quickly from the atmosphere of the city."
This third film in the ongoing Avengers series has a cast list the likes of which we haven't seen since the days of Robert Altman. Dozens of Hollywood's most famous faces, including Robert Downey Jr (Iron Man), Scarlett Johansson (Black Widow) and Chris Evans (Captain America), are all squeezed into this superhero epic, along with some surprise cameos that Russo's not for revealing. How many of them will make it out alive, however, is anyone's guess. "What we want is for the audience to be prepared, as there's a lot of surprises," Russo recently told the Metro, "there's going to be a lot of humor and a lot of heartbreak." Even Downey Jr and co are in the dark, having been given fake scripts during filming so as to preserve the film's secrets from being leaked.
Suffice it to say, then, Russo isn't going to reveal any spoilers here, but the 20 minutes of footage we were permitted to see before our interview were pleasingly thrilling. No sign of Edinburgh was glimpsed, but what was most encouraging about this short extract was the control of tone on display. With their two previous outings, Russo and his brother Anthony have proven to be talented action filmmakers, with their lucid fight choreography and editing a cut above the usual CGI chaos of the MCU series. From the clips we saw, Avengers: Infinity War will have an added lightness of touch that's been missing from their more stern Captain America flicks, with comic quips providing just as much satisfaction as comic book fisticuffs in the short extract we saw.
This more comic approach, says Russo, comes from an effort to incorporate the various spectra of tones we've seen from the 18 MCU films so far, from the droll witticisms of Robert Downey Jr's Iron Man to the goofy banter of The Guardians of the Galaxy films, the teen-movie fizz of Spider-Man to the Afrofuturist swagger of Black Panther. "You don't want to throw the audience too much," says Russo. "These are beloved characters and beloved franchises."
In saying that, he also notes that he and his brother have put their own spin on things. "We produced television for many years, ran TV shows, and I would always tell new directors who came in, 'It's your job to add something new to this that hasn't existed prior to you showing up to work on the show.' I think that we look at [working on Marvel films] the same way, it's our job to add dimensions that have not been present up to that point to the characters we work with."
For an example of this, Russo says to look towards their take on god of thunder Thor, played by Chris Hemsworth, who they're working with for the first time. "Taika [Waititi] did something really interesting in retoning Thor: Ragnarok," he notes. "We took elements of that, but you'll find this Thor is in a different place in this movie. He's still funny, but he behaves in a way that's more intense because his focus is more intense."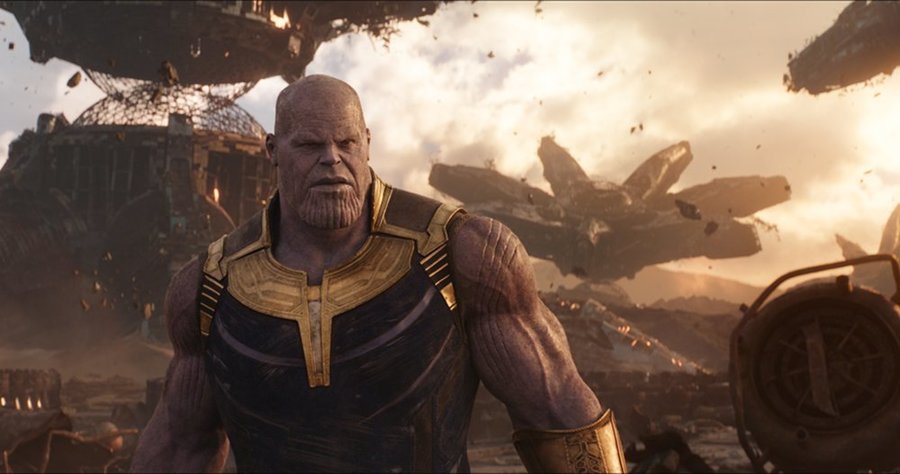 Josh Brolin as Thanos
It's easy to see why Thor is perturbed. Usually in Avengers movies it's the world that's in need of saving; in Infinity War, it's the whole universe that's at stake. The threat comes in the form of a giant purple Josh Brolin, who plays Thanos, a maniacal alien who plans to rule the cosmos. As tends to be the case in these films, the villain is after some MacGuffin, in this case six 'infinity stones', some of which have already popped up as plot points in other MCU films.
Russo has described his first Marvel film (Captain America: Winter Soldier) as a spy movie, and his second (Captain America: Civil War) as a psychological thriller. How would he categorise this epic, which includes scenes in space as well as various locations on Earth? "It's a smash-and-grab heist movie," says Russo without missing a beat. "It's a very simple plot, structured after movies like Out of Sight and Two Days in the Valley. Thanos is going to collect the infinity stones and everybody is going to try and stop him; it's pretty direct."
You might expect Russo to play favourites with Evans' Captain America, given his two previous MCU films are based around the character. His heart, however, belongs to the character who most excited him as a comic obsessed kid: Spider-Man. Livewire British actor Tom Holland played the character in 2017's Spider-Man: Homecoming, making him the third person to play the web-slinger in a decade, following Tobey Maguire and Andrew Garfield. Holland's debut as the character came, however, in Russo's Civil War.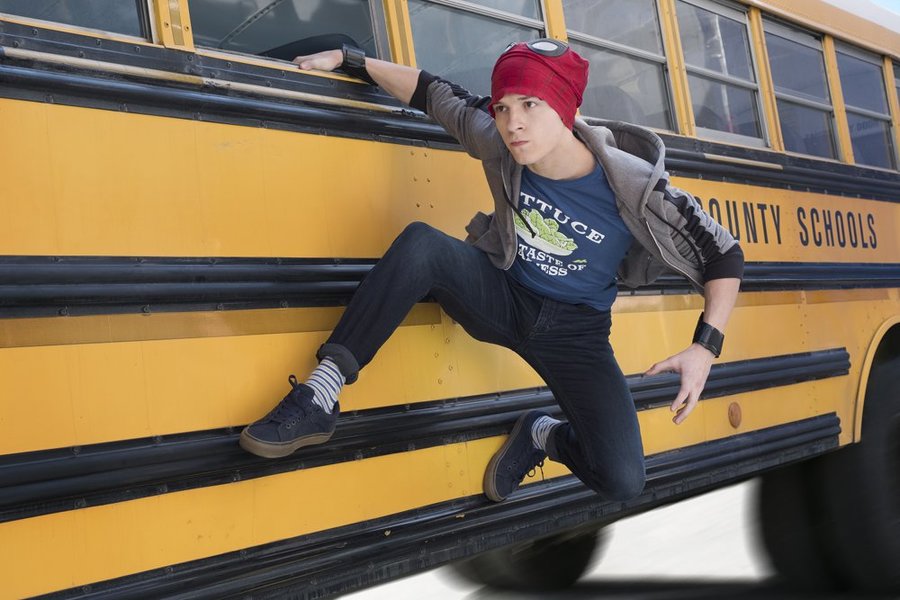 Tom Holland as Spider-Man
"Bringing him to the screen was a dream come true for me," says Russo. "I had always felt like he had been played by adults, but what was interesting about him – what I loved about him – was that he was a kid struggling with all this power, all while he was trying to grow up and deal with girls and zits and school. So it was really important to us that we cast Tom Holland in that part and that's how we wanted to relaunch the character, as someone who was the actual age of Spider-Man." Expect, then, for the youngest Avenger to play a significant role in Infinity War. "Because of how much my brother and I care about the character, we've paid a lot of attention to the arc that we've given him, and I think he's got a really interesting arc in this movie."
One character film fans would love to see get their own film is Scarlett Johansson's Black Widow, who's been reduced to playing second fiddle to the more square Captain America or glib playboy Iron Man. "We love [Black Widow]," says Russo. "She's one of the most interesting Marvel characters because she use to be a villain and I think if you're going to make a movie about her it's easy to lean into that quality of the character and what part of that past would come back to haunt her." Would he and his brother consider making the proposed and long-overdue Black Widow movie? "Obviously we'd work with her in a second, but I think Marvel is going to make that movie soon and we're still in the middle of shooting Avengers 4."
There are other characters, some favourites from his childhood, who Russo would love to tackle however. "I will say that I'm praying for the Fox-Disney merger to go through, because there are some characters who Fox own who I'd love to get my hands on."
Is that the X-Men, we ask?
"I haven't spent a lot of time thinking about that, but it would be interesting to consider how you reboot them in the Marvel universe so that it fits there. (The) Fantastic Four still need an introduction too."
One thing is clear, Russo seems happy to continue working within the Marvel Cinematic Universe. "We work really well with them, it's like a second family to us, and I think the future of the theatrical space are those movies." We raise an eyebrow at this statement, and ask him to elaborate. "I think the small screen is doing an incredible job of telling character based stories right now, better than movies are. So if we're going to make movies, we're going to make big movies."
Movies don't get much bigger than Infinity War, on that we can agree.
---
Avengers: Infinity War is released 26 Apr by Disney