Honor Swinton Byrne on The Souvenir: Part II
Joanna Hogg's The Souvenir: Part II sees Honor Swinton Byrne return as Julie, the young filmmaker trying to find her way in 80s London. But this is a steelier Julie than we saw in Part I. Swinton Byrne tells us about her connection to the character
​​The Souvenir – Joanna Hogg's autofiction film of 2019 – ended with the off-screen death of its romantic hero, the heroin-dependent, Foreign Office civil servant Anthony (Tom Burke). A muffled phone call, shuddering sobs seen from behind, and a shot of a young woman grasping an abandoned blazer to her face and it was all over; a deeply felt relationship cut short, just like in life, as the credits rolled. Widely considered one of the best films of Hogg's acclaimed career – and the decade – The Souvenir was extraordinary in its unfussed depiction of the ugliness of love and grief (love in grief, grief in love), and its attention to the formative ways that such love can break you open, even amid the most elegant of Kensington flats and privileged of lives.
Directly based on the director's own experiences as a young film student in 1980s London, The Souvenir was a Joanna Hogg film in every perfect way those words suggest: considered and muted and deeply concerned with how the studied detachment of the British upper classes pollutes the urgency of intimacy and desire. Yet arguably, what made it such a masterpiece within an already lauded filmography was its star (and Hogg's goddaughter), Honor Swinton Byrne, who plays the sweet, naïve film student Julie who falls for the older Anthony and is laid bare to the tragedy of his addiction.
Swinton Byrne – who is the daughter of Scottish artist John Byrne and actor Tilda Swinton (who plays Julie's mother in both The Souvenir and The Souvenir: Part II) – hadn't acted before her starring role, save her wordless cameo as a child in the 2009 Luca Guadagnino film I Am Love. But her Julie is, despite – or perhaps because of – her lack of experience within the industry, utterly captivating. Timid and earnest and disarmingly natural, her performance suggested an actor with decades of ease with the camera under their belt. With the mere clench of her jaw, flicker of grief-heavy eyelids or tense shrug of her shoulders, Swinton Byrne could communicate entire volumes of strained devotion. Even before much else was known about it, the idea of The Souvenir Part II made sense, if only to reunite this actor with her well-worn protagonist.
It is strange, in a way, meeting Swinton Byrne after almost three years of watching and rewatching Julie. She is irresistibly exuberant and effusive and, quite simply, happy to be there: happy to have returned to Julie and to gush about Julie's ongoing journey in Part II, as you might enthuse about a friend coming through the other side of a rough patch. Within seconds, it is clear just what it was that made her Julie so magnetic. It isn't that Swinton Byrne is secretly playing herself, using pure autobiographical performance as a conduit for naturalism (although, as it becomes clear, the boundaries between actor and character are remarkably porous). The real trick, it turns out, is that she loves Julie fiercely.
"I view Julie like a friend, like a really best pal," Swinton Byrne says warmly. "And I was just really heartbroken to watch her go through something so tough: she's not quite getting back on her feet and she's maybe not getting the help she needs. And so the second part was, for me, like this phoenix rising from the ashes. It was like a fucking reboot." She laughs, giddy at the very thought. "She's taking charge and she's doing it by herself, which is a real key thing for me.
"Joanna was very encouraging of me bringing a lot of myself to the character, particularly in the second one," she adds. What was it about herself that shifted the tone of The Souvenir: Part II? "Feistiness! I like to think that's a common trait… I hope I'm feisty!" She laughs again. "And passion. There is a scene where I am directing and I kept changing my mind, but I owned it and I say: 'Right, OK, I actually thought I did want that but I don't anymore.' So just not being as apologetic, and owning things, owning mistakes."
In a memoir-ish film based on her godmother/director's experiences, it is marked how often Swinton Byrne slips into the first-person when talking about Julie; how very entirely she takes on and cares for her hurts and triumphs. A tight, sincere intimacy seems to bind them. "When I was younger, I had a lot of – I still have a lot of – Julie inside me: the vulnerability and the self-doubt, as every healthy person does," she explains. "But I think in the second one I brought a bit more power. That's something I'm still working on myself."
It is perhaps natural that, despite the obvious differences in their characters – the palpable extroversion of Swinton Byrne, all smiles and excitement, and the awkward, gentle determination of Julie – the spaces between them so often collapse in conversation. They did, after all, come of age together. Swinton Byrne was 19 when she began working on The Souvenir. Now 24, she is well aware of how playing Julie has changed her, of how it has shaped her understanding of romantic love and grief at a point in life when their foundations are first being laid. She is startlingly wise about both, and loves the idea that her two films, pre- and post-Anthony's death, share an emphasis on mourning.
"The first one is more subtle," Swinton Byrne explains. "Julie is grieving while she's in a relationship. Grieving her independence, her sense of style, her sense of individuality. Grieving being single, grieving being her own person, grieving feeling excited about him. In the second one, she's letting it all out: she's aggressive and crying, but it's a lot of relief."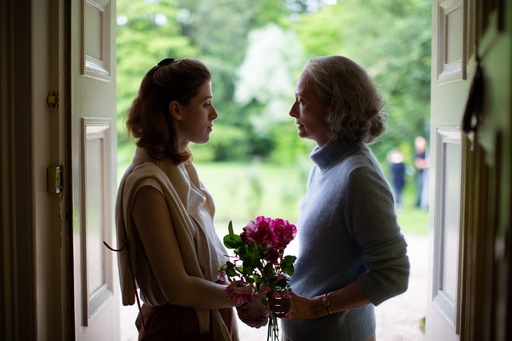 Perhaps the difference between the two parts, then, is in their relationship to power, and how it operates within vulnerable structures of romance and desire. In Part II, Julie – much like Hogg – is in a process of reclamation, crafting a film out of her experiences and seeking to understand her trauma and heartbreak through some sort of narrativisation. Has filming The Souvenir and The Souvenir: Part II made Swinton Byrne warier of how power in relationships can manifest?
"I think power can be so funny," she replies thoughtfully. "This is so random but my mother once told me that every word that could be a fault, like controlling, could be mirrored with a positive, like efficient. Like if someone's really excitable and annoying you could be like: 'they're really high energy'. I think with the word power, it doesn't necessarily have to be a bad thing. It can be a balance, right? It can be a safety thing for many people. It can be a reassurance instead of a symptom of co-dependency. I think that's a really fine balance to find in a relationship."
It is a frank and uncynical response that speaks to the authenticity underpinning Hogg's years-long project: that relationships, with all their small insecurities and anxieties and glimmers of hope, are unwieldy, prickly and ambiguous creatures. That sometimes the smouldering wreckage of a relationship can feel more real, and more honest, than anything that came before.
"I really enjoy that The Souvenir is brutally honest and super awkward and realistic about the messiness of relationships, the chaos and confusion and ugliness and vulnerability," Swinton Byrne says. "That's really precious and I would like to see more of that in the cinema. I love fantasy in film, but I really want people to be able to go and see films like this and feel not alone in their own messy relationships and their own insecurities about themselves, as filmmakers or young people or old people.
"I just want them to feel competent and really…really…" she sighs. "Not by themselves."
---
The Souvenir: Part II is released 4 Feb by Picturehouse