Mistaken Identity: Christian Petzold on Phoenix
The collaboration between German director Christian Petzold and Nina Hoss, his go-to leading lady, has proved one of the most artistically fruitful in contemporary cinema. The Petzold discusses their latest film, Phoenix
Despite making his debut 15 years ago, with The State I Am In, and being widely considered the most talented director of post-1989 Germany, Christian Petzold remains relatively unknown outside his native country. But all that's about to change with the release of his latest film, Phoenix, a Hitchcockian thriller set in postwar Berlin.
Petzold's characters often find themselves in situations in which they must conceal a secret; they're usually alienated, alone and struggling to escape Germany. For Petzold, it's his nation's default mode. "We have no songs in Germany," Petzold tells us. "When we won the World Cup there were no songs for us to sing, because the Nazis ruined them all. The only songs we have are pop songs from the 60s, but all these songs are about leaving Germany and how we're all lonely. I think this desire to go away is very deep within the German soul."
In Phoenix, Petzold's frequent collaborator Nina Hoss plays Nelly, a disfigured concentration camp survivor who, after major facial reconstruction, returns to Berlin. She learns that her husband, Johnny, might have had something to do with her arrest, but when she finally locates him she's shocked to discover he doesn't seem to recognise her. He does, however, notice Nelly shares a striking resemblance to his late wife and proposes that she pretends to be her so they can divide her fortune.
For some, the thought of not recognising your spouse is inconceivable. Ronald Zehrfeld, the actor who plays Johnny, was certainly unconvinced, but his director was resolute. "Each morning Ronald would say to me 'I must recognise her', and I said to him, 'no!'" Petzold explains. "First of all you are guilty, secondly she is dead and you killed her! Many of my friends are lawyers, I'm not sure why, maybe it's because lawyers tell fantastic stories, but they always say the same thing: all the people who are guilty sitting in jail waiting for their verdict, these people hold on to the belief that they're not guilty. They're telling stories and tales to themselves all the time and they end up believing them."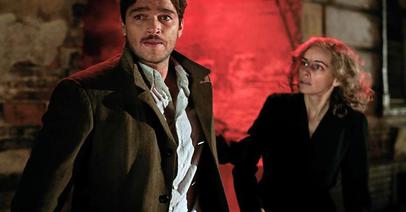 With Phoenix, Petzold looks to examine the immediate ramifications of guilt that were prevalent in Germany, yet unlike other studies of post-war reparations he's far more interested in the psychological repercussions.
"When I was a student I studied two or three semesters of psychology and philosophy and I read a lot of Freud," he says. "I found it interesting when Freud said a traumatized person has to repeat the trauma. At first they need to remember the trauma, then repeat the trauma and then finally to destroy the trauma. It's a little bit like the story of West Germany. You repeat a little bit, then you destroy it, then you can be free, without any guilt."
Phoenix shares many similarities with Petzold's most recent film Barbara, a tense tale about a doctor working in the 1980s and her attempt to escape East Germany. Not only do both films star Hoss and Zehrfeld, but they also focus on the reverberations of memory within a place. Despite Germany's shifting borders and various changes in government, Petzold posits that the past can never be forgotten. With this in mind the conversation turns to Jenny Erpenberk's novel Visitation, an anthology of stories all set in the same house on the Brandenburg lake just outside Berlin. Focusing on the families that lived in this house, the book encompasses over one hundred years of German history, from the Weimar Republic to the Socialist German Democratic Republic, and finally reunification.
"It's one of my favourite books because the house is from an area I lived for five years," say Petzold. "Whenever we start making a film we don't have rehearsals, we have seminars and I give the cast and crew books and photographs and music; basically all the things I've worked with that helped me open my mind. Visitation was one of the books I gave to the cast before we started filming. We talked about this book and how memories are in all things from gestures to colours, and sounds. For me Nelly is someone who has had to live in a bubble to survive while in the camps. In this bubble she tried to remember all these things, the gestures, the sensitive memories, and when she comes back everything is destroyed; there are no bricks, no house, no rooms, everything is destroyed and she has to rebuild it all."
---
"After 1945, Germany had no survivor stories, we didn't want to hear the words from the people in the camps" – Christian Petzold
---
Phoenix's meditation on guilt and sexual politics, combined with Johnny's avaricious endeavour to transform Nelly into the woman she used to be has led many critics to make comparisons with Alfred Hitchcock's Vertigo, an association Petzold sees as a mixed blessing. "I think every movie based on the George Bernard Shaw play Pygmalion is a little based on Vertigo." To Petzold, a self-proclaimed fan of Hitchcock's oeuvre, Phoenix is a film about female subjectivity as opposed to male subjectivity. Throughout his films, female subjectivity has always been his default perspective and this preference means he's developed a difficult relationship with Hitchcock's masterpiece. "Kim Novak was intended as a substitute for Marilyn Monroe. The studios tried to create them like a laboratory, like mad scientists do. In our movie there's no Kim Novak, no Marilyn Monroe and there's no male subjectivity. I don't want to see that again, this perverted male movie. Vertigo is one of my favourite films but sometimes I hate it."
Phoenix is Petzold and Nina Hoss's sixth collaboration; he describes her involvement as an integral part of his creative process. "We have worked together every year for the last 14 years. There are so many good actresses in Germany so I have to ask myself, 'Why always her?' Well, when I'm writing a script or planning a movie I'm like an architect who is designing a model of the house he's going to build. In these models you always insert these little people. Nina is one of the people, except when she's working she looks up at me and she'll say 'What are you doing?' Actually, when I work I'm a little bit like Johnny in the film. I give the actress costumes and make-up and say how they have to dance and how they have to move. But, like in Phoenix, after 45 minutes Nelly starts to become the director and I think this explains how we work."
Phoenix's tale of national guilt and deception builds to a heartbreaking conclusion, and even Petzold has to admit that he and the crew felt the weight of its emotional impact while filming. "We filmed in chronological order and I always had this ending written down. However, I didn't know how to realise it until the time came. We shot it in one take with two cameras. Normally when we finish a movie we're drinking champagne and embracing one another but after this we felt very lonely. Everybody was by himself or herself and we all walked alone to our cars and hotels."
When asked how the film's ending has been received in Germany, Petzold's answer helps to explain this sense of collective melancholy. "After 1945, Germany had no survivor stories, we didn't want to hear the words from the people in the camps. Germans always pay money for their guiltiness. They pay money to Israel, France, a little to England and now recently to Greece, but they never start a discourse about their guiltiness. They just pay. This is the situation for Johnny; he wants money to leave Germany and so the money covers his guiltiness. Nelly has to leave and it's the Germans that are left behind; it's not a good feeling for a German audience to be left alone. For me this was the only way we could end this story."
---
More from The Skinny:
---
Phoenix is released 8 May by Soda Pictures