Beats: Meet the stars of the Scottish rave movie
Brian Welsh's Beats follows two best friends as they experience the tail end of West Lothian's illegal rave scene in 1994. We speak to the film's talented young stars, Cristian Ortega and Lorn Macdonald
The 90s are back! If you've any doubt about this assertion, just stick your head out the window and see what trendy youngsters are wearing (plaid skirts, athleisure, denim dungarees), take a look at who's packing out your town's music venues (Sleater-Kinney, The Pixies, even All Saints) or visit your local multiplex (Captain Marvel, Mid90s and Her Smell are some of the films taking us back to the 90s in 2019). Add to this list Brian Welsh's vivid coming-of-age film Beats, which transports audiences to the tail end of the illegal rave scene in 1994 West Lothian, just as the era's rhapsodic dance parties have been outlawed by John Major's Tory government.
The film centres on two chalk and cheese best pals, 15-year-olds Johnno (Cristian Ortega) and Spanner (Lorn Macdonald), who're about to get their first taste of the scene that everyone around them insists is moribund. Also in danger of being snuffed out is the boys' friendship. Johnno's soon to move with his upwardly mobile family out of the council estate in which he and Spanner grew up, into a posh new Barratt Home-style development in the suburbs, a place Spanner derisively refers to as "happy clappy plastic land". Before class and geographic barriers wrench them apart, one final big night out is in order.
Johnno and Spanner make for an appealing double act. Gormless and monobrowed, with a deadpan visage that makes Buster Keaton look like The Joker, Johnno is very much the straight man in this duo, while the gangly, maladroit Spanner is a bundle of livewire energy, wearing a heinous haircut that Johnno's de facto stepdad (Brian Ferguson), a jobsworth police constable, accurately describes as "a crime against his heid." Ortega and Macdonald's onscreen bond convinces, and the fact they're good friends in real life surely helped their performances, having met while they were both studying drama at the Royal Conservatoire of Scotland.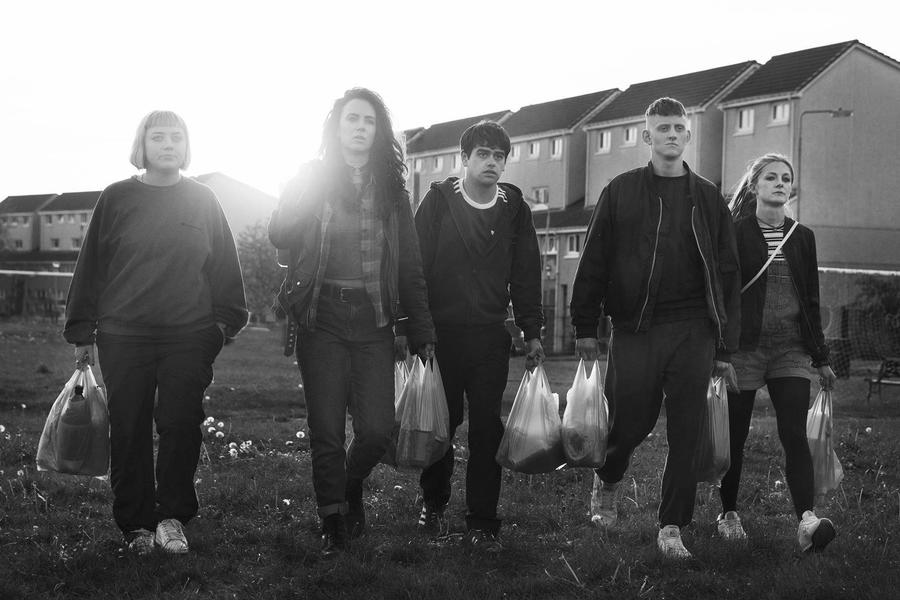 This isn't to suggest, though, that they didn't have to put the hours in to realise their characters' intense friendship. "Oh, we definitely had to work on it," says Macdonald, "in the sense that this isn't quite our relationship dynamic. We don't have that kind of strange, older brother hierarchy." In saying that, Ortega reckons their IRL friendship meant the level of intimacy they had to communicate onscreen came as second nature. "There's the scene where Johnno and Spanner, they're lying in bed, hungover and dying," he says, "like, Lorn and I have done that; we've been in that situation many times. So yeah, there was a lot of shorthand."
Their amity also encouraged some improvisation on set, including a toxic masculinity-smashing smooch during the film's epic rave scene, when the boys are feeling particularly euphoric after trying their first pill. "I was just like to Brian, 'I reckon Spanner should give Johnno a big snog after he tells him he loves him,' because I think in real life I would probably give Cristian a big snog in the same situation," says Macdonald. "I think I would have felt awkward approaching another actor going, 'Do you mind if I kiss you?' But with Cristian, it was just like, 'Nah, that's exactly what should happen.' And now, when I watched that moment back, I'm like, 'Oh, my heart. I love it!'"
Johnno and Spanner are 15-year-olds, but these fresh-faced actors are considerably older than their characters. Ortega was born in 1990, Macdonald in 1992, so they have vague firsthand memories about the decade in which Beats is set. But the fact that the 1990s are very much of the moment also helped in zapping them back to the era. "I feel like a lot of our culture, the clothes the kids are wearing these days, is becoming more and more 90s," says Macdonald. "Plus I've been obsessed with movies set in the 90s as well. If it was set in the 80s, I'd have been like, 'Right, I've got a lot of research to do here.' But the 90s, I found it quite easy to just kind of sink back into that time."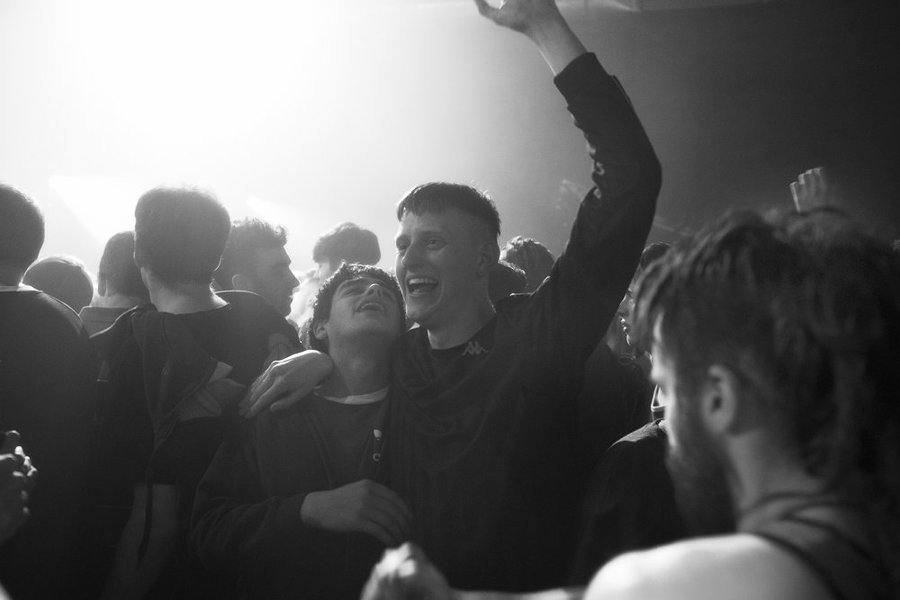 Ortega reckons the fact they're a bit older than their characters had other advantages: "Growing up and being like 14 and 15 and not having a mobile phone, that's something that we've gone through, whereas if we were actually the ages of the characters that we're playing, we wouldn't have had that experience."
"Aye," agrees Macdonald. "I know what it's like to go round to my mates, chap his door, he's not in, and it's like, 'I've just walked half an hour to come round here. Cheers for that!'"
Beats is co-written by playwright Kieran Hurley, adapted from his celebrated one-man play of the same name, from 2012. After filming Beats, Macdonald went on to work with Hurley again in his most recent play, Mouthpiece, playing a working-class 17-year-old whose life is vampirised for inspiration by an older, middle-class writer. "I remember picking up Mouthpiece at the same time that I was reading Beats," recalls Macdonald, "And I was like, 'This is mental, no one is writing young guys like this.' So, aye, I feel very privileged to be able to do both of them, for sure."
Ortega clearly concurs: "Kieran always manages to strike just the right balance between absolute tragedy and heartbreak, and then throw in a killer joke. He manages to have you laughing through your teeth with a pit of despair..."
"Which is exactly what Scottish humour is," agrees Macdonald. "I mean, think of Billy Connolly – or Scottish football even! It's that element of tragedy that makes Kieran so funny. So he kinda captures basically what it is to be Scottish, I think, in everything he's written."
As well as being a perceptive film about the almost erotic intensity of teenage friendship, Beats is also an unabashedly joyous party movie. And like other great party movies – House Party, Dazed and Confused, Risky Business – the film builds to a massive shindig, in this case, Rave to the Grave, an illegal party taking place in an abandoned building in the West Lothian countryside. As far as club scenes in popular culture go, it's right up there with Spaced's iconic clubbing episode, Epiphanies.
Macdonald suggests the authenticity comes from the fact that the shoot for Beats' club scene genuinely felt like one big party. "We were filming for five or six hours? The music just played through, you know, we had to dub over everything we were saying because we're screaming at each other and there's like a thousand people all dressed in 90s gear, all getting drunk themselves, without us necessarily having anything to do with them, and all having a great time."
"That sort of ambience and energy was around us the whole time," adds Ortega. "I mean we had guys proper bumping into us as they danced and saying all this mad stuff in our ears, so we just sort of fed off the energy they were giving us. And also, after a while, when you're sweating – and we were proper sweating – you kind of forget that you're not out clubbing proper. It's like if you're at a party and someone gives you non-alcoholic beer – after a while the placebo effect kicks in. You're there, you know? You totally forget you're making a film."
Macdonald felt similarly transported: "I think it was the closest we could possibly come to experiencing that era without time travel."
Dust off your Kappa trackies, find that old whistle from the odds and ends drawer and crack those glow sticks, because, with Beats, you get to time travel also.
---
Beats is released 17 May by Altitude
Previews with Q&A are happening across the UK
Scotland:
Fri 10 May – The Grosvenor Cinema, Glasgow
Sat 11 May – Odeon Lothian Road, Edinburgh
Wed 15 May – Everyman, Glasgow
Sat 18 May – Belmont, Aberdeen
Sun 19 May – GFT, Glasgow (Panel on rave culture)

Rest of UK:
Thu 9 May – Everyman Kings Cross, London
Sat 11 May – Odeon Lothian Road, Edinburgh
Mon 13 May – BFI Southbank, London
Tue 14 May - Odeon, Brighton
Wed 15 May – Tyneside, Newcastle
Thu 16 May – Rio Cinema, London
Fri 17 May – Watershed, Bristol
Sat 18 May – Odeon Great Northern, Manchester
Mon 20 May – The Plaza, Truro
Tue 21 May – Lighthouse, Newquay