Digging Up the Past: Bassam Tariq on Mogul Mowgli
Bassam Tariq's electric narrative feature debut stars Riz Ahmed as a British-Pakistani rapper on the cusp of stardom when struck down by a debilitating illness. Tariq explains how he wanted to tell a story that dug deep into Pakistan's cultural heritage
It began, as maybe the best stories do, in a butcher shop. "I own a shop in New York City," Bassam Tariq explains, recalling his first encounter with Riz Ahmed, the co-writer and star of his directorial narrative debut Mogul Mowgli. "My friend [told me], you've really got to meet this guy Riz. I was like, man, if he wants to I'm going to be at my butchery," he laughs. "So that's where we met."
Six years on and their unorthodox meet-cute has culminated in the explosive Mogul Mowgli, which premiered earlier this year at the Berlin International Film Festival in the run-up to its current UK-wide release. Co-written by Tariq and Ahmed, the film centres on up-and-coming British-Pakistani rapper Zed (played by Ahmed), who succumbs to a debilitating autoimmune illness days before his first international tour while reluctantly visiting his parents in London for the first time in two years. Tackling family trauma, the legacy of Partition, and experiences of dislocation head-on, Mogul Mowgli is remarkable for its unflinching voice, and for the specificity with which it handles second-generation Pakistani immigrant identity.
"I think generally when our stories are told, we use tropes that are familiar to Western audiences, whether it's the mould of Shakespeare or the mould of Jane Austen," Tariq reflects. "'We're going to tell a brown story, so we'll use Bruce Springsteen's music, or The Beatles.' We understand those stories are important: they're real and they need to exist. But we wanted to go deeper into our own cultural heritage. Riz and I were like, 'Let's look at the tropes from our side of the pond, let's look at our tradition and see what we can pull from there.' Being Pakistani, we inherit a lot of Persian culture, whether it's Rumi, or Farid ud-Din Attar's The Conference of the Birds. That's the kind of stuff that we looked at."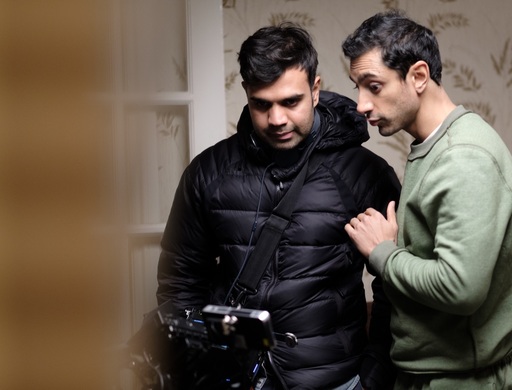 The result is an electrifying, rarely-seen exploration of the strange simultaneity of being both tied to and severed from your homeland and its traditions, and what homeland even means to those still processing intergenerational geopolitical trauma. "We don't really talk about Partition," Tariq says, highlighting Zed's recurrent hallucinations of his father's unspoken childhood escape from the violence of the historic conflict.
"There's nothing that memorialises it. The funny thing is, at one point I even wrote out Partition […] I was like, ah well, who will care? Because there's this feeling that we have, even within ourselves, that our stories don't matter. [But] we're living through a time where the generation of people that went through Partition are now dying. We need to be talking about it."
This absence of conversation is what haunts Zed, the spectre of his family's past evaded and suppressed until sickness permeates his body – an internal conflict made suddenly, viscerally manifest. "What's interesting about immigrants is that they have higher numbers of autoimmune illnesses, because their bodies have a hard time adapting to the environment," Tariq explains, pointing to studies he read through with the film's medical consultant. "Your body is literally having an existential crisis. At a molecular level, there is a battle [taking place]: your body is attacking itself because it cannot recognise itself."
Tariq's depiction of illness is devastating in its everyday horrors, its metaphoric implications sitting alongside the acute physical deterioration that such chronic sickness entails. As Zed is increasingly forced to depend on his family – to go to the bathroom, to begin treatment – he is made to confront the ways in which he has always been entangled with his parents and their history.
"Family is so important in our cultural experience," Tariq stresses. "Every decision we make has a ripple effect with our families. We knew this couldn't just be a singular journey; this isn't La La Land," he laughs. "We're all connected in this, and that is what is so beautiful about our heritage and our cultural upbringing."
It is this emphasis on the blurred boundaries between self and the wider community that lies at the heart of Mogul Mowgli. Zed finds voice in Ahmed's trademark biting, lyrical rap, slowly bringing in aspects of his father's past into his work. His parents pray quietly in their son's hospital room, their private devotion made collective. In a way, Tariq hopes the film will build this same sense of community for audiences. "The thing about film that I've always loved is how it creates a space for people to experience things and then talk about it. It's very similar to, I don't know, having a butchery or a restaurant. Eating a meal and then talking."
---
Mogul Mowgli is out now via BFI
Near the Jugular, a season of films that inspire and influence Bassam Tariq and Riz Ahmed, runs at BFI Southbank and on BFI Player until 30 Nov