The best film events in Scotland in December
The ten big screen movie happenings you should make time for this month, from a plethora of Christmas movie screenings to the 30th anniversary of 80s horror classic Hellraiser
1) It's Christmas! The best classic Christmas movies screening near you
At this time of year, there's nothing more comforting than to escape from the miserable weather outside with the warmth of a Christmas movie you already know backwards (ideally with a mince pie and a glass of mulled wine in hand). As ever, Frank Capra's It's a Wonderful Life dominates cinemas this festive season – you'll find this perennial fave at GFT (8-24 Dec), Filmhouse (15-24 Dec), DCA (22-24 Dec) and Cameo (24 Dec). If there's a pretender to the dominance of Capra's classic, it's The Muppet Christmas Carol, which has slowly solidified its place as the ultimate adaptation of Charles Dickens' festive fable – catch it at GFT (17-24 Dec), Filmhouse (15-24 Dec), DCA (23 Dec) and Cameo (24 Dec).
There are plenty of other classics vying for your attention. We'd advise missing the syrup of The Bishop's Wife (GFT, 22-24 Dec; Filmhouse, 22-24 Dec) and Miracle of 34th Street (GFT, 23 Dec; Filmhouse, 23-24 Dec) as you're going to consume enough sweets at Christmas, but make sure to make time for Vincente Minnelli's gorgeous musical Meet Me in St Louis (Filmhouse, 17-18 Dec), Ingmar Bergman's screen version of opera The Magic Flute (Filmhouse, 18 Dec), and Ernst Lubitsch's practically perfect The Shop Around the Corner (Filmhouse, 22-24 Dec).
2) It's Christmas! Vol II: Best alternative Christmas movies screening near you
If you're looking for something a bit more edgy this Christmas, there are spikier movie treats on offer too. One of the greatest askance looks at the season to be jolly is Joe Dante's Gremlins, and GFT are screening the film alongside a Q&A with the film's star Zach Galligan (10 Dec).
In a similarly subversive mood are Filmhouse, who've a delectable trio of films as part of their Dark Christmas strand: there's Stanley Kubrick's study in desire and debauchery, Eyes Wide Shut (15 Dec); Jean-Pierre Jeunet's steampunk fairytale The City of Lost Children (20 Dec) and Bob Clark's nasty slasher Black Christmas (23 Dec), about a group of sorority girls being terrorised ahead of the holidays.
Other alternative festive offerings include Scrooged (15 Dec, GFT), Comfort and Joy (17-18 Dec, Filmhouse), Long Kiss Goodnight (19 Dec, Flying Duck), Die Hard (21 Dec, Filmhouse; 24 Dec, Cameo), Lethal Weapon (22 Dec, GFT) and Batman Returns (29 Dec, Filmhouse).
3) Satyajit Ray
Few films were ever better at shining a light on human behaviour than the lyrical dramas of the great Bengali filmmaker Satyajit Ray. Despite being one of the world's great auteurs, Ray's films are rarely screened in the UK – even his celebrated Apu trilogy – so Filmhouse's mini season is most welcome.
Five films are screening in all, in the form of two double bills (features Charulata (11 Dec) and Kanchenjungha (13 Dec) are paired with docs Rabindranath Tagore and Sikkim) and a standalone screening of feminist drama The Big City (18 Dec). 11-18 Dec, Filmhouse
4) States of Danger and Deceit: European Political Thrillers in the 1970s
In collaboration with HOME in Manchester, Filmhouse have a stunning lineup of Euro thillers throughout December. Highlights are Costa-Gavras' Z (7 Dec), Elio Petri's Investigation of a Citizen Above Suspicion (16 Dec) and Francesco Rosi's The Mattei Affair (19 Dec). The always illuminating Pasquale Iannone will introduce each film. 7-21 Dec, Filmhouse
5) House Guests: Young Fathers
Young Fathers' House Guests residency at Filmhouse continues with two crackers: Alain Gomis' bittersweet fairytale Tey (5 Dec) and enchanting anime Wolf Children (14 Dec). Until 14 Dec, Filmhouse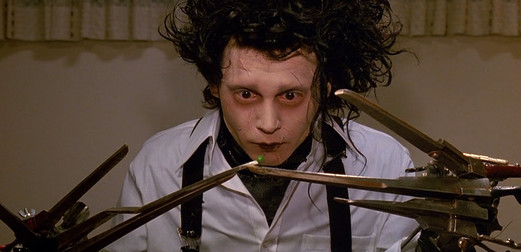 6) Tim Burton Triple-bill
Remind yourself that Tim Burton was once a fine filmmaker with Burnt Church Film Club's triple-bill of Beetlejuice, Edward Scissorhands and Mars Attacks! 27 Dec, Flying Duck
7) Hellraiser
If all this Christmas cheer is getting you down, we recommend you get along to Clive Barker's wild, kinky and utterly bonkers horror classic, which is screening on 35mm as part of its 30th anniversary. As its grotesque "pin"-up Pinhead puts it: "Come, we have such sights to show you…" 8 Dec, Filmhouse
8) Saturday Night Fever
A star was born as soon as John Travolta strutted down the cracked pavements of Brooklyn to the tune of the Bee Gee's Staying Alive. The seminal angry young man drama from 1977 gets a welcome 40th anniversary re-release this month. 14 Dec, Filmhouse
9) Greek Film Festival
There's a few films still to screen in this mini-festival celebrating contemporary Greek cinema: Vasilis Mazomenos's Lines (5 Dec) and a documentary double-bill of Food for Love and My Place in the Dance (6 Dec). Until 6 Dec, Filmhouse
10) Fitzcarraldo
A study in the absurdity of human ambition from Werner Herzog, a filmmaker who's made a career out of pushing his own filmmaking ambitions to the limits. A meandering epic with an out of this world performance from Herzog's wild-eyed muse Klaus Kinski. 17 Dec, Filmhouse