The Voice of the Moon
Fellini's swan song makes a welcome debut on Blu-ray
Film title:
The Voice of the Moon
Director:
Federico Fellini
Starring:
Roberto Benigni, Paolo Villaggio, Nadia Ottaviani
Though warmly received in his native Italy, this final offering from Federico Fellini was denied the chance to reach a substantial international audience. Dismissed on the festival circuit, it saw the director fail to secure American and British distribution for the first time in his career. He died three years on from its release and the movie has languished in obscurity ever since.
Credit, then, to Arrow Academy for making a beautiful restoration available to interested parties. Fellini devotees will find plenty to sink their teeth into here, though all but his most hardened fans will likely find The Voice of the Moon a testing watch.
As late works often do, the film confidently surveys all that came before it, nodding to confirmed classics such as Amarcord and La Strada. By 1990, however, Fellini was 70 years old and something of an anachronism. Four decades on from his debut feature, he seems sure of himself as an artist, but less certain of his place in a changing world. He engages unconvincingly with popular culture of the era, while his trademark excesses are by now disconcertingly crass, almost unpalatable.
With little narrative to speak of – an eccentric, slightly philosophical man wanders a dreamlike landscape, encountering all manner of oddballs along the way – Fellini has free rein to indulge his every whim, veering from autobiography to invention. He gets committed performances out of a cast spearheaded by Roberto Benigni, but the series of vignettes with which we're presented pile up aimlessly. Fascinating, flawed and very much less than the sum of its parts, The Voice of the Moon is an important testament to its creator's weakness and integrity, though is best not approached as an entertainment in its own right.
Extras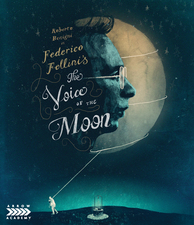 Pick of the extras is little-seen doc Towards the Moon with Fellini, which includes interviews with Fellini, Roberto Benigni and Paolo Villaggio where they discuss the production. First pressing will also include a booklet by Pasquale Iannone, who is a wealth of knowledge on Italian cinema. [Lewis Porteous]
---
Released by Arrow Academy