The Quiet Earth
Geoffrey Murphy's off-beat last man on Earth drama from New Zealand
Film title:
The Quiet Earth
Starring:
Bruno Lawrence, Alison Routledge, Pete Smith
Post-apocalyptic survival has fascinated writers for centuries, and filmmakers for as long as moving images have been around. The particular sub-genre known as 'the last man' made its big screen bow with 1924's The Crazy Ray and has been revisited regularly since. In 1985, Geoffrey Murphy crafted a fairly unusual New Zealand entry into the canon, adapting Craig Harrison's novel The Quiet Earth into an indie sci-fi with an understandable cult following.
Channeling the comedic tone of Clair's 1924 film, The Quiet Earth sees scientist Zac Hobson (Lawrence) awaken to find himself the only person on the planet. The opening act plays out like an oddball wish-fulfillment fantasy – a daydream about where we would live, what we'd surround ourselves with if we were entirely alone. Eventually, just as the solitude threatens to overwhelm Zac, he runs into two other survivors and a more traditional narrative sets in. Gender and racial politics are touched upon briefly through interactions first with Joanne (Routledge) and then Api (Maori actor Pete Smith).
Slowly Hobson's own backstory begins to crystallise and the film settles into its primary meditations on loneliness and guilt. 'The Effect' which caused the disappearances had seemed a clear consequence of experiments Zac was involved in, but a revelation in the third act explaining how the trio survived also opens up the door for myriad interpretations of the central narrative. Its ultimate refusal to jettison its more eccentric elements add to its sustained aura of otherworldly mystery – and help it retain its off-beat appeal.
Extras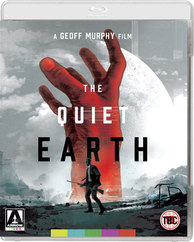 The Quiet Earth's debut on Blu-ray includes several extras features, including an audio commentary by film historian Travis Crawford, an interview with Kim Newman about the film's place in genre history, and a new video essay by Bryan Reesman discussing the underlying meaning(s). The first pressing will also include a collector's booklet featuring new writing by Amy Simmons. [Ben Nicholson]
---
Released by Arrow Video