The Friends of Eddie Coyle
Robert Mitchum brings late-career gravitas to this brilliant Boston-set crime thriller
Film title:
The Friends of Eddie Coyle
Starring:
Robert Mitchum, Peter Boyle, Richard Jordan, Alex Rocco, Steven Keats, Joe Santos, James Tolkan
With its washed-out colours, heavily sideburned cast and inappropriately funky incidental music, The Friends of Eddie Coyle carries all the markings of a kitschy period piece 43 years on from its original release. Any concerns about the movie's aesthetics, however, are dispelled upon the introduction of Robert Mitchum in the title role. Playing neither a psychopath nor an embodiment of laconic cool, the star serves up a sardonic dose of impotent, middle-aged hopelessness in what could reasonably be considered his greatest role. Several renowned character actors acquit themselves admirably here, but it's a towering performance from the veteran that lingers in the viewer's mind.
A small-time gunrunner pushed towards crime by pride and an unforgiving economic climate, Coyle has served more time than befits someone of his low status within the underworld. In his 50s and eager to dodge an impending sentence, he contemplates cooperation with the law, and finds himself manipulated by both sides. Because Coyle is little more than a blue-collar worker desperately attempting to claw his way into a position of respectability and security, he remains tragically oblivious to the intentions of his scheming associates.
The Boston depicted here is a place of oppressive stasis, lacking both bright lights and comfort. Bullitt director Peter Yates delivers a slew of action-packed set pieces, but such dazzling spectacle does nothing to shake off the decidedly grimy atmosphere.
Extras: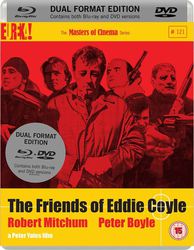 A bonus video essay from critic Glenn Kenny offers further testimony as to the film's greatness, while footage of a live interview with Yates places welcome focus on an unfairly marginalised craftsman. The Friends of Eddie Coyle has long been overdue a UK release, and Masters of Cinema have put together a typically loving and comprehensive package.
Released by Masters of Cinema – order from www.eurekavideo.co.uk/moc/friends-eddie-coyle
Released by Masters of Cinema