The Bitter Tears of Petra von Kant
Released as part of The Rainer Werner Fassbinder Collection from Arrow Films, The Bitter Tears of Petra von Kant is one of the German filmmaker's finest achievments
Film title:
The Bitter Tears of Petra von Kant
Director:
Rainer Werner Fassbinder
Starring:
Margit Carstensen, Hanna Schygulla, Katrin Schaake, Eva Mattes, Gisela Fackeldey, Irm Hermann
When you consider that Rainer Werner Fassbinder is known primarily for producing films at a ridiculous rate, most of which were fuelled by copious amounts of drugs, one of the most revelatory aspects of his work is how formally accomplished and beautifully composed it constantly is. The Bitter Tears of Petra von Kant is a masterclass in mise-en-scène. Fassbinder and his cinematographer Michael Ballhaus utilise the single location in which the drama unfolds with astounding ingenuity, maximising the space available to them and arranging the actors in a way that speaks volumes about their characters and their relationships.
Material that could easily have felt stuffy and stagebound in the hands of a lesser filmmaker is crafted into something thrillingly cinematic here, and Fassbinder's acute understanding of human desire and pain ensures the film sustains a strange, haunting tension throughout. Like Sirk and Losey, Fassbinder had a way of establishing a sense of distance and artifice in his work while simultaneously drawing emotionally rich performances from his actors, and the work done by Margit Carstensen and Hanna Schygulla – two very different actresses engaged in a slow dance of lust, manipulation and obsession that can only end in despair – is wondrous.
Extras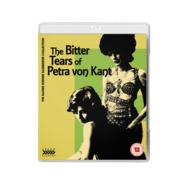 In Life Stories: A Conversation with R.W. Fassbinder, we find the dishevilled, chain-smoking director in contemplative mood as he discusses his life and career up to that point in 1978. One subject discussed is his relationship with his actresses, a theme picked up in the 1992 documentary Role Play: Women on R. W. Fassbinder, wherein Margit Carstensen, Hanna Schygulla, Irm Hermann and Rosel Zech recall their often difficult experiences working with Fassbinder. It's nice to have a female perspective on the commentary track too, with Diane Charleson offering a thoughtful exploration of the film's themes.
---
Released by Arrow Films as part of The Rainer Werner Fassbinder Collection – order your copy here