Sid & Nancy
A 30th anniversary restoration of Alex Cox's cult movie, detailing the doomed romance of Sid Vicious and Nancy Spungen
Starring:
Gary Oldman, Chloe Webb, David Hayman, Andrew Schofield, Xander Berkeley
Written in haste to scupper a mooted studio biopic starring Rupert Everett and Madonna (the mind boggles!), Alex Cox's Sid & Nancy is a messy portrait of a mutually destructive love affair punctuated by touches of lyrical grace. Those highlights tend to occur in the second half of the film, notably a spectacular performance of My Way and an unforgettable shot of the silhouetted lovers surrounded by trash, but the first hour is a slog.
It's loud, grating and hobbled by uneven performances, with the rest of the Sex Pistols coming across as cartoon punks next to the electric intensity of Gary Oldman's Sid Vicious or Chloe Webb's nails-down-a-blackboard turn as Nancy Spungen. Watching Andrew Schofield's embodiment of him, it's little wonder John Lydon described the film as "the lowest form of life."
Sid & Nancy improves as Cox and co-writer Abbe Wool narrow their focus on the central couple, holed up in the Chelsea Hotel where they shoot up, argue and collapse into unconsciousness. Roger Deakins' camera is capable of finding beauty in the gloom, and there are moments of real poignancy here as Sid and Nancy slip towards oblivion.
In truth, Cox and Wool appear to have become too enamoured of their lead couple's doomed romanticism, and the climactic fantasy sequence is a mistake, but at its best Sid & Nancy has a captivating energy and rawness, and there are even some priceless moments of levity. "Fucking motherfuckers! They wouldn't send us any money! They said we'd spend it on DRUGS!" Nancy shrieks as she smashes a phone box after calling her parents. Sid waits for a beat before responding with a perfect deadpan: "We would!"
The Extras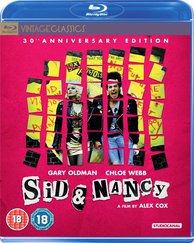 Roger Deakins (who supervised the suitably grainy transfer) and Don Letts contribute short interviews that are light on revelatory content, but a longer interview with Alex Cox is more interesting as he discusses the punk movement in general and his own misgivings with the film's ending.
---
Released on Blu-ray by StudioCanal