Pulp
Overlooked Michael Caine gem Pulp – the comic B-side to Get Carter – gets a welcome resurrection on Blu-ray by Arrow Video
Starring:
Michael Caine, Mickey Rooney, Lionel Stander
A year after creating one of the defining British gangster movies with Get Carter, three Michaels – star Michael Caine, writer-director Mike Hodges and producer Michael Klinger – reunited for another crime picture, albeit with a more comedic tone.
Rome-based novelist Mickey King (Caine) – author of trashy bestsellers like My Gun is Long – is approached to ghost write the autobiography of former actor Preston Gilbert (Mickey Rooney), whose on-screen gangster roles were mirrored by off-screen mafia connections. But someone doesn't want Gilbert to share his story, and King begins to find his commission more bloody and complicated than he expected.
Pulp has long existed in the shadow of Carter, which is unfair, as this is a more sophisticated affair. Caine has made so many films, it's easy to take him for granted, but here he's at his most hilariously deadpan. Rooney's natural exuberance is channelled into something more sinister. In fact, Hodges has a knack for intriguing casting: Lionel Stander and film noir icon Lizabeth Scott are similarly inspired choices. Filming took place on Malta, the island's scuzzy colonial charm the ideal backdrop for a story about people on the make. "It was a ghost town," says Caine's King in the Chandleresque voiceover. "Two crossed coffins in the Michelin guide." The only false note comes from the inclusion of a real-life boar hunt during the closing credits – sickening and unnecessary.
Extras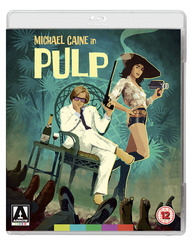 Various, including interviews with Hodges and cinematographer Ousama Rawi. Hodges talks about the genesis of the screenplay, partly influenced by the career of mob-connected actor George Raft, and unsolved Italian murder, the Montesi Scandal. Cinematographer Rawi discusses the hazy brown colour palette Hodges wanted; attention to detail even went as far as repainting doors. Interesting fact: JG Ballard was a big Pulp fan, and wrote to Hodges expressing his admiration. [Steve Timms]
Released by Arrow Video