Lost in Paris
Fiona Gordon and Dominique Abel, French cinema's reigning – but sorely underappreciated – comic masters return with their distinctive brand of gawky slapstick
Film title:
Lost in Paris
Director:
Fiona Gordon, Dominique Abel
Starring:
Fiona Gordon, Dominique Abel, Emmanuelle Riva, Pierre Richard
If you thought your last glimpse of Emmanuelle Riva would be as the ailing woman in Michael Haneke's Amour, then you're in for a surprise with Lost in Paris. "I have been drinking champagne and making love with handsome men," the 88-year-old tells the niece who has been frantically searching for her, and that's not the half of it. Riva is an impish delight in Lost in Paris, not least when she performs a graveyard duet with French comedy legend Pierre Richard.
Aside from the addition of these iconic figures, this is more of the same from Dominique Abel and Fiona Gordon. This is their fourth feature, and each feels a little bigger and more ambitious than the last, although they are all built around the pair's distinctive brand of gawky slapstick. They like to create a situation and then squeeze every drop of comedy juice out of it before moving on to the next one, and the narrative they have contrived for Lost in Paris is essentially an excuse to string as many of these set-pieces together as possible.
Highlights include a floating restaurant in which all the diners bounce to a musical beat, an awkward case of mistaken identity at a funeral home, and some vertiginous clowning on top of the Eiffel Tower that might remind cinephiles of Harold Lloyd; one of many homages to that bygone age of great screen comedy. If you've loved this pair's previous work then you'll surely enjoy this one too, but if you've never heard of Abel & Gordon before – as is too often the case – then Lost in Paris is a perfect place to start.
Extras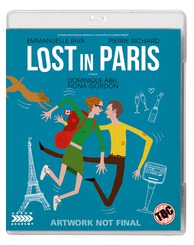 A video essay by Variety film critic Peter Debruge places Abel and Gordon in the burlesque tradition of screen comedy, and there's an opportunity to see one of the pair's earliest collaborations, with the very funny 2000 short Walking on the Wild Side. [Philip Concannon]
Released by Arrow Video; Lost in Paris is also in selected cinemas from 24 Nov