John Wick: Chapter Two
While the imaginative action can't quite keep pace with the rising body count, John Wick: Chapter Two offers up plenty of the neo-noir style and balletic action that made the first film such a joy
Film title:
John Wick: Chapter Two
Starring:
Keanu Reeves, Ian McShane, Common, Ruby Rose
Even before hitman thriller John Wick made its unassuming entrance in 2014, Netflix could easily have titled one of its oddly specific sub-genres as "Keanu Reeves wearing a black suit and kicking ass while remaining fairly impassive." Counting on a post-Matrix era Keanu's diminished star power and helmed by a stuntman making his directorial debut (Chad Stahelski), the comic book-ish revenge flick about a man seeking vengeance for his fallen puppy seemed an unlikely hit. Nevertheless it quickly developed a serious cult following thanks to its idiosyncratic world, slick MMA-inspired action scenes and general air of unshakeable cool.
The first brought to life the tantalising idea of another level of society hidden in plain sight, visible if you only knew how to read the signs – the right number to call, the right door to knock on, the right hotel. It revelled in the devilish details of its sleek urban underworld, and the sequel takes this shadowy network and spreads it around the world, each new outpost tinged with the local flavour.
The first film's sly sense of humour was perhaps one of its most under-sold elements, and Chapter Two continues to dance the line between broody gravitas and a winking self-awareness. A scene in which Wick and Cassian (a stoically soulful Common) walk through a busy train station taking silenced pot-shots at each other, like someone pretending to cough to cover a curse word, is hilarious without ever looking like it's trying to be funny.
By the time we've been watching Wick twist, roll and blast enemies away for a cumulative couple of hours, the strain on Stahelski's brutality arsenal is beginning to show and the amount of imagination in the action doesn't quite keep pace with the rising body count. But the qualities that made the first film a hit – neo-noir style, viscerally balletic action and Ian McShane at his most menacingly debonair – are still more than enough to see Chapter 2 through to the close and make a third entry an enticing prospect.
Extras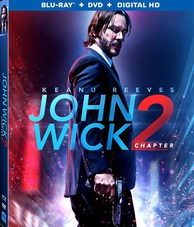 Three deleted scenes, and loads of bonus features, including a John Wick training video; guide to the John Wick universe As Above, So Below: The Underworld of John Wick; action chorography feature Beat Down: Evolution Of A Fight Scene; and keep track of the on-screen deaths with the macabre Kill Count feature. 
Released on DVD and Blu-ray 12 Jun by Warner Bros
Available on digital download from 9 Jun