Jeune Femme
Laetitia Dosch radiates energy in this spiky debut from Léonor Serraille about a young woman going through a quarter-life crisis
Director:
Léonor Serraille
Starring:
Laetitia Dosch, Grégoire Monsaingeon, Souleymane Seye Ndiaye, Léonie Simaga, Nathalie Richard, Erika Sainte, Lilas-Rose Gilberti-Poisot, Audrey Bonnet
We first meet Paula (Dosch) – the 31-year-old protagonist of Léonor Serraille's debut feature – smashing her head against a door. She's been thrown out of her older, wealthier photographer boyfriend's flat. Taking his Persian cat hostage, Paula veers off into the Parisian night. We watch as the now unmoored and effectively homeless Paula bounces from job to job and room to room, creating new versions of herself to suit her surroundings.
Despite going through an emotional quarter-life crisis, Paula's energy radiates. Every time she gets knocked down, she gets back up. In the hands of another director, Paula's carefree, carpe diem attitude would be irritatingly infantilising, but the all-female team behind Jeune Femme refuse cliché. Paula is loud, annoying, endearing, funny, good and bad (she's a constant and terrible liar), attractive and repulsive.
The main driving force of Jeune Femme is Paula's relationships with those around her. Very much alone in Paris, she speaks to everyone and befriends strangers on the metro yet rarely makes authentic connections. When she joins the hyper-feminine team at a lingerie store, she befriends the stoic security guard, Ousmane (Seye Ndiaye), who proves an exception. He's far more likeable than Paula and restores balance to her intense energy.
As Paula struggles to get her life back on track, she also attempts to patch up a complex relationship with her mother (Richard) who has barred her from her home. The pair's reunion is the most emotional moment in Jeune Femme, a film made up of quietly powerful moments between Paula's manic outbursts.
Jeune Femme is about the terror of independence. "You're a free woman!" Paula is told after her break-up. Alone and in sole control of her actions, Paula needs to make her own course and steer her own ship. It's a joy to watch her begin to captain her own life.
Extras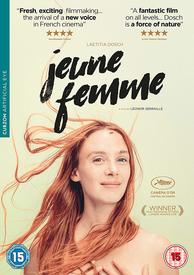 Leonor Serraille's short film Body is included in this home release, along with some deleted scenes which were unavailable to view ahead of release.