Starring:
Jake Gyllenhaal, Maggie Gyllenhaal, Jena Malone, Drew Barrymore, Mary McDonnell, Katharine Ross, Patrick Swayze, Noah Wyle
Donnie Darko is back for its 15th anniversary on a 4K digital transfer, and it looks better than ever
Do you remember the first time you fell for Donnie Darko, the strange debut from Richard Kelley about a disturbed teen with an imaginary friend called Frank (a man-sized rabbit) who tells him the world will end in 28 days? Chances are you were young and impressionable, and your mind was easily blown by its superficial delights – the sci-fi philosophising, the pop-culture referencing (do smurfs have genitalia?), the choice new wave soundtrack, the cute-as-a-button anti-hero (Jake Gyllenhaal). Looking back at the film on the occasion of its 15th anniversary, it's clear its qualities run deeper than surface level.
Kelly's balance of tone is remarkable, positioning the film on a razor's edge between John Hughes teen turmoil and a David Lynch nightmare. The film has more soul than either of these touchstones, however. This is clear from the knockout opening scene where Donnie and his nuclear family is introduced, with each member given space to deliver at least one delicate grace note. Kelly's love for his characters make Frank's apocalypse prophesying all the more terrifying.
Donnie Darko's baked-in weirdness remains bracing all these years later too, particularly when compared to subsequent movies that strive to be "mind-bending" (Christopher Nolan would sell his grandmother for a bit of this film's magic). Even before the sci-fi elements are introduced, however, there's an off-kilter quality to the film's suburban world. The colour is drained and the image often breaks free of its axis or slips into dreamy slo-mo; it's as if Kelly's camera is on the same mind-altering meds as Donnie.
As pop as it is arthouse, as funny as it is tragic, Donnie Darko remains a remarkable one-off that's easy to adore. The only downside to getting reacquainted: Tears for Fears' Mad World will once again be your earworm. We'd only just shaken it off.
Extras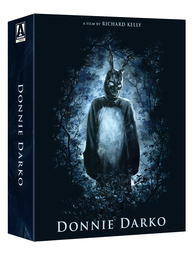 They abound. There's both cuts of the film (Director's and Theatrical), Kelly's short The Goodbye Place, onset documentary and interviews, B-roll footage and some sharp writing from critics Nathan Rabin, Anton Bitel and Jamie Graham.
---
Released by Arrow Video on the following formats:
4-Disc Limited Edition Dual Format Blu-ray & DVD boxset, 12 Dec
2-Disc Limited Edition Blu-ray Edition, 9 Jan
1-Disc DVD Edition, 9 Jan
Donnie Darko is also back in selected UK cinemas from 16 Dec