Day for Night
François Truffaut's love letter to the filmmaking process gets the Criterion treatment
Film title:
Day for Night
Director:
François Truffaut
Starring:
Jean-Pierre Léaud, Jacqueline Bisset, François Truffaut, Nathalie Baye, Valentina Cortese, Dani, Jean-Pierre Aumont, Jean Champion, Nike Arrighi
Though The 400 Blows and Jules et Jim have since come to define the work of François Truffaut for the casual cinema enthusiast, there was a time when his 1973 film Day for Night could be considered the French director's biggest international breakthrough. Having picked up the Best Foreign Language Film Oscar in 1974, the movie was then nominated for a further three the following year, after its proper US theatrical run, including writing and directing nods for Truffaut himself and a Supporting Actress nod for Valentina Cortese.
The mainstream appeal is understandable. Unlike many a behind-the-scenes portrait, Truffaut's story of the frictions on a fictional film shoot aims for affection and amiability for most of its runtime, with even the odd tragic tangent falling to the sidelines somewhat. It's more love letter than a skewering of any considerable bite. But that's by no means a bad thing when the resulting celebration of how makeshift families are formed in the creative world offers so many entertaining characters playing off one another, from egotistical actors (including Truffaut regular Jean-Pierre Léaud) to sardonic script girls ("I'd drop a guy for a film, I'd never drop a film for a guy"). And for the feline-inclined, it also has one of cinema's great scenes of cat comedy.
Extras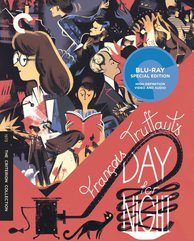 Day for Night was bizarrely without a UK disc during the DVD era, so this Criterion Collection Blu-ray release is a welcome treat for those not keen on importing. Highlights among the stacked special features include archival interviews and television footage about the film (with key cast and crew contributions), a documentary on the film from 2003, and new interviews with director of photography Pierre-William Glenn and assistant editor Martine Barraque. The impressive 2K digital restoration used for the release was supervised by Glenn.
---
Released on Blu-ray by the Criterion Collection