Dark River
Clio Barnard joins the recent run of UK directors making emotionally fraught dramas in rural settings with Dark River
Starring:
Ruth Wilson, Sean Bean, Mark Stanley
In the 1990s and 2000s, British (and in particular Scottish) cinematic miserabilism found expression and purpose in urban settings. Fast forward a decade and films such as Paul Wright's For Those in Peril and Scott Graham's Shell had shifted focus and were exploring hardscrabble lives and emotional turmoil in coastal and rural settings instead. South of the border, Francis Lee's God's Own Country, Hope Dickson Leach's The Levelling and Guy Myhill's The Goob have successfully tackled similar subjects in Yorkshire, Somerset and Norfolk respectively.
In a sense, Yorkshire-born Clio Barnard straddles both traditions. The Arbor, her 2010 film about playwright Andrea Dunbar, and its 2013 follow-up, The Selfish Giant, are both set in and around Bradford, while Dark River, her third feature, moves into the countryside of the West Riding. Typically, though, its hills, hedges, glades and pools are dark, threatening places. Its wildlife is mostly sheep and fierce dogs and its people are hard, taciturn and shuttered-up.
Enter Alice Bell (Wilson), an itinerant sheep-shearer returning to the family farm after the death of her father (Bean) and hoping for a reconciliation of sorts with his dark legacy – he sexually abused her through her teenage years and visions of him still haunt her – and with her brother, Joe (Stanley). Alice wants the farm because it was promised to her, Joe wants it so he can sell the land for development. Under skies permanently set to 'threatening', a taut and occasionally violent family drama plays out, interspersed with fragments of Alice's earlier life showing its scarring events and its rare moments of happiness. Wilson's performance is unstintingly intense. So is the mood. But Dark River feels more like an addition to an already well-established canon than an important new direction for it.
Extras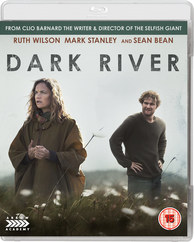 There are illuminating interviews with Barnard, Wilson, Stanley and Bean, as well as with Esme Creed-Miles, who plays Alice as a teenager. Other extras include a stills gallery and a short behind-the-scenes featurette. [Barry Didcock]
Released by Arrow Video