The evolution of sound system culture
As festivals get ready to celebrate weighty bass music around the world, we sit down with the Scottish branch of sound system culture to find out more
From dub to jungle, hip-hop to drum'n'bass, reggae is the beating heart in some of the most impactful music across the world's four corners. Helping to drive its immeasurable legacy has been an ever growing many-legged beast, which we call sound system culture.
"Wherever you go in the world, you will find a sound system," says Chris Knight, co-producer of Wee Dub Festival. "They operate independently but also as part of a wider network, almost like a brotherhood. There's a respect between people who maintain the tradition of the sound system but represent different styles of music within that."
The basic tenets of that tradition date back to at least the 1950s, famously emerging in the sound clashes between reggae crews in the streets of Jamaica and spreading to London via the Windrush. But their legacy arguably stretches back further. The griot, a storyteller and social commentator in West African oral traditions, has been named a predecessor of the deejay, who speaks rhythmically, or 'toasts', over the reggae beat. They rose again in New York, where rappers and DJs spinning hip-hop records threw their first parties, and later in cities across the UK, where MCs spat bars over hardcore and jungle.
But it took longer for sound systems to emerge en masse in Scotland. Wee Dub Festival throws its tenth edition in Edinburgh this month (13-15 Mar), marking a decade since its founder Gregory Lapinski sought to fill a void in the capital. "In Edinburgh you had Messenger Sound System and in Glasgow you had Mungo's Hi Fi, and that's kind of all there was," says Knight. "But further afield, Outlook was taking off, dubstep was massive, and that meant a whole new generation was discovering dub and reggae music. It was off the back of that Wee Dub started."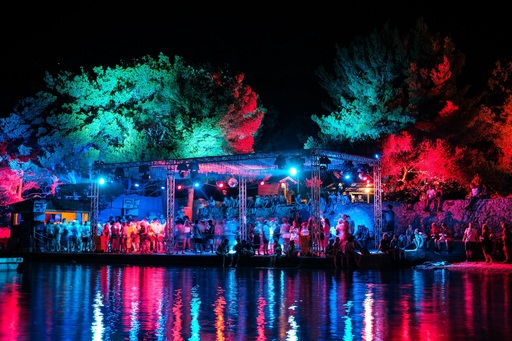 Outlook Origins. Photo: Nicholas Leer
It's a big year for Outlook too. Having thrown its final 15,000 strong party at Croatia's Fort Punta Christo in 2019, this summer it's punting a back-to-basics approach, rebranding as Outlook Origins (30 Jul-3 Aug) and moving to a more intimate venue, The Garden in Tisno. Thirteen curators – including Goldie, Storm, Mala, and Mungo's Hi Fi – have been tasked with bringing sound system culture's underground sounds to the fore.
"It brings it back to the crews that have been there since the beginning," says Doug Paine, co-founder of Mungo's Hi Fi. "I think they've realised that people go for the underground music and there's enough people interested in just that to make it work."
Outlook's downsizing recalls the question that haunts sound system culture as it gains popularity – can it stay anti-establishment, or will the passage of time and growing commercialism dilute its anarchical history? 
"It is still political but not in terms of you could sum it up in a manifesto," says Paine. "I've felt that it was important for us to be able to earn a living from doing the music. If you look at the ecosystem of the music industry, in the last 20 years medium-sized companies have been blown away as their business models are unsustainable. I think it's important to repopulate the ecosystem with small and mid-sized companies that can be more innovative with the music they make, and hopefully more genuine and less shareholder driven. In that sense, I don't think that some of the commercialism that's been brought into sound system culture is necessarily a bad thing."
"I think there is a core message in reggae, even the most party-orientated sound system music, which is love and respect," says Knight. "For me, a big part of it is getting people together who wouldn't otherwise be together, to listen to music with a message and to have a good time."
Five more sound system festivals to check out
International Dub Gathering
Jah Shaka, Aba Shant-i, Iration Steppas ft. Dennis Rootikal & more. L'Aldea, Spain, postponed to 16-18 Oct, internationaldubgathering.com
NASS Festival
Chase & Status, Kurupt FM, Stefflon Don & more. Shepton Mallet, Nr. Bristol, UK, 9-12 Jul, nassfestival.com
Let It Roll
Pendulum, Fabio & Grooverider, Mantra & more. Forum Karlín, Prague, Czech Republic, 30 Jul-1 Aug, letitroll.eu
Boomtown Fair
Wu-Tang Clan, Damian 'Jr Gong' Marley, Andy C & more. Matterley Estate, Winchester, UK, 12-16 Aug, boomtownfair.co.uk
Rototom Sunsplash
Toots & The Maytals, Barrington Levy & more. Benicàssim, Spain, 16-22 Aug, rototomsunsplash.com