T in the Park 2013: Friday, 12 July
Staying dry has always been more of a bonus than an expectation at T in the Park, making this year's scorching weather a jackpot coup for the festival's 20th edition, where the only things redder than the T logo are the scorched hides of the crowd's taps aff quotient. The heat makes the now traditional 'Fancy Dress Friday' a real feat of human endurance, as power rangers, supermen and at least two full sets of Pixar toys visibly welt beneath makeup and lycra – presumably praying for a little cloud cover and making a mental note to dress as something more airy in 2014.
Between acts, vox-pops on the stage-side screens remind everyone just how much T has grown in its double-decade lifespan, from svelte Strathclyde debut to the 85,000-a-day colossus that now bestrides Balado. Inevitably, its four-fold expansion has not been without growing pains, with recent chart-plucked line-ups attracting vocal deriders even as they pack in the crowds. But despite being top heavy with budget-swallowing big guns (not to mention riddled with TV talent show dregs further down the bill), this year's anniversary event seems comfortable in its modern, pop-oriented skin, delivering on scale whilst still accommodating token nods to tastes outside the Radio 1 playlist.
So, while the back-patting slogans printed across every plastic pint glass proved a tad hyperbolic ("the happiest place in Scotland!"; "the best crowd in the world watching the best bands in the world!"), T20's respectable haul of highlights allows it to walk away once more with its sun-crisped coupon held high.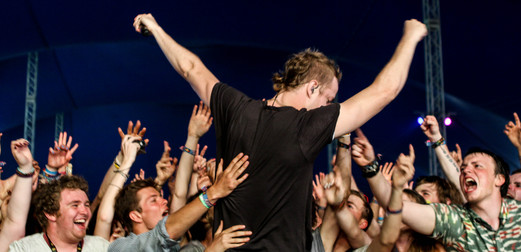 As one of the opening acts of what is set to be a very dry, very hot weekend, Imagine Dragons meet the crowd's manic anticipation with flair. No stranger to such climes, this Las Vegas four-piece's enthusiasm is not only apparent but contagious. Tension builds in T's sweatiest space (King Tut's Wah Wah Tent is packed) as they draw out the opening to their first track, before launching into a mostly dynamic set. On Top of the World and Radioactive predictably get the biggest cheers, but frontman Dan Reynold's unflagging energy helps kick off the festival with gusto. [George Sully]
Milo Greene's country-tinged dream pop is an almost perfect start to the sunny day over at the BBC Radio 1 Stage, with multiple vocal parts interlocking to create jaunty harmonies and soaring passages of ethereal beauty. It's almost like a more cheerful version of Beach House, and the Los Angeles four-piece more than live up to their self-description of 'cinematic pop.' They win the crowd over easily, and by the end of their set, the sun emerges full beam. You can't help feeling they helped it to emerge, bringing some Californian vibes to Balado. [Bram E. Gieben]
Silicone Soul are the very definition of a safe pair of hands to play the first few hours of the Slam Tent – since 1998, the duo have been providing both Soma and the Glasgow club scene at large with slick, polished dance music that ranges from deliciously sexy vocal house to more percussive deep and tech house. Their mixing is virtually flawless, with edits slipping smoothly into one another – and they cause an early dose of 'here-we-fucking-go' with a super-sexy remix of Dee Lite's Groove Is In The Heart. [BG]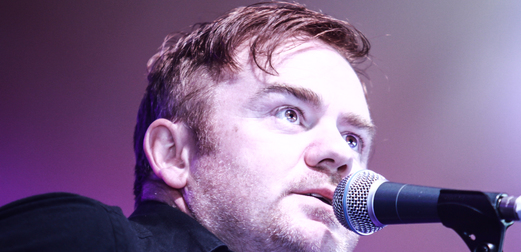 Tasked with inaugurating this year's T Break roster, Deer Lake have the misfortune of starting their set with populists par excellence The Proclaimers still midst-500 Miles a few hundred yards away on the main stage. Where the Reid brothers' alt-national anthem whips spirits higher and higher, Deer Lake's earnest emoti-rock keeps enthusiasm on a lower pegging – a contrast that regrettably translates into an occasional languor. But as the tent's population swells so does the band's stature, with the eyes-closed alt-pop of Japanese Lucky Cat and sky-scraping single Like Ghosts demonstrating pronounced promise. To paraphrase another of the Reids' hits, they're on their way. [Chris Buckle]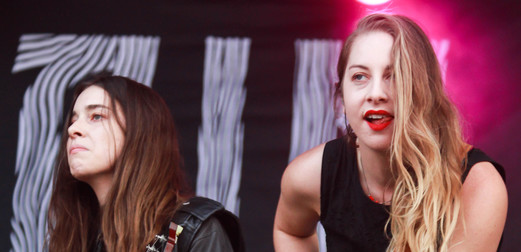 An early slot and a slim crowd do little to slow these girls down; the Haim sisters skip gleefully onto the stage. With their debut album still in the works, the polished production on the singles so far released belie a raw, percussive heat only heard in analogue. This is an outfit drenched in nostalgic Americana, and their sassy set swings from classic rock 'n' roll to 80s synthpop. Bassist Este flirts with the crowd, frontlady Danielle struts about in her leather jacket, and onlookers jive in the afternoon sun. September's due date can't come soon enough – this stuff is gold. [GS]
Showcasing an impeccable line in Deal-icious fuzz-pop, Honeyblood's two-piece guitar/drums setup packs real punch. Sweetening brawny garage rock with bright vocal melodies, the components of their sound are well worn yet worn well, with Super Rat's lyrical snarl and the sun-kissed pep of Killer Bangs encapsulating the duo's vibrant appeal. It's no wonder they seem confident (struggles with set order aside), with between-song chat endearing them to all in earshot and a too-close-for-comfort pint lob taken comfortably in their stride. When Honeyblood express disappointment that their slot clashed with Haim, there's a feeling that it's the Californians who missed out more. [CB]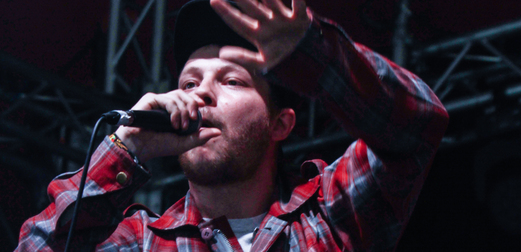 Glasgow's Hector Bizerk have brought with them a small army of fans, carrying flags and handing out Hector masks as the expanded 4-piece take the stage. Their performance is flawless – Louie's front-man act is incredibly charismatic, getting the crowd to crouch down and then pogo, as they scream the choruses back at him unasked. His rhymes are technically devastating and meaningful. The powerful soundsystem reveals the complexities of Audrey Tait's polyrhythmic drumming. An energetic Burst and a positively rambunctious Man Up are greeted rapturously, but it's their newer, hard-edged political tracks which indicate this band's future – they have the potential to become something along the lines of a Scottish Rage Against The Machine. [BG]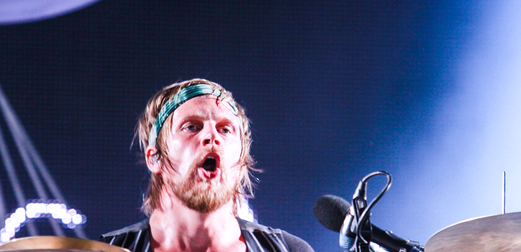 At last, a crowd that befits their grandeur. This Icelandic party needs a big space for their big sounds, and in King Tut's they've got it. Revellers – most already burnt by now – whoop as Of Monsters and Men spill onstage. And the band is endearingly humbled by it. They might conjure sounds of epic adventure (you can practically hear the fjords and glaciers through the accordian, trumpets, and lead lady Nanna's Scandinavian vocals) but they're a sweet bunch at heart, enamouring listeners like a folk band in a mountainside tavern. [GS]
Miami's Maceo Plex raises the tempo in the Slam Tent with a set of fat, banging electro and house. There's a liquid, effortless feel to his mixing, with deep house and nu-disco slipping into tougher electro cuts, and then back into the slicker grooves. Thankfully, the shouts of 'here-we-fucking-go' and 'whoomp, there it is' (which left the adults in the tent, just trying to get their groove on, speechless with apopleptic frustration) have died down, and the crowd are content to get lost in the music. [BG]
James Skelly and the Intenders are no strangers to T, with both frontman and backing band having previously notched up a fistful of appearances as The Coral. With said act on hiatus, Skelly's underwhelming solo album Love Undercover is ostensibly the order of the day, and though the likes of mod stomp You've Got It All and pouting blues-rock number Do It Again find advocates amidst the modest crowd, it's only when the set introduces picks from The Coral's back catalogue that the spark catches amongst the majority; when Dreaming of You's familiar bass-line bounces forth, the nostalgia hit is particularly potent. [CB]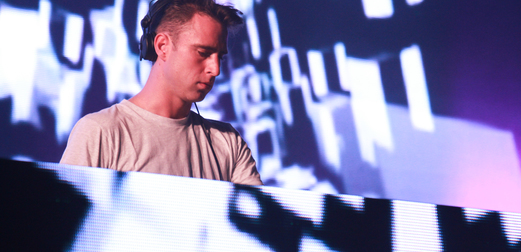 Numbers supremo Jackmaster and London's Joy Orbison take to the decks, playing side by side and back to back. Their set is predominantly made of of bass-driven house and proto-garage, with occasional suggestions of acid in the basslines. Double 99's 1997 classic RIP Groove, with it's loping house/garage hybrid beat and infectious shout of 'Dubwise!' sets the tone perfectly, as they work through a set comprised of up-to-date tracks and classic with tight, rapid mixes. A few tracks feature some welcome vocal stabs sampled from soul and gospel. It's a refreshing change from the deep, thudding techno that will dominate the Slam Tent for the rest of the weekend.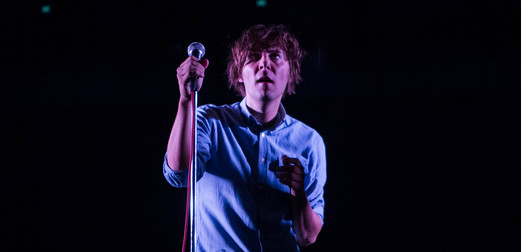 King Tut's houses another stormer tonight, as Phoenix showcase new tracks from Bankrupt! amongst old favourites in an effortlessly powerful performance. From their teasing entrance (to classical music, no less), to the hyperactive lighting for Entertainment, to kinetic renditions of crowd-pleasers (Liztomania nigh on brings the tent down), their set borders on flawless. Running to the crowd edge to bask in fawning arms, you almost want to hate Thomas for his aloof Parisian confidence. But this often gives way to scruffy likeability and you're lost in the energy anyway. Their prowess was never in doubt, but tonight raises them to new heights. [GS]
From the bright lights of the fairground rides to the relentless breakbeats being laid down by Chase and Status over on the main stage, Friday's dusk is filled with restlessness and commotion. Placed amidst it all, the title of Steve Mason's recent album Monkey Minds in the Devil's Time (an allusion to the easily distracted) acquires fresh resonance, but there's little risk of losing focus in the company of so engaging a performer. Highlights include Lost and Found's subtle majesty and the gently soaring A Lot of Love, with the latter blossoming into an intimate anthem as voices from the crowd join Mason for the chorus. [CB]
An disappointing pick for T Break (decidedly not Scottish, they are from Milton Keynes), Hacktivist offer a bland metal / rap fusion with a hint of dubstep. They are undeniably tight, but unadventurous – the fusion of rap and metal is nothing new. Despite their name, there is little in the way of dissent or protest in their frankly abysmal lyrics – more of a whiny, emo pseudo-darkness, which comes off as petulance. Hacktivist are the generic masquerading as the adventurous – Kerrang, like the crowd here, will no doubt love them. [BG]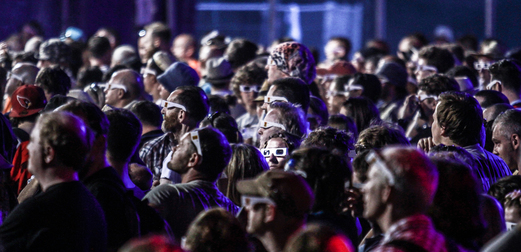 From the Manchester Velodrome to the Tate Modern's Turbine Hall, recent UK visits from Teutonic technopop forefathers Kraftwerk have tended towards esoteric, special event status, making their presence atop today's King Tut's bill as incongruous as it is welcome. In the countdown to launch, a test screen projected on the rear of the stage gives the audience a chance to break in their 3D glasses – a novel stereoscopic spectacle that seems to have attracted people in and of itself. But while it's the technetronic backdrop that (literally) stands out most, it's the music that earns them a roaring ovation. Iconic yet anonymous in wireframe jumpsuits, the near-motionless men-machines cycle through ever-fresh futurist odes to circuit-boards and space-labs, with the hypnotic precision of tracks like Numbers making clearer than ever the debt owed by just about anyone to wield a moog or program a sequencer since. In a word: wunderbar! [CB]