Scotland's avant-garde and experimental music festivals
In the month of Counterflows and Tectonics, we look ahead to the more experimental and avant-garde music you can find at Scotland's festivals this year
These are hard times to be putting on festivals. The maelstrom of issues promoters and artists face right now, from the cost of living crisis, to increasingly draconian visa legislation that means performing in the UK is markedly less financially viable for performers, mean that the already difficult task of corralling all the various elements to make a festival work has increased tenfold.
As such there is even more pressure on curators and organisers to play it safe. Experimental music, in its curious, searching nature can be a hard sell to funders and grant-givers and as such many of the indie festivals that had an experimental strand have curbed that instinct, leaning more into the ongoing waves of post-punk that remains unstoppably bankable. But still there are people doggedly dragging themselves through this mire to bring the most interesting music on the planet to these shores, and, perhaps because the act of trying to do anything good begins to feel defiant, it's looking like an exciting year ahead for experimental music. 
In April we see Made In Easterhouse (22 Apr) returning to Platform in the East End of Glasgow with its first live musical strand since pre-lockdown. Leaning more towards DIY pop, they'll feature performances from synth oddballs Town Centre and a solo set from R.AGGS, Sacred Paws' singer and guitarist Rachel Aggs. Spring of course also brings Hidden Door (31 May-4 Jun) to Edinburgh whose musical side, while a touch more straightforward this year, still features a leftfield collage of disparate sounds to marry to the range of visual art and performance on show.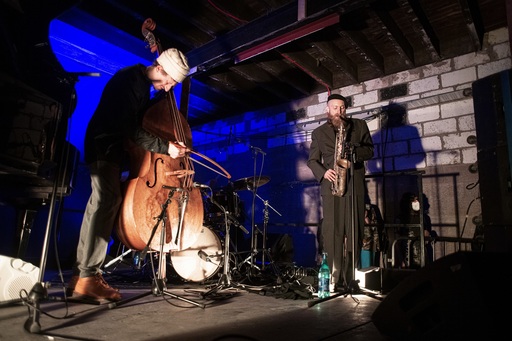 Counterflows 2018: Ahmed at Glue Factory. Credit: Dawid Laskowski
Come the summer there is of course the Edinburgh International Festival (4-27 Aug) and The Fringe (4-28 Aug), and all their encircling satellite festivals that have experimental music as part of the programme, EIF having featured Richard Dawson, Anna Meredith and Squarepusher in recent years. Particularly exciting is what direction the Made In Scotland showcase goes in, with last year featuring the broadest array of work yet, both in terms of who is making it, and the experimentalism on show. Connect (25-27 Aug) also returns in August with a lineup featuring Jockstrap, Daniel Avery and TAAHLIAH to add a leftfield tinge to its otherwise more indie-rock-centric lineup. 
Then later in the year Aberdeen Sound Festival returns from the 25-29 October with another strong batch of contemporary classical goodness. On show will be new works from Kathy Hinde, Chamber Choir Ireland and the Red Note Ensemble. Alas, Pop Mutations Weekender, one of the finest new festivals in Scotland that ran around the same time last year, has moved its second edition to 2024, though they will be throwing an all-dayer come October, which, if it maintains the balance the previous weekender managed between dissonance, experimentalism and pop joy, will definitely be worth catching. 
But it's this month that marks the return of the two heaviest hitters in Scotland's experimental music calendar, Counterflows and Tectonics. While the two are related their identities are distinct – Tectonics with its involvement with the BBC SSO is more orchestrally focused, while Counterflows has a looser relationship with genre, seeking in co-curator Alasdair Campbell's words, "music and artists that also are looking at exploring ideas of how to create environments, sounds, experiences that in some ways are developing music."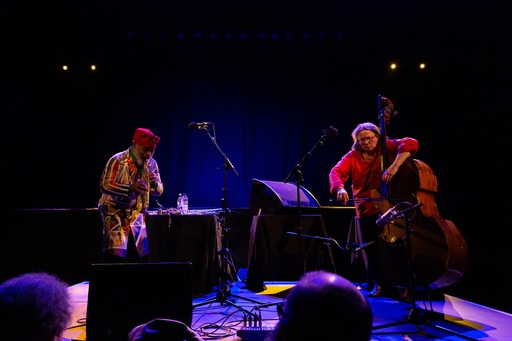 Tectonics 2022: Douglas R Ewart and Joëlle Léandre at Glasgow City Halls. Credit: Alex Woodward
Tectonics (29-30 Apr) marks its tenth anniversary this year with as strong a lineup as it's ever seen. The festival has its usual split of newly composed and classic works performed by the always sterling SSO and performances by a cavalcade of experimental music's great and good, as well as installation work. The premieres this year include new work from the ever-superb Rufus Isabel Elliot and a Linda Buckley piece inspired by Pagan chant, while the SSO will bring new light to the under-heard wonders of Margriet Hoenderdos.
On the solo performance front it places the likes of Lucrecia Dalt, already a modern-day legend, but now fresh off the back of last year's ¡Ay!, her breathtaking album of mutant Bolero, next to Limpe Fuchs the instrument-creating improvisational legend, who, more than six decades into her career can claim the sonics of great swathes of krautrock and industrial as being a direct result of her work. It's a really strong selection, as devoted to excavating and celebrating underrepresented works and figures as it is to composers and performers still in their prime. 
But it's Counterflows (6-9 Apr) that remains possibly the most exciting weekend in Glasgow's musical calendar. A ludicrously stacked musical lineup, with highlights including Singeli whirlwind DJ Travella, a rare performance from legendary vocal improviser Maggie Nicols and rising Glasgow 'weird stuff' purveyor Max Syedtollan, sitting alongside interviews and workshops. Campbell notes that "Counterflows was set up from the beginning to bring together the local and the international to offer a platform to share ideas," and it's this marriage that defines the festival, and what solidifies it as a key weekend in the UK experimental music calendar. There doesn't feel like many other places on Earth you could get the disparate brilliances of DJ Diaki, Proc Fiskal and Glasgow scene mainstay Boosterhooch on the same bill.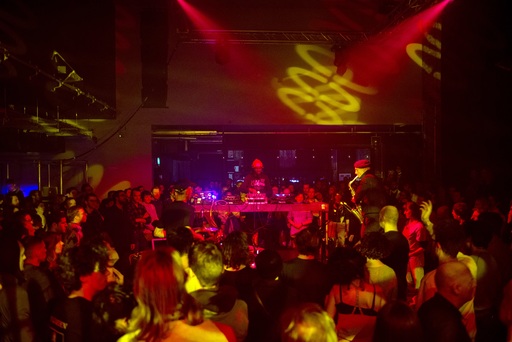 Counterflows 2018: RP Boo, Seymour Wright and Paul Abbott at The Art School. Credit: Dawid Laskowski
Syedtollan, coming off the back of releasing the sublime Disposables last month, will be premiering new work at The Ferry on the festival's closing night and echoed this praise for their fusing of the local and the global, and, when we spoke to him, praised the audiences for their "tolerance for things that are a bit… weird." He acts as something of a Counterflows success story, having moved from being a volunteer manning the doors (and by his own admission abusing his free pint privileges), to DJing last year, to performing at one of the festival's key shows. "It's pressure," he says. "It's a sign of artistic success up until this point, but whether it's a success just depends on whether the piece works." The work itself will be a series of improvised pieces with the musicians from the festival's Music Space programme, a year-long bursary fund set up last year to help young people interested in exploring music, a further pivot from the ever-evolving Syedtollan.
Beyond its excellent curation it also maintains an attitude to accessibility still lacking in so many festivals, particularly in the experimental and avant-garde worlds. Many of the shows operate a 'pay what you can policy', and it feels, more than any other of the festivals here, that it is in direct conversation with the music scene of its host city. It's something that came up several times in conversation with Campbell, describing the nature of the festival as collaborative between its curators and those that work in the Glasgow experimental scene. 
Both Syedtollan and Boosterhooch are key figures in putting on independent, experimental gigs in the city the rest of the year, including the upcoming Fools Fest (1 Apr) all-dayer, and indicates the broader preference towards the DIY amongst Counterflows' curation. It all points towards attempting to extricate experimental music from the clammy hands of the upper classes, and more generally the powerful, who have too often co-opted and claimed ownership over working class innovation in the music sphere. Whether they wholeheartedly succeed in this aim is as ever a debatable point, but they are trying a lot harder than the vast majority of their peers. Counterflows is one of the finest festivals we have, and it's the cornerstone of what could be a very sterling year for experimental music in Scotland.