Groove Cairngorm 2017: The Review
For its second instalment, the Groove Cairngorm team have upped their game with top-quality artists performing for the après-ski set
Hosting the UK's first and only snowsports music festival, Groove Cairngorm festival is going from strength to strength. It boasts stages half way up some impressively large mountains as part of the Cairngorm Ski Resort, and a larger stage within a one-sided barn for the evening festivities at the Badaguish Outdoor Centre.
It's a small-scale festival in comparison to the likes of Rise Festival in France or Snowbombing in Austria, but with big-scale enthusiasm and passion shown by both revelers and staff. It's a well-organized festival you can really feel part of, with a diverse crowd ranging from the 'taps aff' boys to hen dos and even families with kids; friendly staff and security; quality food trucks; ease of transport throughout the sites (including free shuttle buses from the town of Aviemore), and minimal queues for beverages.
If you want to get right down the front to see an artist up, close and personal then you're easily able to do so. Perhaps there could be a few more toilet facilities, and £4 for a small beer seemed a tad much, but on the whole it's a pleasing and accessible set-up.
With both acoustic and electronic acts catering for music fans with a penchant for diverse music, the UK's highest restaurant – the Ptarmigan – hosts several acoustic acts. This stage proves to be extra special, taking in some phenomenal views looking down over Loch Morlich and across to Ben Nevis and Ben Hope. The Day Lodge hosts DJs at the same time and notably, the boys from Hector's House raise the temperature on a grey and chilly mountainside. The main stage situated in a secluded woodland clearing at Badaguish has a special feel, and this is where the big names play over the two consecutive days.
Friday night has the disco divas of Horse Meat Disco serenading the crowd with some house-infused tunes before a DJ set from The Streets' frontman Mike Skinner ranging from London grime and dubstep, hip-hop like Young M.A's OOOUUU remix ft. 50 Cent, and of course a couple of Streets classics such as Nero's remix of Blinded By The Lights and set closer Fit But You Know It.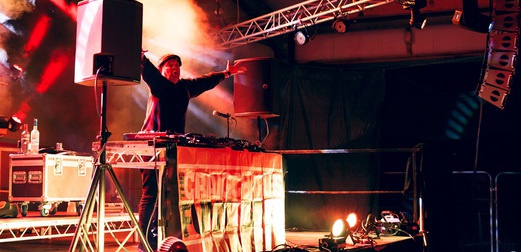 [Craig Charles on stage at Groove Cairngorm 2017. Photo: James Roberts]
Skinner is followed by the formidable Craig Charles Funk & Soul Club, and Charles – after swaggering in to Skinner's last track – drops Marvin Gaye's Got To Give It Up with an added harder-edged beat which has everyone moving and grooving from the off. We then have the pleasure of a wide range of funk and soul classics by the likes of Rick James, Jackson 5 and an impressive version of Rage Against The Machine's Killing In The Name Of by The Apples. Another standout track is Marvin Gaye and the Grant Lazlo Orchestra's I Heard It Through The Grapevine – if you haven't heard this version of Gaye's mega-hit then you should definitely look it up.
His farewell song is a strangely enjoyable mix between Mark Ronson's Uptown Funk and Seven Nation Army by The White Stripes. Craig Charles is one of those DJs that is so overtly passionate about his music that it becomes infectious; we watch him sing along, dance around, and whip the crowd up, all while displaying expert skills behind the decks.
On Saturday, the 2 Bears prove popular especially with playing The Ones' Flawless but their highlight is their 2012 track Bear Hug, with live vocals from Raf Daddy. Next up is Blonde, represented solely by Adam Englefield, who surpasses expectations with his fine selection of house tracks expertly blending old with new. The headliners on Saturday night are none other than the world-renowned Basement Jaxx. An impressive booking by Groove, the lads keep the energy levels high throughout,  playing the likes of Slideback, Philippe B's DANCE! and their own Mermaid Of Salinas and a club-friendly edit of Red Alert. The final song of the evening, and of the festival, is a surreal instrumental cover of Bohemian Rhapsody by Chilkali Brass, which prompts a sing-along and mass group hugs.
With the lights up and the warm tones of the brass floating through the air, the atmosphere is reminiscent of Christmas time with warm and fuzzy thoughts of family and loved ones – only to then realize you're surrounded by both. One half of Basement Jaxx, Felix Buxton, had given a short inspirational speech during the set on being happy and living life and loving one another, and these words echo in the minds of the well-oiled festival goers as they sway together with arms around one another.
The lack of snow during the festival meant many ski runs were closed, but obviously this is a negative outwith the organizers control, and it is a testament to all involved with the festival that despite the absence of snow, they maintain a fantastic atmosphere. We're already looking forward to what's in store for 2018.