Beacons Festival 2014: Saturday 9 August
Day two at Skipton's Heslaker Farm sees Hookworms warm to their role as headliners, Ex-Easter Island Head bewitch a seated hideaway, and Jon Hopkins turn the main stage into a glow-in-the-dark Wacky Warehouse
Remember that level on Sonic 2 where you had to direct the blue-arsed critter and his faithful but ultimately hapless pal Tails to the nearest pantaloons store, kit the two out in a pair of glittery flares and star-shaped glasses, and then earn rings by getting down and funky with them on the dance floor? Nah, because Sonic was many things but he never really had the funk – if he did, though, he'd be grooving to the sounds of Galaxians. The duo's mix of 16-bit synths and offbeat rhythms is an instant party trigger in the Noisey tent, with a partisan local crowd buoying them as they bounce their way through a journey of manipulated transmissions and veering hooks – each in turn spiking the mass in front into vigorous, hip-shaking action. Boss level completed.
It's all set for Hookworms, then, with a crowd fired up and eager for the physicality of the five-piece's penetrative, feature-length punk rock. Punk's the term to use for the Leeds group now more than ever, the bite they've always possessed within their blurring textures and motorik developing great gnashing jaws. One particularly short, sharp burst of a new song exemplifies this perfectly – its the nearest they've come yet to the corrosive proto-punk of The Modern Lovers and 80s hardcore influences they've always cited. Respite only really comes once during a raucous 45 minutes, with the ebb and flow of The Correspondent; drummer JN pulls back his hole-punching patterns and allows the sweeping washes of organ and guitar to cascade over him. For the rest, Hookworms give the sense that they're starting to relish their increasing ability to cause a human pile-up.
Some hours later, the physicality of Ex-Easter Island Head is entirely the opposite – delicate and nuanced, they start from nothing and build pieces, as opposed to starting with everything and taking elements away. The Into the Woods stage is a restful getaway from the climactics out in the fields; dozens of people stretch out on the carpet or crash out on sofas as the Liverpool trio take to the stage. Heavily based around the use of mallets on prepared electric guitars laid flat, with a further percussionist behind them, Ex-Easter Island Head consistently surprise in the dexterity of sound they manage to coax out of such a minimalist setup. It's perhaps the 6.2% cider talking, but the switch of rhythms from the glottal to the languid has a bodily effect, moments of tension rising and evaporating within the torso as beats blur into each other and increase in velocity. It isn't the barnstorming end to a festival Saturday night that some would choose, but there's little else that comes close to this level of immersion all weekend.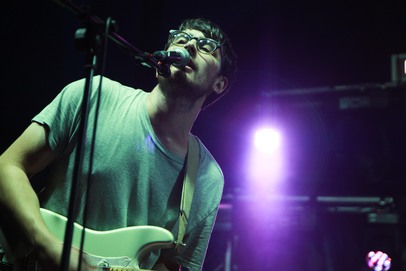 [TRAAMS by Sam Huddleston]
Finally, the joy of Menace Beach is their simplicity: straight to the point bubblegum pop, flavoured with something a little more cutting. The five-piece succeed on the irresistible earworm hooks that central songwriter and vocalist Ryan Needham seems to be able to toss out at will, songs like last year's Too Pure-released Tastes Like Medicine exemplifying the subtle range in this otherwise artfully tumbling mix of grunge and indie-pop. With some of their set sounding primed for daytime radio, the rest borne out of the sort of garage rock played in sticky bar basements and at student house parties, Menace Beach have an effortless ability to balance both. [Simon Jay Catling]
We can't transplant the sultry climes of the rainforest to Skipton, but Glass Animals know how to evoke something close. In a main stage late afternoon slot to showcase debut album Zaba, their psychedelic, jungly textures – complete with bird chirps and clicks – suit the warm, languorous breeze wafting through. Led by David Bayley's mysterious falsetto and playful percussion, they've something of the tropical about them – xylophones fall like droplets in caverns – and their rhythmic grooves are somewhat reminiscent of Foals, particularly in the chorus of single Gooey: "I just wanna go where I can get some space."
Joanna Gruesome's energetic noise-pop and MBV guitar blasts capture the youthful enthusiasm of the current DIY punk scene pretty well, as the Cardiff fivesome attract a fast-mobilising crowd to the Noisey tent, which breaks out into a full-on mosh pit. Singer Alanna McArdle oscillates between eyes-to-the-ceiling vulnerability and snotty Joan Jett riot grrrl, as she dreams of pulling teeth and exploding heads. It's all spectacular fun, and closing song Sugarcrush ends in a thrash. Like any high school crush, their set is short and intense, yet sweet enough to leave revellers wanting more.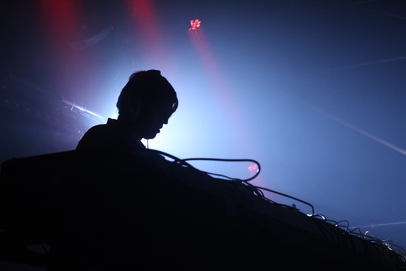 [Erol Alkan by Tom Connolly]
Over at the Argyll stage, Adult Jazz leader Harry Burgess's hide-and-seek a cappella mingles with a plaintive folk horn and glitchy electronic modulations. While their brushstroke experiments gradually assume more presence, unfortunately their set is blighted by tech problems, leading them to try out their stage banter – when asked if he's staying the night, Burgess boasts about his Gortex tent. What follows is a little depleted, but they lend themselves to an easy doo-wop swing, with meandering bass and nonsense vocals held together by barely there percussion – a gentle cleanse of the palate in time for the evening, and Chichester trio TRAAMS, whose south-coast surliness reveals itself to be in the spirit of krautrock, as they keep their songs ticking over with as few chords as possible. Their tight set zips along; smoke fills the stage, and eventually there comes raucous crowd favourite Flowers: "I don't even know your number; you don't even know my name," Stu Hopkins barks, in a glorious derailment that sends us crashing out into the night. [Chris Ogden] 
Euan Hinshelwood has come a long way from playing bass with Emmy the Great, his own quartet Younghusband having developed a sort of opalescent, slacker-referencing roughshod pop. The influence of Deerhunter producer Nicolas Vernhes – who worked on their debut LP, Dromes – is not unapparent; if anything, there's a little too much sonically in common with the Atlanta five-piece. Younghusband's disposition is lighter, though, and Hinshelwood's amber alto the real treat; choir-clean and earnest rather than disaffected and nonchalant.
Their ambition is always what's set Manchester's would-be laureates Money apart from the local crowd, and, true to form, tonight they play with the same projection to a few hundred as they would to 50,000 – frontman Jamie Lee wrings his throat dry, much of the time leaning metres back from the mic but still managing to jettison his vocal to the stars. By now longtime staples but honed through touring last year's album The Shadow of Heaven, Hold Me Forever and So Long (God Is Dead) have taken on both a spatial grandeur and a timeworn, milky warmth, the band gently, generously unspooling them as though liberating old familiars. They're comfortable enough to open on a new song, and to close with what they know is a real ender – a dislocated, paranoiac Cold Water like the fever-dream prelude to a lullaby (Letter to Yesterday).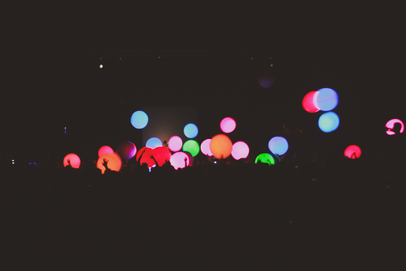 [Jon Hopkins by Sam Huddleston]
Immunity may be an easy listen, but it's a rare record that offers as much to luxuriate in alone, in headphones, in the dark, as it does in exploded view; tonight, Jon Hopkins – somehow managing to take things up a further notch after a decimating set from Erol Alkan – is on violent form at his station, laser-cutting Open Eye Signal, We Disappear and Collider into diamond shards and sending each slicing into the crowd (along with a bunch of illuminated bouncy balls). He becomes a small supernova burning up centrestage, orbited by a system of neon spheres – it's a straight-up party trick, like, but you've gotta admit it's beautiful. The visuals are limited, seemingly stripped back from last autumn's tour, but there's a weirdly charming guilelessness to just sticking your own music videos – and your name in massive letters – up on the backdrop; they elicit deafening cheers, anyway. There is a potent jubilance in seeing Hopkins finally of a status to go this hard, this bright, this widescreen. [Lauren Strain]