ArcTanGent 2017 Festival: The Review
ArcTanGent in Somerset is quietly growing year-on-year into an excellent wee festival with an international line-up. The Skinny was in attendance for the 2017 edition.
ArcTanGent seemed unlikely to set the world ablaze when it launched in 2013. Established as a sister weekender to 2000 Trees – which is itself a decidedly underground festival in the South West of England – the plan was to appeal to fans of "math rock, post-rock, noise-rock and everything in between". Only the most dedicated muso would be able to tell you what actually constitutes as 'in between'.
Four years on, though, ArcTanGent has an impressive pull. All 5000 tickets sold out a month ahead of schedule – not bad for a niche, left-field fest hidden away off the beaten track. The line-up might have something to do with that. Texas post-rockers Explosions in the Sky and metalcore luminaries Converge both chose the festival to play their only UK sets of 2017.
The Americans aren't the only international guests in attendance: wild instrumentalists TotoRo arrive from France; post-rockers Jambinai are from South Korea, and drone legends Boris and math trio Tricot both come from Japan. It quickly becomes apparent the latter know very little English beyond the customary "thanks for having us", but if their unique sound is going to translate anywhere beyond their home country then it's here.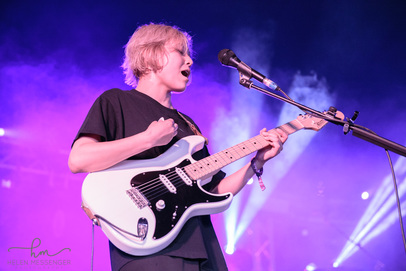 [photo: Helen Messenger]

On a superficial level, three short Japanese girls inevitably stand out on a bill of beardy headbangers. Making use of odd time signatures and staccato guitars their style isn't radically unusual for the genre at first glance, but they also have a clear sense of purpose. Each track has a personality, with the common themes being precise guitar work and air-punching choruses. The likes of a-tota-so and Hikes are also pleasant and have the same angular approach, but their technical wizardry doesn't disguise limitations in songwriting.
Even old hands TTNG (formerly This Town Needs Guns) fall into this trap at points, with tracks from their new LP Disappointment Island full of gear changes but lacking emotional resonance. Their older, more midwest-inspired material is more convincing. When previous vocalist Stuart Smith appears to sing a classic from their self-titled debut it sparks one of the biggest cheers of the weekend.
However, it's not simply the case that the more melodic acts succeed where the more mechanical ones don't. Liverpool's Alpha Male Tea Party manage to do both effectively, inspiring a party atmosphere with their playful grooves. With the exception of perhaps And So I Watch You From Afar, you'd be hard pressed to find another instrumental band causing a literal dance-off in the middle of a mosh pit.
On the other end of the mathy spectrum there's The Physics House Band, who flit between wild jazz-punk and atmospheric psychedelia. Rather than allow their obvious ability to overshadow everything else, they build their songs up slowly with hypnotic bass lines before unleashing a blitzkrieg of noise to close.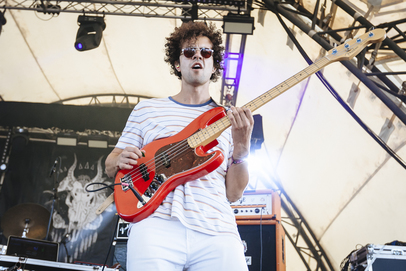 [Photo: Joe Singh]
Balance is also important to five-piece TesseracT who stand out among a myriad of flashy tech bands due to their originality. Frontman Daniel Tompkins' impeccable voice, which resembles Chris Cornell at his most soulful, manages to steal the show despite the gargantuan guitars alongside it. On tracks like Deception and Nocturne, his poppy hooks are the perfect palette cleanser after the heavy metal thrash.
Although post-rock bands tend to use vocals more sparingly, the same rules apply. Many bands stringently adhere to the tried and tested method of tremolo guitars and explosive crescendos. Bands like Gilmore Trail and Sleepmakeswaves are pleasant, but they lack cutting edge. It's telling that their respective highlights are covers: Gilmore Trail tastefully cover the Twin Peaks soundtrack while Sleepmakeswaves reimagine Robert Miles' Children.
Admittedly, headliners Russian Circles and Explosions in the Sky don't massively deviate from this formula either, but they're more experienced and have more sonic tricks up their sleeve. It feels like Explosions in particular will be torturous given their set is 75 minutes, yet if anything it glides by due to the subtle wall of sound they create. Their sound might be minimal, but it's utterly enthralling under a night sky.
There are highlights to be found in the smaller tents, too. Post-hardcore quartet Heck play the most energetic set of the weekend. They also reveal it's their last and make the most of the crowd's good will by stage diving and climbing amplifiers. The terribly named itoldyouiwouldeatyou are also a nice surprise – their songs are snappy and maturely deal with LGBTI issues in their lyrics, something not common enough in emo music.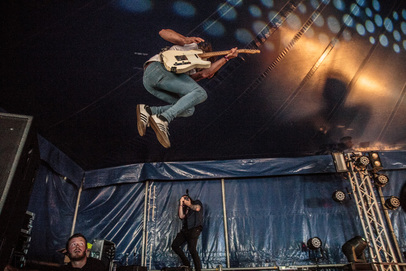 [Photo: Helen Messenger]
Elsewhere, Halo Tora fly the flag for Scotland with a confident performance. They're one of the more anthemic acts on the bill, with a style that references both Biffy Clyro's more ambitious material and the more tasteful elements of old school progressive rock. The only disappointment is their short set length of 30 minutes, which simply isn't enough for some of the most expansive artists on the card.
Another wee bugbear is the weather, which is the only thing more erratic than the song structures of most bands present. That said, the brief storms compliment some of the festival's best moments. It certainly feels like witchcraft when the wind moves dramatically through the tent during Irish instrumentalists God Is an Astronaut's sensational closer From Dust to the Beyond, for example.
Then there's Converge. After racing through nine of their most frenetic cuts, from the furious Dark Horse to the Slayer-esque Trespasses, they close their headline set with the 11-minute epic Jane Doe. Just as the track reaches its intense conclusion, The Skinny is caught off guard by what can only be described as a huge gust of sideways rain (aka Scottish rain) flying across the arena.
As weird as it sounds, it's the perfect backdrop for a festival that is wild, dramatic and unpredictable but still unmistakably British. The food is home-grown, the crowds are friendly and the silent discos that close each night are the politest examples of organised chaos imaginable. So it's no surprise the festival is becoming a guaranteed sell-out, year-on-year. The bands might be getting bigger but ArcTanGent hasn't lost its awkward charm.