A Carefully Planned Festival 6: Review
Carefully Planned cast a bewitching spell across Manchester's Northern Quarter with its most ambitiously sprawling line-up yet – a DIY festival unlike any other.
Sat 15 Oct
It's never easy to be one of the first bands to play a festival, but Leeds band NARCs shatter any early bird preconceptions. They storm through a raucous set of politically-charged songs at Soup Kitchen, as their combination of aggressive roars and melodic wails plays rival to the screeches of guitar and gritty basslines, all topped off with dexterous drums; their defiant request for attention draws in a sizeable crowd. The driven energy of the band is something else entirely, as the intensity of their sound – matched by the frenzy of foot stomps and swings of guitar. Lead singer Wilko comes into the crowd and shouts his lyrics intimidatingly close to his audience, preparing them for the day ahead and certainly setting the standard.
Two White Cranes, better known as Roxy Brennan, stands alone with her guitar in the intimate setting of Gullivers' downstairs room. As one of the newest additions to the Joanna Gruesome line-up and a former member of Trust Fund, not to mention a bunch of other DIY projects, this solo guise takes a more raw and delicate approach to music. Illustrating this is the abundance of witnesses: not unlike children waiting to be told a story, members sit on the floor and look up in admiration.
Her performance carries similar vibes, as she tells anecdotes of the inspiration behind certain songs before sweetly singing about coffee, trains and whales, with her faultlessly bare vocals accompanied by simple and understated plucks of her guitar, creating soft, repetitive melodies.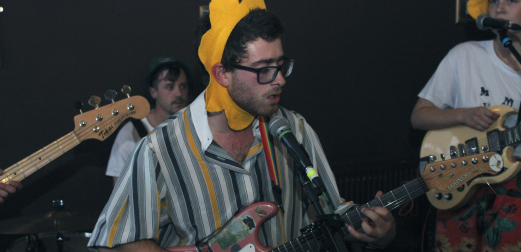 Garden Centre, photo: Rob Evans
The Crown and Kettle is so unbelievably full that catching a glimpse of Garden Centre is near impossible. Formed by members of King of Cats, Joanna Gruesome, Towel and Keel Her, it's no wonder so many have turned up to witness this side project, apparently named so because members would hang out at a disused flower nursery – everything about this band is endearing and whimsical. Their disjointed pop (short but sweet songs, consisting of fast-paced jangles and nasally, child-like, off-key whines) is by no means easy listening, but it's not easy to listen without wearing a smile on your face.
The day's motif of side projects becomes apparent as Cardiff artist Rosie Smith strays away from her post-punk outfit Totem Terrors to showcase her solo sadpop project Oh Peas!. Her lovely, soft and feminine voice blends with the simple guitar structures, creating a smooth DIY concoction that the audience drinks up; you can almost hear crowd members exhale simultaneously out of sheer delight for this refreshing sound.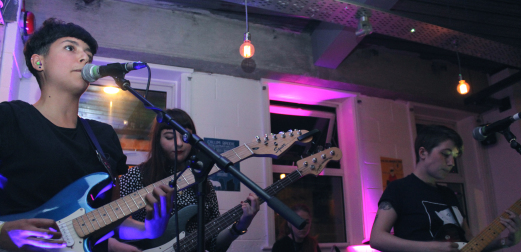 No Ditching, photo: Rob Evans
Frequent and persistent requests for people to move forward to make room for others are heard throughout 57 Thomas Street prior to No Ditching's set. The room is at full capacity, and people are stood on their stairs as they attempt to listen to five girls performing songs about cats and comics. The Durham band seem delighted at the size of the crowd – although they mostly wear stern, nonchalant expressions that reek of a badass attitude, the enthusiasm throughout their performance demonstrates their complete gratitude. Punk-style vocals are joined by less invasive oohs and aahs, and predictable yet still enticing chord sequences.
With set time changes, drop outs and even an unfortunate traffic collision, it's uncertain as to whether the name of this festival is now ironic – it seems that one of the Joanna Gruesome members hadn't planned their transport very carefully and as a consequence one of the most anticipated bands of the day have to pull out at the last minute. Still, festival organisers pull it together, as Leeds band Cowtown swiftly take their place – disappointed J-Gru fans are instead treated to some psych-y garage rock, which goes down pretty well, with Soup Kitchen at full capacity for their set.
Sun 16 Oct
Definitely the heavier of the two days, Sunday's offerings consist of more guitars, effects pedals and general smut. Sealings' abrasive opening set at Soup Kitchen is no exception as the Brighton trio's noisy, gritty and repetitive drones of guitar are a perfect base for the monotone, chant-like vocals, as the mask-wearing ghoul sat behind the drumkit plays with mechanical precision.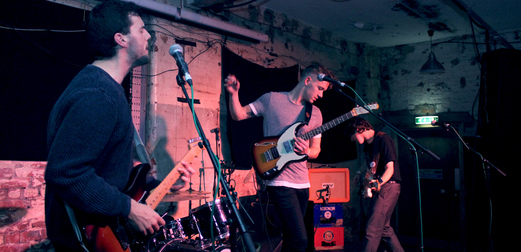 NARCS, photo: Rob Evans
It's a unique set-up on the floor of Texture Lounge, as a drum kit is surrounded by elaborate desks of dials and switches in preparation for Sly and the Family Drone's set. The uncomfortably long introduction, with the tense and eerie whirring of an oscillator and sudden, attention-grabbing bangs and clatters, creates a sound fit for a horror film score, which divides an uncertain audience – some spectators leave prematurely, not sold by this display, but most remain, intrigued by where this will lead.
Those who left will surely regret doing so as the band reach their climax, finally plunging into a frenzy of tinnitus-inducing noise. Foreign and somewhat alien sounds, created with a combination of electronics, drums, cymbals and what seem to be home-made, abstract instruments take avant-garde to a whole other level, as modulated screams take spectators by surprise. Drumsticks are handed out to the crowd, who are invited to hit any nearby instrument they can, creating a great crescendo of chaos for an intense finale.
57 Thomas Street is almost completely empty, but as Liverpool duo Queen Zee and the Sasstones take the stage, their punk-riffs and thrashing drums bring in a eclectic group of spectators to witness a set of jokes, mayhem and a sassy attitude. The audience are invited to pirouette with lead singer Queen Zee, whose charismatic and comedic approach generates noticeable warmth in return. Although the band was started as a joke, their newfound seriousness is evident; still, they're a whole lot of fun.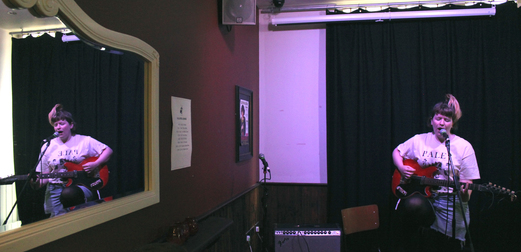 Two White Cranes, photo: Rob Evans
Soup Kitchen contrasts vastly from last night's full-capacity affair as a humble audience are scattered throughout the room. Perhaps festival-goers partied too hard the night previous, or maybe most have to be up for Dolly Parton shifts on Monday morning. Whatever the reasoning, it's a shame that so few will witness Baby in Vain – having supported the likes of Ty Segall and Thurston Moore's Chelsea Light Moving, there's a promise of something special from the Copenhagen three-piece.
That's exactly what they deliver, as the noise-rock trio callously rip through a stoner/garage-influenced set, with heavy cock rock-style riffs and screeching, discordant vocals. An explosively loud finale to the weekend, and though only few were there to witness it, the decibels of applause seemed to match that of their set.
One thing worth noting: no matter how many hiccups, Carefully Planned is still a fantastic weekend with excellent bands. A really important detail is the inclusivity of the artists featured, as in an industry dominated by white, middle class, cis-males, Carefully Planned gives a much-deserved platform to those often sidelined and marginalised.