LeithLate reveal 2019 weekender plans
Art festival LeithLate has launched details of its LeithLate19 Weekend, including an all-female music line-up at Leith Gala Day, an all-female graffiti artist jam and the return of LeithLate's Mural Tours
LeithLate was much missed last year when it took a hiatus, but it's back next month with a lively weekender of music, art and general creativity. The festival ties in with Leith's annual Gala Day (8 Jun), and at this parish, we're particularly excited for the fantastic female-fronted music line-up on the Gala Day's main stage that's been co-curated by Tallah Brash, The Skinny's Music editor.
The gig kicks off with a solo performance by The Banana Sessions' Roberta Pia, who'll be sticking around to compere the stage. She'll be introducing the dark dream pop of Goodnight Louisa, electronic duo Super Inuit, the lo-fi rock of Thee Girl Fridays, and the grungy riffs of Glasgow's Tongue Trap. In between performances they'll be the opportunity to check out the selection of creative stalls LeithLate are hosting on Leith Links.
If it's art you're after, you'll find it around the corner on Maritime Lane, where Quality Yard will be hosting Caps Aff, an all-female graffiti artist jam in their 360° street art courtyard. Also down at Quality Yard there's the Cube Project "bringing 3D cubes for doodlers big and small", plus the Quality Yard resident artists and the Scottish Mineral and Lapidary Club both open their doors to the public.
The LeithLate festivities continue into the evening at The Happiness Hotel with intimate gig Alright Hen? Riot grrrl Lou Mclean, who has co-curated the lineup, headlines the night. Elsewhere on the bill you'll find alt-country troubadours The Countess of Fife, DIY rock collective Girls Rock School and singer-songwriter Annie Booth.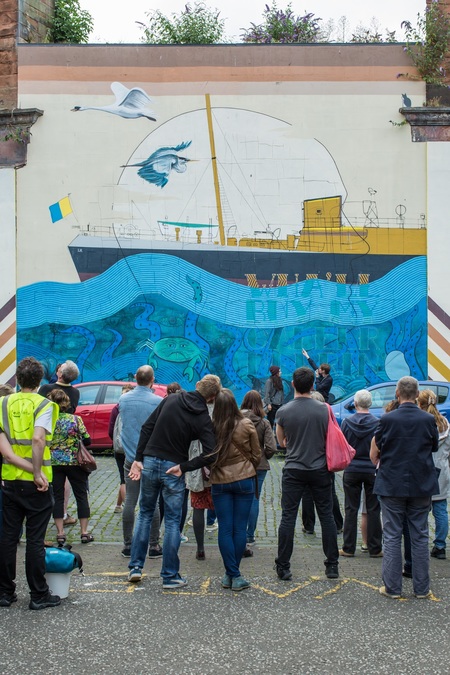 Capping Saturday night is a tongue in cheek celebration of the Queen's Birthday, YAS QUEEN! Taking place at Leith FAB Cricket Club, this club night will feature a drag performance from Mystika Glamoor and beats from Edinburgh-based female DJs Miss World.
You can take your fuzzy heads into Sunday with the return of LeithLate's much-loved Mural Tours, in which the LeithLate team take you on a guided walking tour of Leith's public art highlights. Then it's back to Quality Yard for the closing Sunday 'sesh' of chilled-out beats and a chance to see the final creation of the all-female graffiti jam.
8-9 Jun, various venues, Leith. For full details and tickets, head to www.leithlate.co.uk. The LeithLate schedule, meanwhile, is below:
Sat 8 Jun
11am-6pm: Caps Aff, Graffiti Jam & Open Studios, Quality Yard
1.3pm-5.30pm: Live Music, Gala Day Main Stage, Leith Links
7pm-10pm: Alright Hen?, Gig, The Happiness Hotel
9pm-3am: YAS QUEEN!, Club Night, Leith FAB Cricket Club
Sun 9 Jun
11am-4.30pm: Caps Aff, Graffiti Jam & Open Studios, Quality Yard
12pm & 2.30pm: Leith Mural Tours, Meeting at North Junction Street