Fun in the Sun: The Skinny at Kelburn Garden Party
As the 2018 Kelburn Garden Party fast approaches, we take a closer look and chat to some of the artists playing The Skinny's Pyramid Stage line-up
"Kelburn has the friendliest vibe of all the festivals I've been to. It's a great place to meet other musicians and get chatting to new people," Lou Mclean tells us of her love for Kelburn Garden Party. "The line-ups are always so good and inevitably I find a new band/artist to obsess over.
"There's never a dull moment even away from the tunes," she adds, "and I'm looking forward to topping last year's random Kelburn sighting: a six foot tall cat dressed as a bellhop prowling around the artists' camping!"
The Skinny have been going to Kelburn Garden Party for some time, and 2017 was our favourite year yet: we got political with Akala; we saw the light during Flamingods' set; we danced in the trees to Optimo b2b Numbers' Spencer; we got our party on in the saloon; we got joyously lost in the woods; we gave ourselves heart palpitations watching the slackline walkers do their thing in the dark up in the treetops; and we even got to make our own beats at one point, which if any of you saw on our Instagram (@theskinnymag) account, were fucking top notch.
When we got home from 2017's party we decided it would be pretty great if we could curate our own stage one year; we asked KGP organiser Chris Knight if we could and now it's happening in 2018. Lou Mclean will be opening The Skinny's takeover of the Pyramid Stage on Saturday 30 June with what she describes herself as lyric-driven pop songs with a riot grrrl edge. Think early Kate Nash, but Scottish.
"Expect acoustic bangers with plenty of heartbreak and lots of laughs in between," Mclean continues. "Music is about connection so I try to stay in the moment with gigs which usually means I accidentally spill an anecdote or two during the set. So come laugh at my life disasters at the very least!" If that isn't the perfect way to spend the beginnings of your Saturday hangover then we don't know what is!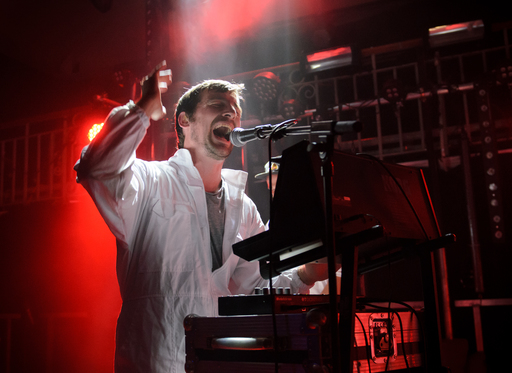 Future Get Down [Photo: Ian Schofield]
As Saturday continues, we plan to take you on an aural journey of what Scotland's young music scene has to offer right now. From Mclean's acoustic bangers it's on to DTHPDL's "krautrock jagging riffs and a set with no vowels," as frontman Alastair Chivers so concisely puts it. Bandmate David MacDonald adds that it's a "dysfunctional family relationship with too many wires and cold synths." We then move on up to Future Get Down's "synths, drums, bass, percussion and vocals methodically stumbling down a decaying flight of nightclub stairs," as ringleader Oliver Kass describes their sound, concluding that it's "often accompanied by a general consensus that if they haven't been kicked out already, they surely will be soon."
Future Get Down will be headlining our stage, bringing their beekeeper outfits and LCD Soundsystem-indebted beats to Kelburn this year – we've actually described Kass in the past as a "psychedelic James Murphy" so make of that what you will and be sure to make catching their set part of your itinerary for the weekend. Their excellent debut five-track EP, the aptly titled EP1, was released back in April so give it a listen and get yourself ready for the late night Future Get Down party. Kass tells us that "EP2 is finished and will be out at some point in the next couple of months…." going on to conclude that, "we'll be figuring out what the fuck's happening with EP3 as well."
Glasgow's CRYSTAL recently blew us away with their single Heaven – they got in touch to ask if we'd be up for premiering the track and by the end of that same day we'd booked them to play our stage. We were then fortunate enough to see them perform at La Belle Angele for Wide Days and they blew us away again. "Kelburn is a festival I've always wanted to go to and I've heard a lot of friends saying that the atmosphere and music is amazing," CRYSTAL guitarist and vocalist Anna Shields tells us. "So I think it will just be cool to experience the festival as a whole as well as perform to a new audience.
"Our sound is heavily inspired by 90s grunge," she continues. "We take a lot of influence from bands like The Breeders and Nirvana." While that is true, what surprised us the most was just how much of a glam sensibility they have – imagine if Kim Deal and Marc Bolan made musical babies together and you're just about halfway there. This young four-piece are a serious force to be reckoned with and ones to watch.
Like CRYSTAL, ST.MARTiiNS are another band who massively caught our attention when they got in touch to tell us about their debut EP Bad w/Her. We instantly fell in love with their single othr grls and that's been us firmly in camp ST.MARTiiNS ever since. The Dundee duo made up of Katie Lynch and Mark Johnston have a varied array of influences from Bombay Bicycle Club and The Cure to ANOHNI and Day Wave, and Lynch has a real passion for writing poetry – their sound is absolutely perfect for a summery afternoon, so we can't wait for their set.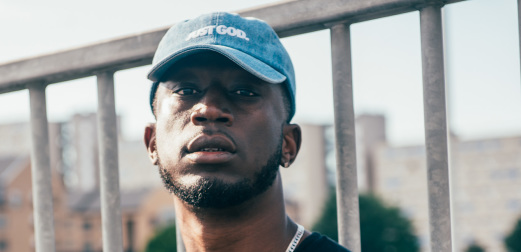 Kobi Onyame [Photo: Ryan Johnston]
We've actually booked a whole bunch of bands that we think are perfect for a summery afternoon/evening – so we're praying the sunshine gods are with us on 30 June. The incredible talent that is Glasgow-based Kobi Onyame, who recently swapped hip-hop to rediscover his musical roots, is one such act. Born to Ghanaian parents, Onyame spent three years as an undergraduate in Ghana where he became fully immersed in its music scene.
His latest album GOLD is full of uplifting highlife grooves and we can't think of a more perfect start to your evening at Kelburn than Kobi Onyame. "I heard it's magical out there!" he exclaims of Kelburn Garden Party, going on to tell us his music "sounds like jollof rice with a side of fried ripe plantain and a chilled glass of Supermalt on a sunny (hopefully not muddy) day." He also says you've to "expect to be part of the show so bring your vim."
Playing their first outdoor festival show for us at Kelburn is Edinburgh "low key synth pop" duo Super Inuit, comprised of Brian Pokora and Fern Morris. "Kelburn's such a lovely setting so it's the perfect location for our first outdoor festival show," says Pokora. "From going previously we remember the chilled atmosphere, views across the water and lots of fun stuff outside of the music itself fondly, so are particularly excited to make it back and play this year.
"We're also really excited to be among such an eclectic mix of excellent bands on The Skinny stage, and beyond that are looking forward to seeing Egopatterns, Randolph's Leap and Warm Digits."
To bring a bit of R'n'B and neo-soul flavour to Kelburn this year, we've invited Edinburgh-based Bahraini singer-songwriter and producer Khalid Al Khajah, who cites the likes of Prince and D'Angelo as inspiration. He really impressed us with his debut EP Open (written, produced and recorded entirely in his living room), self-released at the start of 2017, and we can't wait to hear it performed live.
Annie Booth is another we're excited to see live (we're obviously looking forward to seeing everyone, so don't get your knickers in a bunch) as up until now we've only seen her performing as part of Mt.Doubt, so it'll be lovely seeing her do her own thing. The Edinburgh-based singer-songwriter recently released her debut album An Unforgiving Light on Last Night From Glasgow and has since performed as part of BBC Scotland's Quay Sessions. Booth tells us: "[I'm excited] to play my songs at a really warm, welcoming festival! Being part of The Skinny's stage is also very cool – excited to see the other acts. And the sun... I hope there's sun." Not sure we've mentioned it yet, but we're really hoping it's going to be sunny. "Me and the band are thinking that we'll do something quite stripped-back and folky on the day," so make sure you're down early for that slice of lovely.
Completing our line-up is Edinburgh four-piece SKJØR, fronted by the incredible talent that is Louise McCraw. She describes the band's sound as "dark dream pop, with essences of Florence and the Machine and similar to artists such as Nadine Shah and St. Vincent," and we'd say there's a good smattering of Daughter in there too. "Expect catchy melodies with a dreamy, reverb rich, musical soundscape," McCraw adds. "Oh and we will be playing a brand new set!"
We're genuinely thrilled and incredibly excited for our first stage curation for Kelburn Garden Party this year and we hope this has whetted your appetite for what to expect from our stage. The music starts from midday and goes on until just after midnight. We'll be there all day hanging out, so please come say hi and hang out with us. Sun or no sun bring your waterproofs, as SKJØR are "hoping there'll be a water fight!" You have been warned.
---
Kelburn Garden Party takes place from 29 Jun-2 Jul (The Skinny's Pyramid Stage takeover takes place on Sat 30 Jun)