Celtic roots: 25 years of Knockengorroch
Scotland's oldest greenfield festival turns 25 this year. We find out about Knockengorroch's origins as a 1990s rainbow gathering, and the love of the land and Celtic culture that has fuelled it since
Descending from Loch Doon down a winding single lane road, the modern world seeps away for revellers making their way to Knockengorroch. Set in a riverside valley, enclosed by mountains that create a natural amphitheatre, this is Scotland's oldest greenfield festival, where attendees convene every May to celebrate roots and Celtic culture. 
Knockengorroch turns 25 this year, but gatherings have taken place here for far longer. Back in the 1990s, Knockengorroch Farm's owners, Liz and Simon Holmes, were approached by the organisers of a rainbow gathering – an informal network that met in temporary camps all over the world and embraced an alternative, trade-based lifestyle. They wanted to hold their next camp on Cairnsmore, the solitary mountain overlooking the farm. 
"My parents moved up there in the 70s. They left London to live a life on the land, growing food, keeping animals and having hay in their field," says Katch Holmes, Knockengorroch's producer. "They agreed to our field being used for people when they arrived to park up. There were thousands of people from around the world. I think having that on the land, my mum and dad saw something there."
Between Niteworks, Voltan, Yoko Pwno and An Dannsa Dub, artists putting a modern twist on Scottish trad are flourishing. But in the mid 90s, that resurgence was just getting started. "Young people didn't really listen to it. It was kind of considered backward," says Holmes. "In the 90s you had acid croft and bands like Shooglenifty and a real energy behind it again, which is a celebration of our culture."
Celtic Connections started in 1994, and Holmes and her mum became regular attendees. One night, at the end of a gig, they approached the band Old Blind Dogs and invited them to play on the farm. The band agreed, and ended up playing the first iteration of Knockengorroch in 1998, then known as The Ceilidh Gall Gallowa' Festival. They'll return to play this year for the anniversary.
The world ceilidh (as it would come to be tagged) is at its heart a celebration of Celtic music's global legacy. The Celtic diaspora has had a far-reaching impact, Holmes tells us, but if we go back far enough, it also has international roots. "The Indo European people actually came from the Middle East. That's where our language comes from; Welsh, Gaelic, Cornish etc," she says. "We're digging deep into the commonality of where our peoples come from, rediscovering an international element. As a perfect example, Afro Celt Sound System is a band we finally got last year."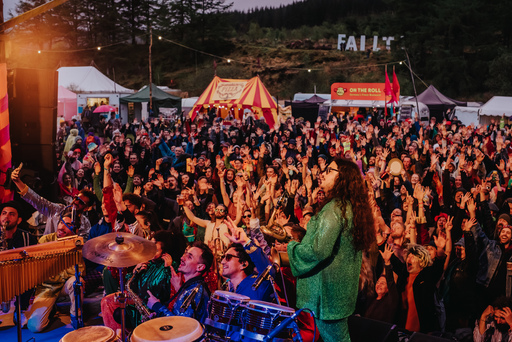 Newen Afrobeat @ Knockengorroch 2022. Credit: ReCompose
Mungo's Hi Fi is another exemplary sound system, who have become synonymous with Sunday night's closing set. Holmes remembers the early days when they were "just scrappy dub enthusiasts desperate to play their music," so much so that she had to shut them off more than once when they powered their rumbling stacks through the wee hours. Today, Mungo's member Doug's family hamster is buried at Knockengorroch – a decision found befitting by his kids. 
The land is steeped in history (which stretches back far beyond deceased pets). All the way up and down the river, ruins of old settlements lie scattered about, including on the Knockengorroch site. Two villages resided where the longhouse and farmhouse now sit, while old maps evidence a castle. Knockengorroch, with its idyllic flat meadow and gushing river, was perfect for a settlement, and it was the biggest in the area. "My dad often says that big gatherings would have been happening there," says Holmes. "Maybe we're not doing something that new. Maybe that's one of the reasons it works so well."
As caretakers of the land, Holmes and her family feel a great sense of stewardship. "We're very much of the opinion that humans and the land and the wildlife around the place are intricately linked," she says. "Our aim is to reconnect the people that come with the environment around them." Ever since its rainbow gathering origins, sustainability has been deeply embedded into Knockengorroch. Its Langwhan (longhouse) imitates a traditional iron age building, while the Bo-Airigh Stage is made out of natural timber with a turf roof, where swallows come to nest every year. "I often say the birds are like festival children. All those swallows were born in these festival nests," says Holmes. This year also sees the introduction of a polytunnel, which will allow Knockengorroch to grow vegetables – usually a difficult task at its high climate – and function as a venue. Holmes envisages it as a sustainability hub, where talks about growing organic food, beekeeping and Galloway's Dark Sky Park will educate attendees in green living. 
It's the start of what Holmes hopes will be a more concentrated focus on sustainability, on top of a sustained celebration of Celtic music's history and multiculturalism for another 25 years. "I'm looking to whoever inherits the land from me," she says. "I want them to have the same level of care. I want the land to thrive and be abundant, for people and for biodiversity."
---
Knockengorroch takes place from 25-28 May, Galloway, S.W. Scotland