Manchester Film Festival: Three Films to Catch
Manchester Film Festival is back for its third year with a busy line-up of features and shorts (most screening in the UK for the first time) as well as several panel discussions. We pick out a few highlights
Katie Says Goodbye
Dir. Wayne Roberts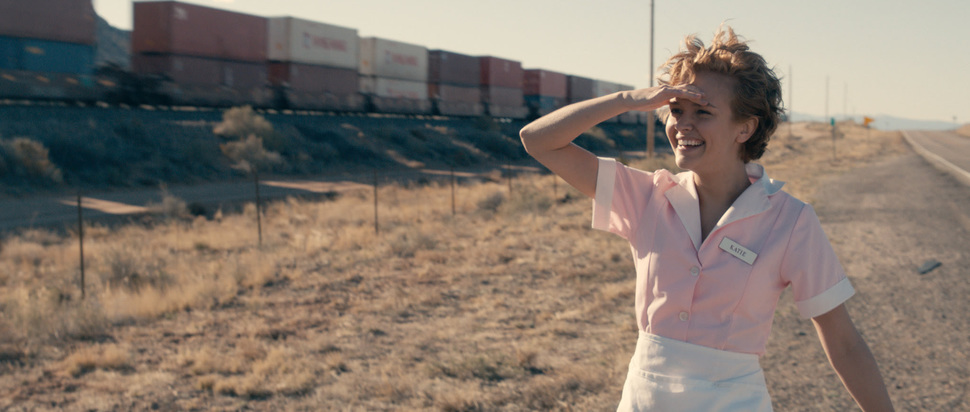 Wayne Roberts' debut centres on the titular truck stop waitress, who lives in a remote corner of Arizona and is trying to leave her small town life behind – to help pay for her escape, Katie also turns tricks. Reportedly the cast is knockout, with Christopher Abbott, James Belushi and the mighty Mary Steenburgen all giving vivid performances. There's also much praise flying around for Olivia Cooke in the title role, and the Oldham born actor will be in attendance after the film for a Q&A.
We're also drawn to Katie Says Goodbye as three of the most exciting filmmakers in American cinema right now are listed as producers: Antonio Campos (Christine), Sean Durkin (Martha Marcy May Marlene) and Josh Mond (James White), who collectively make up Borderline Films. If the other movies from Borderline are anything to go by, expect tough subject matter but ecstatic filmmaking.
5 Mar, Odeon Printworks, 7.30pm – tickets here
Hunter Gatherer
Dir. Joshua Locy
Andre Royo (best known for his role as Bubbles in The Wire) stars as a middle-aged ex-con who comes out of the joint after a three-year stint, only to find he's been dumped by his girlfriend and is forced to move in with his mother. He befriends a young man named Jeremy (George Sample III) and strikes up a relationship with Jeremy's aunt Nat (Kellee Stewart).
Reports are that writer-director Joshua Locy's film is whimsical and touching. Richard Brody of The New Yorker was a fan, saying: "Locy infuses the film with empathy and wit, and his grandly bittersweet imagination pulls the story toward tragedy, but he also plays loosely with stereotypes better left behind."
4 Mar, Odeon Printworks, 3.15pm - tickets here
Creedmoria
Dir. Alicia Slimmer
We're sold on Creedmoria from the trailer, which suggests a colour-saturated world full of oddballs who could have walked off the set of a John Waters movie. The 80s set film centres on 17-year-old Candy (Stef Dawson, The Hunger Games series) as she's forced to cope with her self-absorbed and highly dysfunctional family, and we hear Creedmoria boasts an exuberant comic vitality to go with the eye-popping visuals.
4 Mar, Odeon Printworks, 7.45pm – tickets here
Creedmoria director Alicia Slimmer and star Stef Dawson will be at the screening and also pop up earlier in the day to participate in an awesome-looking panel discussion on Women in Film, which features Raiders of the Lost Ark star Karen Allen, Tori Butler Hart (Keeping Rosie) and Bronwen Hughes (Breaking Bad and Forces of Nature). Best of all, the talk, which will be followed by an audience Q&A, is free to attend.
4 Mar, Odeon Printworks, 12pm – tickets here
---
Manchester Film Festival runs 2-5 Mar
For full programme details, head to maniff.com