Josie Long's Glasgow-set comedy to premiere at GFF
Comedian and actor Josie Long's love affair with Glasgow continues with her debut feature Super November – described as both a "romantic comedy and Orwellian dystopia", it will have its world premiere at Glasgow Film Festival
In just over 24 hours Glasgow Film Festival reveal the full programme for the 14th edition of this ever-growing cinema celebration, but before then we're excited to announce that Josie Long's debut feature film as writer and lead actor is confirmed in the lineup. Titled Super November, it's enticingly described as a "mixture of mumblecore romantic comedy and Orwellian dystopia" and sees Long once again team up with director Douglas King, with whom she made the bittersweet Glasgow-set short films Let's Go Swimming and Romance and Adventure.
King let us in on what to expect from Super November. "We've made a hugely ambitious film with no budget," says the director. "It's more like two films in one, the first a relationship comedy and the second a political film in the vein of Costa-Gavras' Missing. We wanted to explore how we don't recognise the political impact on our lives cause we're so wrapped up in personal day-to-day stuff. The two parts mirror each other structurally and both feature an odyssey to the pub, but in drastically different circumstances!"
The film follows Long as a Clydebank librarian who thinks she's found her soulmate in the form of Mikey, played by Sean Biggerstaff. Things change six months later when the country has been plunged into crisis when a right wing coup takes over the government, resulting in an authoritarian regime and normality a distant memory. "The story really did stretch the resources but we wanted to say something exciting," says King.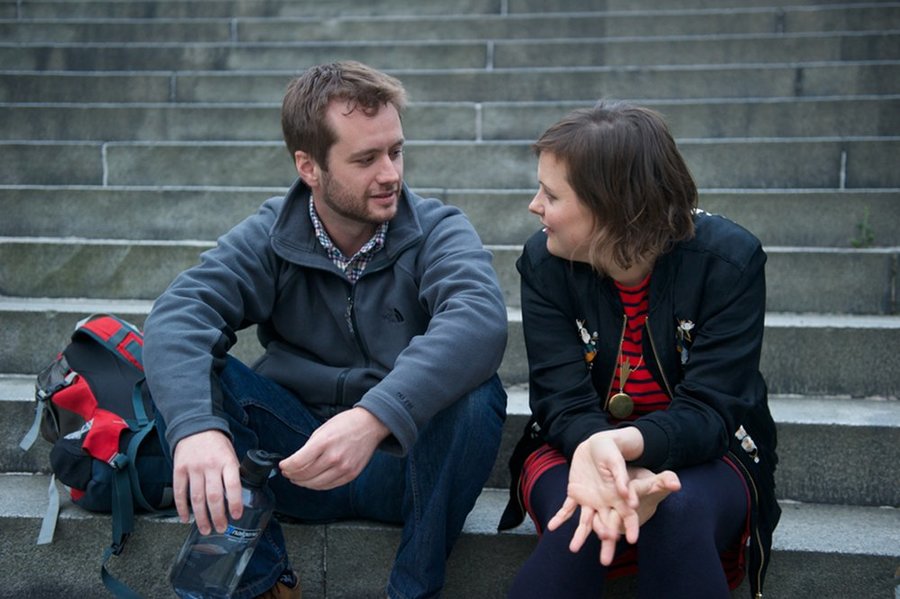 Sean Biggerstaff and Josie Long in Super November
Long's script proved prescient, explains the director: "When we finished shooting the first half, the very next day was Brexit. We finished the second half the day Trump was elected. We were on to something! (Or we were inadvertently scheduling to major democratic polls). Some of the content in the film feels scarily not as far fetched as it did when we started it."
Over the years Long has made her warm feelings towards Glasgow clear. The London-born comedian told us in 2013 that she thinks Scotland's largest city is "prettier than Paris and more fun than anywhere else in the country," so the prospect of Super November making its bow in front of a Glasgow audience is more than welcome. "We are beyond thrilled that GFF is premiering Super November," she says. "When we were making the film it was our dream for this to happen and we are so excited for a Glasgow audience to see our film."
King is similarly enthusiastic about the GFF world premiere. "It's my local festival – I think I've still got the canvas bag from 2008," he says. "It'll be amazing to launch the film here. It'll be a special night as it's my first feature and I've been wanting to make one since I was nine years old. I'm excited but also nervous to see what the audience make of the film, or more specifically, the slightly wonky geography of the Glasgow that's represented in the film."
---
Super November has its world premiere at Glasgow Film Festival on 3 Mar (GFT, 8.45pm), with an additional screening on 4 Mar (GFT, 1pm)
Glasgow Film Festival 2018 runs 21 Feb-4 Mar, with the full programme for the 14th edition published on 24 Jan